Tofu is a good source of protein for vegans. Extra-firm tofu comes in a water package or a water bag and must be kept in the refrigerator. Extra-firm tofu is preferred over firm tofu in this recipe. To eliminate all the water from this sort of tofu, it must be pressed. Tofu is a sponge, after all. You could add all the marinades you want till you're blue in the face, but if you don't press it, it'll be a waste of time. It requires extra room to absorb the marinades.
Tofu Nutrition Facts
Tips on How to Cook Extra Firm Tofu
It's simple to use, but there are a few things to keep in mind before getting started.
Choose the appropriate texture. This recipe calls for extra-firm tofu. Its texture is heartier and denser than other forms of tofu and it also contains less water.
Make a press. If you're baking, grilling, or frying tofu, you'll want to squeeze out as much as possible. Tofu presses are not required but can be found in stores. You can use your hands to press it through a paper towel or a kitchen towel to press it lightly or a stack of books. (Just don't push it too far or it'll fall apart.)
Spice. It. Is. Up. There is a lot of criticism of tofu for being bland, and that's because it is. Make sure it's well seasoned. It can be marinated or prepared in a variety of ways.
Print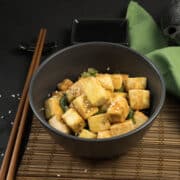 How To Cook Extra Firm Tofu
---
---
Instructions
How to Cook Tofu in Microwave
Slice the tofu lengthwise into small, thick strips.
In a microwave-safe bowl, layer tofu strips.
Add oil spray and vegan chicken broth powder or just salt, pepper, or sriracha marinade and soy sauce. Carefully mix the ingredients together.
In the mixing bowl, layer the tofu once more. Cook for about 5 to 6 minutes in the microwave, or until the tofu is dried and chewy.
To ensure even cooking, flip the tofu strips after three minutes.
What Is the Best Way to Cook Tofu?
Preheat oven to 350 degrees Fahrenheit.
Toss drained tofu with your favorite spices or sauces. Curry powder, garlic powder, salt, and oil, or sriracha sauce and soy, is a very good combination..
Marinate the tofu for at least a half-hour.
Place the tofu pieces on a parchment-lined baking sheet and bake for 45 minutes. Make sure the tofu bites are turned halfway through cooking.
Set aside to cool completely before storing the tofu bites.
How to Cook Tofu in a Pan?
Sauté
Preheat a nonstick or cast-iron skillet. Grease the pan with a little portion of oil before you begin to heat it if it's made of cast iron. Cook on low to medium heat with the marinated tofu slices. After a few minutes, to ensure that all the sides are cooking evenly, gently turn every piece of tofu to the other sides.
Cooking each batch of tofu to perfection can take up about 15 to 20 minutes.
Fry: In a cast iron pan or any pan with flat bottom, pour 4 to 5 tablespoons of oil. Fry the marinated pieces until golden brown on both sides in the heated oil. To prevent tofu chunks from burning in the pan, cook over medium heat. In the heated oil, fry each side for 4-5 minutes..
Note: To get the best results, slice the tofu medium-thin.
Scramble
If you want to scramble tofu, begin with an extra-firm or firm tofu that has already been drained. The pan should be allowed to heat evenly after adding a few portions of oil. Now add the tofu, break it up with a spatula, and let it cook for a few minutes before seasoning.
For a lovely yellowish hue and subtle curry flavor, add turmeric and curry powder to the scrambled tofu. Keep on cooking until the crumbles of the tofu are golden brown and dry to the touch.
What is the best way to cook tofu in an air fryer?
The marinated tofu should be placed in an air fryer and cooked at 370°F for about 15 to 20 minutes, or until it becomes crispy around the edges.
After 10 minutes, flip the tofu cubes to ensure that both sides are cooked.
Notes
Tofu tends to stick together while cooking in the microwave. Using a nonstick oil spray is a good idea for this.
Tofu strips that are placed around the bowl's edge cook much faster than tofu strips that are placed in the center. To avoid super-chewy or firm tofu, keep an eye on it and pull the cooked tofu strips out as needed.
Don't worry if the tofu strips become hard from overcooking. If you put them in a curry or a broth, the sauce will be absorbed perfectly and puffs up while still maintaining its bite.
While baking, to get a crispier texture, spray with a little oil and dust with cornstarch.
Cooking Time For Extra Firm Tofu
Tofu has a similar texture to cheese and can be served raw in salads or on skewers as an appetizer. When cooking, however, the amount of time it takes to create a lovely browned or crisp outside depends on the method you're using and the size of the pieces.
The times for cooking extra firm tofu are listed below:
| | |
| --- | --- |
| Cooking time for Extra firm tofu | Cooking time |
| Prepping | 5 minutes |
| Cooking | 15 minutes |
| Total time | 20 minutes |
There are various types of tofu, however, the extra firm tofu was discussed above. This type of tofu provides protein in the body especially for vegans. The different ways to cook it has been discussed above, however if you want to learn more, watch this video.