There are numerous ways to prepare steak that can provide you with a pleasing taste in your meals every time. You can do this in a variety of ways, one of which is by employing the air frying method. A steak is a cut of meat that has been sliced across the muscle fibers and may contain a bone. It's typically grilled or cooked, but it can also be pan-fried or air-fried.
A steak cooking temperature char is a visual guide to the preparation of food for steaks at various temperatures. This chart offers graphics and instructions about how to cook a steak to the proper temperature. The information can contain the right thickness, color, and hardness of each level of doneness, as well as the temperature range required.
However, if you're wondering if the air fryer steak cooking chart is something you can simply make, fear not; as you follow along, you'll discover simple ways to make it.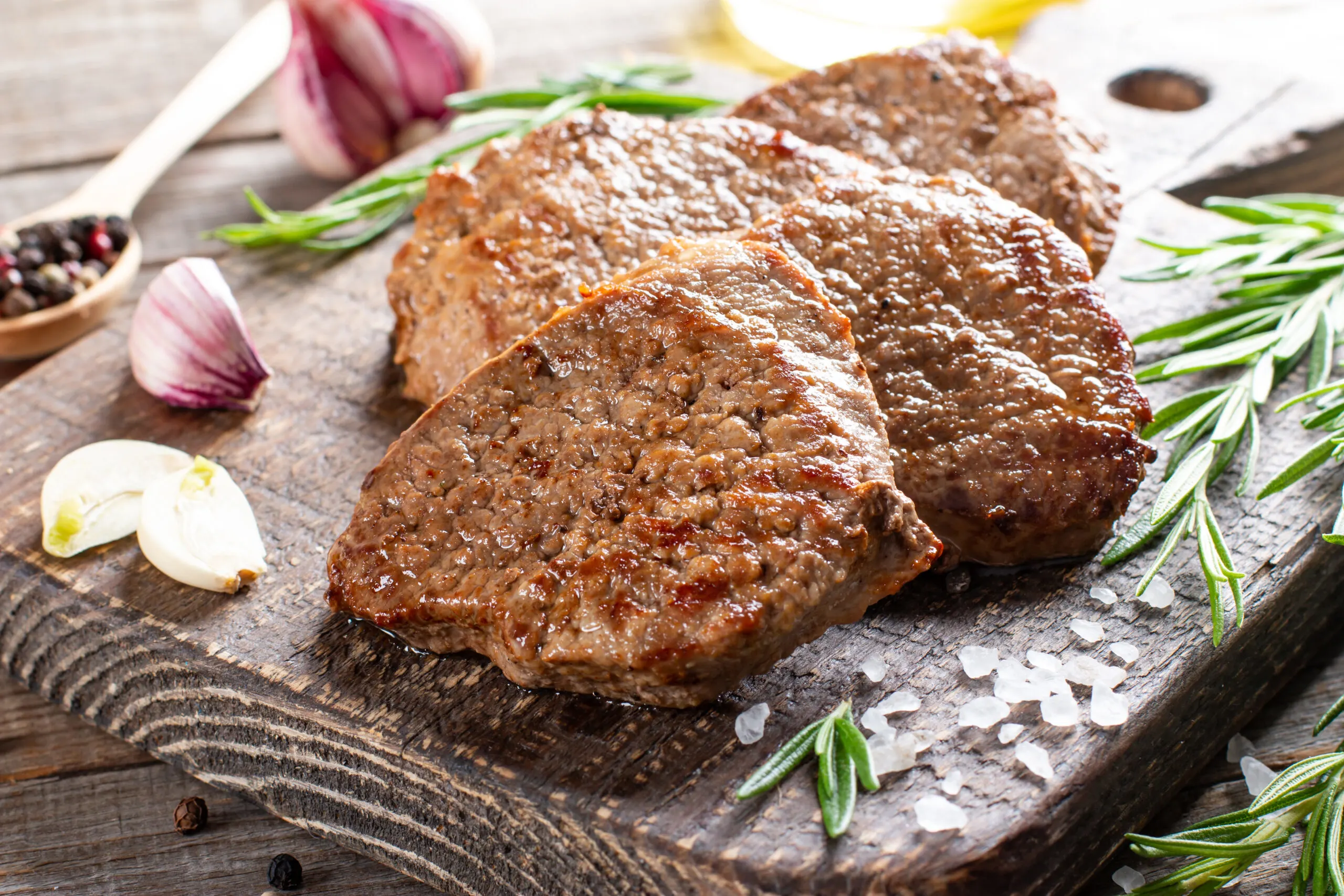 Steak Nutrition Facts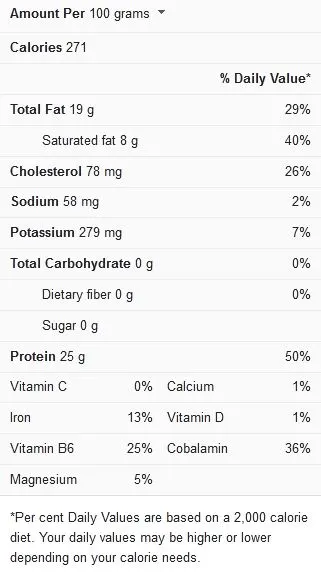 Why an Air Fryer Steak Cooking Chart?
When it comes to preparing steak, precision in terms of temperature and cooking time is crucial. Customers are frequently picky about how their steak is prepared. The following are some of the advantages of adopting a steak cooking chart:
It helps act as a reminder- It is easy to lose sight of the level of cooking time you're looking for and what the ideal steak's internal temperature is. As a reminder of the right cooking requirements, use a steak doneness chart. The chart also depicts the proper aesthetic qualities of steak for each level of doneness.
It acts as a source of training guide- A steak cooking chart can be used to train new restaurant personnel as well as home cooks who wish to serve the tastiest steak possible. Employees assigned to the kitchen can be taught how to use a cooking thermostat and how to use the steak doneness chart to make delicious steaks.
At this stage, you can also underline the importance of consistency in cooking, in addition to meeting quality requirements. Food safety is a major concern for your entire staff.
It keeps everyone safe- Cooking steak correctly is critical for vulnerable persons such as pregnant women, children, the elderly, and those who are immunocompromised. Serving uncooked steak to these people may put them at risk of contracting foodborne illnesses caused by harmful microorganisms.
As a result, a steak doneness chart can help you ensure that you receive exactly what you need while also providing a safe meal for everyone.
Tips for making Air Fryer Cooking Chart
Consider the cut of the Steak- The cut of steak you choose will influence both the cooking time and the flavor. Because fat is less receptive than muscle, fatty steak cuts cook more slowly than lean steak cuts. Because the complex structure of bones hinders the passage of heat, the meat closest to the bone will cook more slowly than the remainder of the steak if it is chopped to contain a bone.
Plan for a Meat Thermometer- With all of these precise cooking temperatures, it may appear that now is a good time to pull out the meat thermometer. A standard meat thermometer, on the other hand, is excellent for larger cuts like roasts since it measures interior temperature over an inch span rather than just the tip.
You can choose a precision digital instant-read thermometer for more accurate temperature measurement.
Sale
Digital Meat Thermometer, Waterproof Instant Read Food Thermometer for Cooking and Grilling, Kitchen Gadgets, Accessories with Backlight & Calibration for Candy, BBQ Grill, Liquids, Beef, Turkey
【Ultra Fast & Accurate Reading】 The meat thermometer's probe head measures only 1.7mm in diameter, making it easy to introduce it into meats. Keeping it in food for 2-4 seconds, you'll get the accurate temperature (±1°C/2°F). Whether to fry beef steaks, grill pork, deep fry fish/potatoes, or for an outdoor BBQ, this thermometer gives you accurate temp reference.
【Designed for Easy Usage】 Unfold the food thermometer and it starts to read immediately. If there's no operation, it'll auto-switch off after 10 minutes. The thermometer supports both Celsius (°C) and Fahrenheit (°F) display from -58°F to 572°F (-50°C to 300°C), enabling to read either frozen ice cube or broiling steak. It also can lock the temp through the "Hold" button, letting you see the temp closely.
【A Large Screen at Your Reach】 This food thermometer comes with a large backlight screen, enabling you to see the temp clearly whether in a poorly lighted kitchen or outdoors of too much light. The built-in magnet and large hanging hole make storing it a snap. What's more, the ergonomic handle offers a comfortable grip, letting you enjoy every step of cooking!
【IP67 Waterproof with Durability】 With IP67 certification, the grill thermometer is super easy to clean. (NOTE: Please wipe it with a soapy cloth or rinse it to clean, and DO NOT soak it or put in a dishwasher.) The probe is made of 304 stainless steel, non-toxic and safe for contacting food. Coated with premium ABS material, the thermometer lasts long and works with great durability.
【100% Satisfying Service】 Every product sent to you has gone through a series of quality inspection processes, please rest assured of this meat thermometer. If you have any questions before or after purchase, do not hesitate and contact us, we promise you a satisfying solution!
View this post on Instagram

Creating an Air Fryer Steak Cooking Chart
As we have briefly seen, it is not difficult to make an air fryer steak cooking chart, most importantly, it is a very crucial part of the cooking process. Now let's consider some instructions.
Only Use Reliable Information
How effectively steak is cooked is determined by the amount of heat utilized and the average cooking times. A little change in these variables will provide a different result, which may result in a bad steak. As a result, be sure the steak internal temperature and timing ranges you utilize in your steak cooking temp chart are based on accepted scientific research or food regulatory guidelines.
Doing this sure guarantees not only that you have the best result in your cooking of the steaks, but that you will help maintain good eating habits in your home, especially for those who are vulnerable in your midst.
It Needs to be Obvious
The aim of a steak doneness chart is defeated when the information is hazy or the words are too small to read. A visual aid, such as a steak cooking temperature chart, should be clear enough that you can get the information you need with a short scan.
The wording must be legible and the temperature ranges must be large enough to read. They should also be easily identifiable. Without separate lines, a steak doneness chart can be confusing. The chart's colors, as well as the photographs you include, must be vibrant enough to serve as a reference for the steak you're cooking.
After Creating it, It will need to be Revised Regularly
Regularly, food officials publish new guidelines for the optimal cooking temperature for various types of meat. For example, the USDA Food Safety and Inspection Service have released a revised standard that reduces the required internal temperature for cooking complete pieces of pork from 71°C to 63°C.
In addition, the agency included a three-minute resting time on a wire rack for medium doneness level cooking to allow the remaining heat to reach the cooler center during carryover cooking. When constructing your steak doneness guide, look for updates on reputable food agency websites and databases.
Print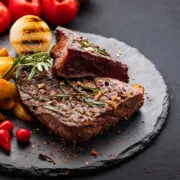 Air Fryer Steak Cooking Chat
---
Cook a

1

-inch thick boneless ribeye steak for the following time:

5

–

6

minutes (125°-130°F for Rare)

8

–

10

minutes (130°-140°F for Medium-Rare)
(Medium: 140°-150°F) 12-14

16

–

18

minutes (150°-160°F for Medium-Well)

20

minutes (above 160°F for well-done)
---
Instructions
Bring the steak to room temperature before cooking it to ensure that it air fries correctly. This is crucial for consistent cooking results!
Season the steak generously with salt and pepper, then set aside to absorb the flavors. Don't be afraid to ask questions. Work the seasonings into the meat with your hands.
Preheat the air fryer for at least 5-10 minutes or until the steak is hot before adding it to it.
If you want a good sear on both sides of the steaks, flip them halfway through the cooking time.
Remove the steak to a plate after cooking, cover with foil, and set aside for 3-5 minutes to allow the juices to settle. A meat thermometer can be used to check the doneness of the meat.
We have critically looked at the process of creating an air fryer steak cooking chart and the fact that it is essentially part of the process of making those great-tasting steaks that you love. You can follow through with what we have suggested to get the best result when putting this into practice. Check out this video for more tips on air fryer steak cooking.
Last update on 2023-05-29 / Affiliate links / Images from Amazon Product Advertising API