One of the very finest approaches to enjoying steaks at home (and it's not difficult to make) is with tender ribeye steaks grilled to juicy perfection. Ribeyes are fantastic – they're delicate, delicious, well-marbled, and have these gorgeous fatty margins that, when well-browned, remind me of candy.
This wonderful cut of beef is an absolute favorite and, in my opinion, one of the most flavourful. There are no unique or exotic ingredients required; only steaks, seasonings, a brush of oil, and a pat of butter are all that are required for excellence.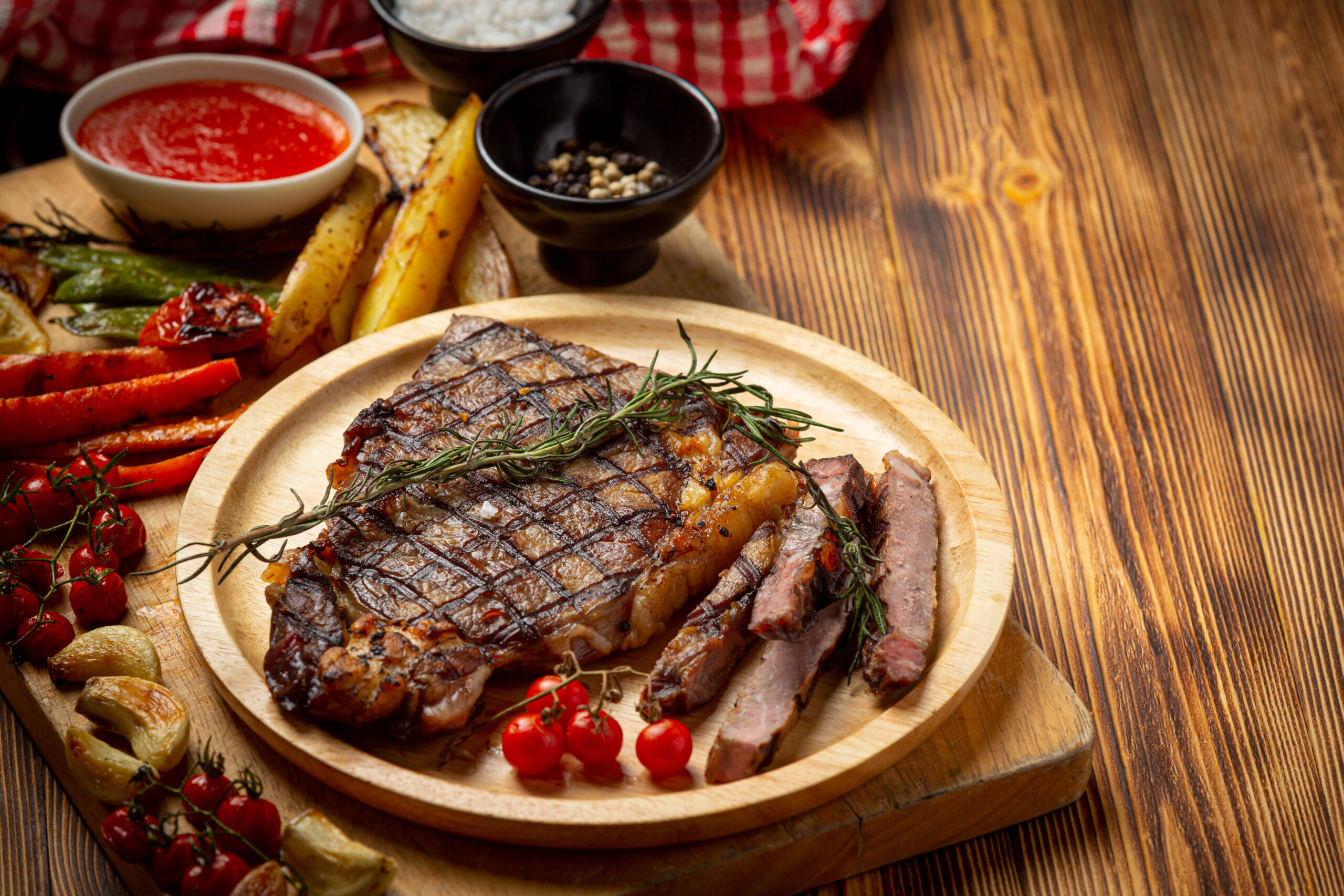 Ribeye Steak Nutrition Facts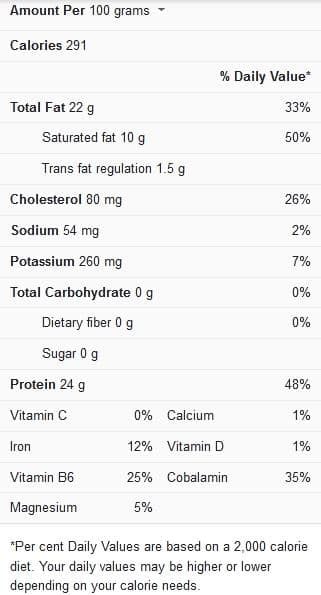 Tips For Cooking A Boneless Ribeye Steak 
To bring the steaks to room temperature, take them out of the fridge an hour before cooking. However, if you prefer your steaks medium-rare, you can use them cold from the refrigerator.
You can buy a boneless ribeye roast and then cut and freeze your own steaks. Wrapping them in plastic wrap foil and placing a couple of them in freezer bags is the easiest way to freeze them without getting freezer burns.
Topping the grilled steaks with butter is a possibility. It adds a lot of flavor to the steaks and is one of the reasons why restaurant steaks are so delicious – butter is used to complete them.
Since these steaks are large and fatty, the best sides are light and simple. Serve them with arugula salad, tomato salad, or asparagus salad as a side dish. They're also delicious with roasted asparagus and steamed broccoli.
While creamed spinach is a traditional steakhouse side dish, I believe it is too rich for these fatty steaks; therefore, sauteed spinach is a better option.
In my experience, reheated steak isn't very good. While leftovers can be kept in an airtight container in the fridge for up to 4 days, I will recommend you only make as much as you can eat right away.
If you have any leftovers, try them cold; they're actually rather tasty (kind of like thick, fatty slices of cold roast beef). If you need to reheat the leftovers, do so gently in the microwave (50% power). You should also make sure you keep it covered.
While the steak is cooking on the grill, do not press it. Moreover, let steaks rest for 5-10 minutes before serving for optimal results.
When cooking steaks, I highly recommend using kosher salt. It's flavorful, and the coarse grind aids in the formation of the lovely crust that we all desire in a steak. Diamond Crystal kosher salt can be used, and you can use a little more of it because it has half the sodium of table salt or sea salt.

 

View this post on Instagram

 

How To Cook A Boneless Ribeye Steak
Sear each side of the ribeye steak in a super-hot cast-iron skillet, then finish it in a hot oven. This procedure will brown the fat and create a lovely crust on the outside of the steak while keeping the inside delicate and juicy.
Cooking ribeyes at home is simple, though you will require the correct proper equipment – the only way to get a perfect sear on the steak is to use a well-seasoned cast-iron skillet. You can enjoy two boneless ribeye steaks covered with butter on a cast-iron skillet.
You can start by patting both sides of the steak dry with paper towels and season it well with 1¼ teaspoon salt and ½ teaspoon pepper.
Now heat the medium cast-iron skillet for about 1-2 minutes until it is extremely hot; make sure the heat is over medium-high heat. Then pour the canola oil into it.
Then proceed to place the ribeye steak in the center of the skillet and let it cook for 12-14 minutes. You will have to consistently turn it every 2-3 minutes or until a black crust forms on both sides.
Now you will need to lower the heat to a medium-low temperature. Then move the steak to one side of the skillet.
Proceed to add the butter, garlic, thyme, and rosemary to the opposite side, turning the skillet towards the butter and cooking 30 seconds to 1 minute – until the butter foams.
Spoon the batter over the steak for 1-2 minutes – flipping and turning it over once – until internal temperature hits 120 degrees F for medium-rare or until your desired doneness is achieved.
Then allow 15 minutes to rest before slicing the steak.
Serve right away.
Measurement of doneness
When your steaks are 5 degrees below the recommended temperature, remove them. As they rest, the centers will continue to warm.
| | | | |
| --- | --- | --- | --- |
| 1 | Rare | 125°F | The center is vibrant red and pinkish towards the exteriors |
| 2 | Medium-Rare | 135°F | The center is quite pink, and the edges are slightly brown |
| 3 | Medium | 145°F | Light pink in the center, brown on the outside |
| 4 | Medium-Well | 155°F | The center is slightly pink, while the outside is brown |
| 5 | Well | 165°F | Brown in color all around |
Print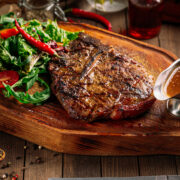 How To Cook A Boneless Ribeye Steak
---
Boneless Ribeye steaks
Kosher salt
Butter
---
Instructions
You can begin by preheating your oven to 500 degrees Fahrenheit. Then you can use some paper towels to wipe the steaks dry – keeping their surface dry will aid in the formation of a healthy crust.
After that, thoroughly season them on both sides with kosher salt and black pepper – you may like to season the fatty corners as well.
Then you should have a well-seasoned cast-iron skillet that should be heated over high heat until it is smoking hot (there's no need to add any oil if the skillet is well-seasoned).
Now you can toss the steaks into the skillet. Then cook for 2 minutes on each side, then an additional 30 seconds on the edges. If the skillet becomes too hot, reduce the heat to medium-high, but in general, you should let it be super-hot.
After that, transfer the hot skillet to the preheated oven with care, using oven mitts. You can allow 3 minutes for medium-rare steaks and 5 minutes for medium-done steaks to rest in the pan – which is, by the way, the level of doneness recommended by the USDA.
To keep the steaks warm, place them on a warm dish and cover them loosely with foil. Allow for 5 minutes of resting time before serving with butter on top.
Watch this video recipe to learn more about cooking a boneless ribeye steak.