The idea of cooking steak in an air fryer may terrify you — especially if you feel most at home standing in front of your charcoal grill, spatula in hand. Understandably, you might be worried about ruining your cut of beef (which is the worst thing every for a steak lover).
Still, I might convince you to give it a try. Read on to learn why and how to cook a steak in an air fryer. Once you perfect the technique, you might wonder how you survived weekday meals without it.
Why cook steak in an air fryer
Do a quick search online for air fryer steak and you'll see for yourself: People love to make steak in the air fryer. Below are some common reasons why.
Convenience
Air fryers are fast. You can cook a steak to perfect in an air fryer in less than 15 minutes. That's generally faster than your oven or stove top.
Health
You don't need oil or butter to cook steak in an air fryer. Now you might want to use oil or butter — I don't blame you there — but that's a different issue.
Even cooking
An air fryer uses circulating hot air to cook food. That means that your steak is cooked evenly on all sides.
Easier cleanup
Cooking a steak in an air fryer is a relatively clean process. Unlike traditional grilling or pan-frying, there are no flames, greasy grates, splattering oil, or smoke clouds.
How to cook a steak in an air fryer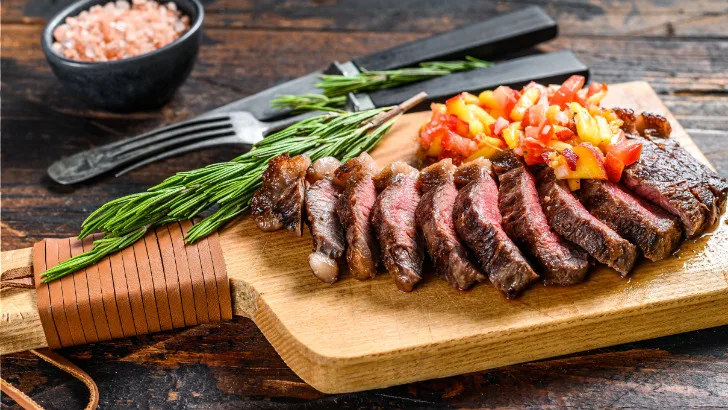 The cooking process for steak in the air fryer is simple. The steps below assume you're working with a 1-inch-thick sirloin. Here's a different recipe for New York strip in an air fryer.
1. Preheat and prep
Take your steak out of the fridge and let it sit at room temperature for 30 minutes. You can brush the steaks with oil if you'd like, and then season them with salt and pepper or your favorite steak seasoning.
Also preheat your air fryer to 400 degrees F or 204 degrees C.
Blog Chef $$-saving tip: Get coupons and discounts fast with Capital One shopping. Try it now.
2. Air fry
When the air fryer reaches the target temperature, place the steaks inside. Follow these cook time guidelines:
Medium-rare: 8 to 12 minutes
Medium: 12 to 14 minutes
Well-done: 14 to 16 minutes
Flip them halfway through the cook time. Use a meat thermometer to check the internal temperature of the meat:
Medium-rare: 130 degrees F or 54 degrees C
Medium: 140 degrees F or 60 degrees C
Well-done: 160 degrees F or 71 degrees C
3. Rest and serve
Once the steaks reach the target temperature, remove them from your air fryer and let them rest for at least 5 minutes. Then serve and enjoy.
What to serve with air fryer steak
This is an easy one. Any side dish that works with steak also works with air fryer steak. If you're drawing a blank, here are some ideas:
Roasted vegetables: Air fryers are great for roasting vegetables, such as asparagus, broccoli, or Brussels sprouts. Simply toss the vegetables with olive oil, salt, and pepper, and cook them in the air fryer while the steaks are resting.
Mashed potatoes: Creamy mashed potatoes make a classic and comforting side dish for steak. You can make them in advance and reheat them in the microwave or on the stovetop while the steak is cooking.
Salad: A crisp green salad with a simple vinaigrette pairs well with steak.
Grilled corn: Grilled corn on the cob is a tasty and summery side dish that goes well with steak. You can grill the corn on an outdoor grill or in the air fryer.
Rice or quinoa: If you prefer a grain-based side dish, try steamed rice or quinoa. You can add some herbs or spices to the rice or quinoa for extra flavor.
Garlic bread: Warm garlic bread is a classic side dish that is easy to make and always satisfying. Make garlic bread the traditional way, or brush sliced bread with garlic butter and toast it in the air fryer for a few minutes.
Yield: 2 servings
Air Fryer Sirloin Steak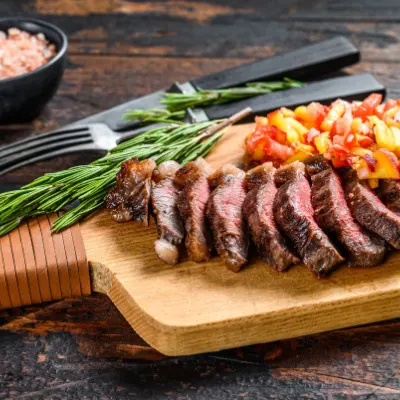 Make this quick and easy air fryer steak for a hearty, weekday meal.
Additional Time
5 minutes
Ingredients
2 sirloin steaks, about 1 inch thick
2 teaspoons of olive oil
Salt and pepper to taste
Instructions
Remove steak from the refrigerator and let it rest at room temperature for 30 minutes. Brush the steaks with olive oil and season with salt and pepper.
While the steak rests, preheat your air fryer to 400 degrees F or 200 degrees C.
Place the steaks in the air fryer, either in a basket or on a rack (if your air fryer is an oven style). Make sure the steaks are not touching.
Cook the steak for 8 to 12 minutes for medium-rare doneness, or until a meat thermometer reads 130 degrees F or 54 degrees C.
Let the steak rest for at least 5 minutes.
Nutrition Information:
Yield:
2
Serving Size:
1
Amount Per Serving:
Calories:

247
Total Fat:

17g
Saturated Fat:

5g
Trans Fat:

0g
Unsaturated Fat:

9g
Cholesterol:

78mg
Sodium:

195mg
Carbohydrates:

0g
Fiber:

0g
Sugar:

0g
Protein:

23g
Nutrition information isn't always accurate.