Maybe you're one of such folks that believe the best way to prepare pork ribs is to cook them using a grill, especially over longer durations. However, when these approaches aren't possible due to time constraints, lack of tools or space, or other factors, remember that you can always bake delicious fall-off-the-bone ribs in a regular oven.
If you're unsure how to go about it, this article will show you all you need to know. You'll also learn ideal timing guidelines for cooking pork ribs at 350 F and the best tips for optimal results.
Pork Ribs Nutrition Facts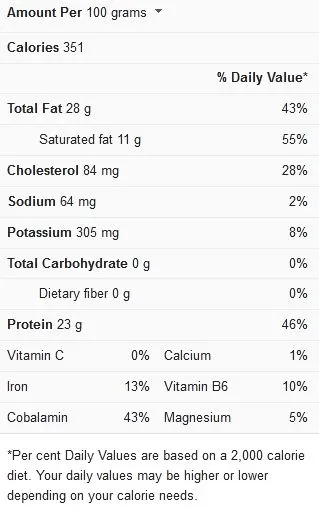 Tips for Cooking Pork Ribs in Oven
There are several essential tips in mind when working with pork ribs for an oven-baked recipe. Some of them have been discussed below:
Different types of pork ribs – Typically, you'll hear about three significant types of pork ribs, and each type has been described below:
Back ribs: These pork ribs are more minor, thicker ribs typically gotten from the upper loin of the pig's body, and they tend to cook fast. They are also known as short ribs, loin ribs, or baby back ribs, and they weigh about 1 to 2 pounds per rack.
Spare Ribs: These more extended, slimmer ribs emerge from behind the shoulder, around the abdominal region. Because each rack weighs about 2 to 4 pounds, they typically cook more slowly. When the cartilage, breastbone, and skirt are removed to make a rectangular rack, they are known as side ribs or St Louis-style ribs.
Country-Style Ribs: These rib steaks are from the loin's shoulder end and are known to cook more quickly than the other pork rib types. They can be boneless or have a shoulder blade. They're also known as shoulder steaks or blade chops.
Tips to speed up the cooking process – Taking the ribs out of the refrigerator about an hour before the beginning of the cooking will help to speed up the process by enabling a more uniform heat distribution. Additionally, using the convection or forced air option of your oven can speed up cooking by up to 30%.
Wrap your ribs in foil – When ribs are wrapped with foil, this results in moister meat and a faster cooking time, but they will sadly not develop a crispy crust on the outside. You can, however, bake the ribs uncovered at first and then wrap them for the latter stages of cooking to achieve the crispy crust.
Other temperatures you can work with – Baking boneless pork ribs at 325 degrees F is another frequent temperature for producing exceptionally soft pork ribs. It will take an hour and 15 minutes longer, but the result will be desirable. The ribs become fall-apart tender and dripping with juices when cooked at 325 degrees, but they lack a crisp surface.
You can also use the dual-temperature cooking method if you want the ribs to be crispy and crunchy. Begin by baking the ribs at 425°F for 20 minutes to give them a good crust, then reduce the temperature to 350°F and bake for another 30 minutes.
How to tell when ribs are done – Ribs are done when the bones protrude ½-inch from the meat. However, this isn't always the case because they'll do the same thing if overcooked. Inserting an instant-read thermometer into the thickest portion without touching the bone is still the most ideal technique for determining doneness:
Back and spare ribs should be cooked to a temperature of 185-200°F or until the collagen has completely broken down into gelatin.
Depending on your choice of pork doneness, country-style ribs can be cooked at a lower temperature of 145-160°F.
At 145°F, ribs are safe to consume, according to the USDA. At the same time, collagen and connective tissue do not begin to break down until the temperature reaches 165°F. Therefore most people cook ribs for longer to arrive at excellent juicy results.
Preventing overcooking – When ribs are overdone, they develop a challenging and chewy quality. By baking ribs at lower temperatures, which cook the ribs more slowly and are generally more forgiving, you can lessen the risk of overcooking them.
View this post on Instagram

Cooking Time for Pork Ribs in Oven at 350
The cooking time for pork ribs in the oven at a temperature of 350 F tends to vary based on the kind of pork ribs you decide to use in your recipe. Generally, you can follow these timing guidelines for oven-baked pork ribs:
| | |
| --- | --- |
| Cooking procedure | Cooking time |
| Cooking Baby Back Ribs in the oven at 350 F | 2 hours |
| Cooking Spare Ribs in the oven at 350 F | 2 hours 30 minutes |
| Cooking Country-style Ribs (with 1-inch thickness) in the oven at 350 F | 20 to 30 minutes |
Print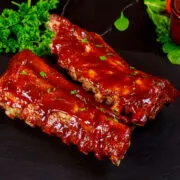 Oven-baked Pork Ribs (4 Servings)
---
3

pounds of pork ribs; you may use back ribs, side ribs or country-style ribs
Spice rub
---
Instructions
Optionally, 30 minutes before the cooking process, take the ribs out of the refrigerator.
Adjust the oven's temperature to 350°F, heat it up, and set the oven rack in the middle. Aluminum foil or parchment paper should be used to line a sheet pan afterward.
Using a paring knife, detach the silver skin membrane from the bottom of the ribs, and peel it away from the ribs.
Place the ribs on the prepared pan, with the meaty side facing downwards, in the oven. Leave the ribs to bake for 1 hour in the oven.
Take the pan out of the oven. The meaty side of the ribs should now be facing upwards. Then, using a pastry brush, coat the meat in the sauce.
Place the ribs back in the oven, carefully wrapped in aluminum foil. Bake them for another 30 minutes before checking for doneness. Remove the ribs from the oven once an instant-read thermometer reads 180-195°F in the thickest area of the ribs.
Allow the ribs to rest for 5-10 minutes in the pan, covered with foil before serving them.
This recipe for pork ribs is adaptable and delicious and can be made within an entire cooking duration of 3 hours and 10 minutes, including a prep time of 10 minutes and a cook time of 3 hours. If you'd like to explore more ways to cook pork ribs in the oven at 350 F, then check out this video recipe.