Notably, steaks are an excellent main course for any occasion, whether a weeknight or a special occasion. Moreover, a good steak supper can be as special as a birthday present or as simple as a Monday night dinner.
Pick your favorite steak and learn how to cook it in the oven for whatever reason. There's no need for a barbecue when making steak in the oven.
You can prepare it any day of the week due to how quick and simple it is to make a beautiful and delicious steak. There's no need to go to a fancy restaurant, and there's no need to make it a special occasion.
The meat itself is what makes the steak so wonderful. All you have to do is prepare it as you should.
Steak Nutrition Facts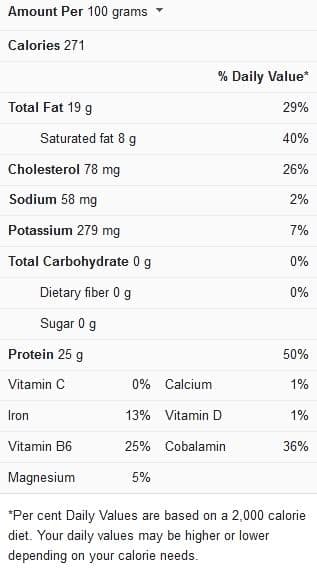 Tips for Cooking Thick Steak in the Oven
Buying a superb steak is the first and most critical step in preparing a perfect steak. Going to a local butcher, preferably one who either grows the animals himself or sources them from a nearby farm, or finding a supermarket that sources sustainably and humanely raised meat is the best way to do this. Their meat is frequently of higher quality and tastes substantially better.
Start with room temperature steak.
Sear it in a blazing hot skillet.
Finish it in the oven until it achieves your preferred level of doneness.
Let it rest for a few minutes to seal in the juices.
Make sure the steak you buy is at least one inch thick; if it's thinner, cut the cooking time in half and check the steak frequently to avoid overcooking. Also, look for steaks with a little white fat around the edges and a lot of fat marbling on the inside.
One pound of steak will comfortably satisfy two people, but it can also be extended to three or four.
Allow the meat to rest after it is taken from the oven and keep it juicy. Allowing a warm steak to cool allows the juices to flow back in, resulting in a slice of highly moist and tasty meat. Before serving, I like to let the meat sit for 5 to 10 minutes. I'll top it with a slab of butter and fresh herbs after it's rested. It truly raises the flavor to the next level.
View this post on Instagram

How to Cook a Thick Steak in the Oven
Step 1
First, you should allow your steak to come to room temperature before cooking.
While you preheat your oven, make sure to leave it out of the fridge for around 30 minutes. 450° F is the optimum figure for thicker steak slices like rib-eye or filet mignon.
Step 2
If you use a skillet, make sure it's very hot. This rule is very important for a beautifully seared and caramelized crust on thick slices of meat.
If you start with a cold pan, the meat will become an unappealing shade of brownish-grey, and the texture will be completely one-note. You may either place the skillet in the oven or heat it on the stovetop over a flame during the preheating process.
When broiling anything like a skirt steak, the incredibly intense and direct heat will be adequate to achieve the same scorched effect without overcooking the meat.
Step 3
Season the steak well with salt and pepper. Use twice as much salt as you think you'll need. Rub some olive oil into the meat, then season with as much salt as you like. Also, use freshly ground black pepper instead of the sort in the spice jar. It has a significant impact.
Step 4
Sear one side of the steak in your – very hot – skillet until it's brown and the bottom starts to come away, making it easy to flip. It's time to put it in the oven once you have turned it in.
It will be finished in the oven. In a 450° F oven, thicker slices of meat should take roughly 10 minutes. Make sure halfway through the cooking, flip it onto the sheet pan.
You can allow it to rest. This is crucial if you want your steak to be tender and juicy.
Because if you slice too soon, all of the flavors will be gone on the cutting board.
Step 5
Make sure you cut across the grain – incorrect slicing is one of the most common causes of tough and chewy steak. Slicing perpendicular to the meat's grain is against the grain.
Print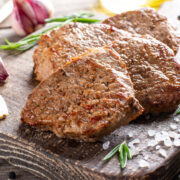 How To Cook Thick Steak in the Oven
---
---
Instructions
Remove the steaks from the fridge and set them aside for 15-30 minutes to come to room temperature. Get rid of any extra fat.
Preheat the oven to 450 degrees Fahrenheit.
While the oven is heating up, place a large skillet in it. Remove the pan from the oven and set it over high heat on the stove.
Using a paper towel, pat dries the steaks.
Then, generously season the steaks with salt and pepper after rubbing the oil over them.
Place the steaks in the pan once it is very hot. Then proceed to cook for 1 minute on each side until seared. Then use tongs to flip.
After that, bake the pan for 4-6 minutes. Cook for another 4-6 minutes on the other side.
Use a meat thermometer or a knife to slice through the center to check for doneness.
Remove the meat 5 degrees before it reaches the required temperature. While resting, the temperature will continue to climb.
Using an oven mitt, remove the pan from the oven and set it aside to cool for a few minutes. Place a thick slice of butter on top of each steak.
You can watch this video recipe to cook thick steak in the oven.