Eggplant is a high-fiber fruit that is very rich in vitamins. The firm, satisfying texture of grilled eggplant makes it a popular meat alternative in vegetarian meals. Fried, grilled, stir-fried, broiling, roasting, and baking are just a few ways to prepare eggplant. If you're cooking eggplant, be sure it's fully cooked. It will have a distinct flavor and a smooth creamy texture when cooked correctly. To reduce the quantity of oil the eggplant absorbs, it can also be breaded. To avoid getting mushy, add eggplant to soups or stews towards the end of the cooking time. Below are some directions for cooking eggplant in a skillet using the two most used methods: frying and stir-frying.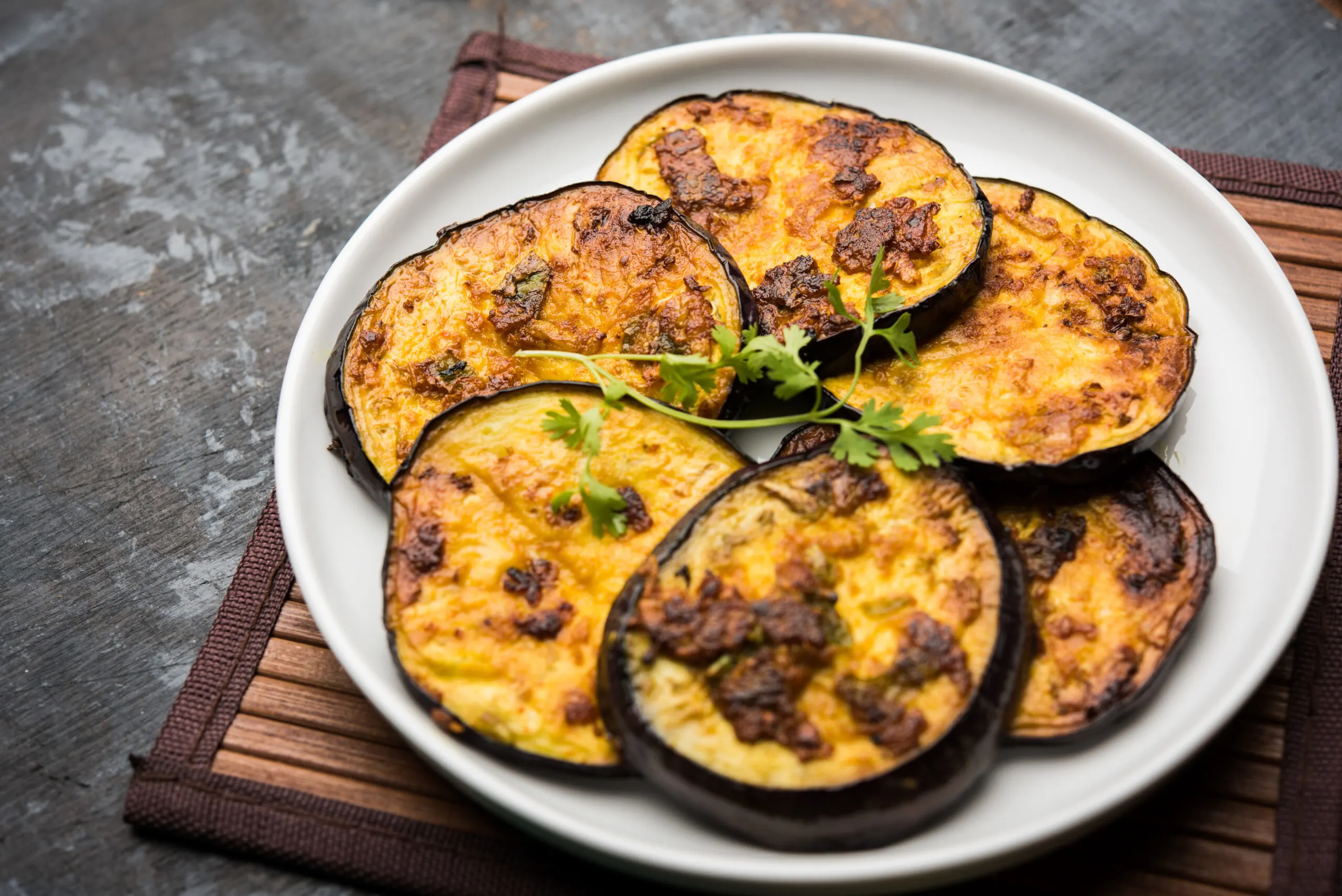 Eggplant Nutrition Facts
Print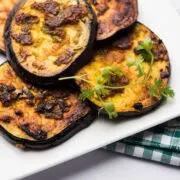 How To Cook Eggplant In A Pan
---
Nonstick skillet
Eggplant
Egg whites
Breadcrumbs or flour (optional)
---
Instructions
How To Cut Eggplant For Frying
Cutting eggplant for frying can be done in a few different ways:
Slices. Make small rounds out of the eggplant by cutting it crosswise. Start with the non-stemmed end so you may grab the leafy end as you slice.
Strips. Cut the eggplant into half-inch slices, then stack and cut into long strips.
Cubes. Cut in the same manner as strips, but in the other direction to create cubes.
Method 1: Fried Eggplant
Step 1: Cut the eggplants into slim slices after washing them.
Step 2: Sprinkle the salt over the eggplants and place them on a dish lined with paper towels. Allow for a 15-minute rest period, or until the moisture has been released. Turn the slices over and let the other side also do the same, patting them dry with paper towels.
Step 3: Mix a cup of flour with a quarter cup of cornmeal, a little salt, and pepper to make a batter. In a small dish, all the ingredients should be mixed together. To make a bigger amount of eggplant, double the ingredients and season to taste with more or less spices.
Step 4: Whisk together one or two eggs in a different mini bowl. If you're cooking a lot of eggplant, you'll need additional eggs.
In a dutch oven or large skillet, heat the frying oil to 350°F. In a skillet, pour enough oil to just cover the eggplant slices. Deep frying oil options include vegetable oil, peanut oil, and canola oil. Olive oil should not be used because it cannot withstand high heat.
Step 6: The eggplant slices should be dipped in the egg, then in the flour mixture, one at a time. To remove extra flour, the eggplant slices should be tapped on the side of the flour bowl.
Make sure all of the pieces are floured completely. Each of the pieces should be coated in flour and egg first, then in flour and egg again for a thicker batter.
Step 7: The eggplant slices which have been battered should be added to the heated frying oil using tongs.
Make sure the pan doesn't overflow. One piece of eggplant slices should be fried at a time, until they are golden brown, if required, repeat with another batch
Step 8: Cook the eggplant slices on one side until gently browned. Flip them to the other side and let it get brown.
Step 9: Using a slotted spatula, transfer your fried eggplant slices to a paper towel-lined dish to drain.
Step 10: Immediately serve the fried eggplant with any sauce you choose.
If you leave fried eggplant out too long, it will become soggy. The best way to eat it is when it's still hot.
Method 2: Eggplant in a Stir-Fry
Step 1: The eggplants should be peeled and cut into small-sized pieces after washing them.
Step 2: Salt the eggplant slices and arrange them on a dish lined with paper towels. Allow for a 15-minute rest period, until their moisture has been expelled. Turn the slices over to the other side and then repeat, patting them dry with paper towels.
In a deep frying pan or wok, heat a small amount of cooking oil. Only a minimal amount of oil is used in stir-frying. A spoonful is all you need. Heat the oil to a very high temperature, just before it smokes.
Step 4: Toss in the eggplant along with any additional desired ingredients, such as carrots, chopped onions, or snow peas.
Step 5: Add a tiny bit of pepper and salt to the stir fry before serving.
Step 6: Using a spatula or spoon, quickly mix the other ingredients and the eggplant together until they are gently browned.
Step 7: Serve with brown or white rice.
Tips/ Notes
When cooking eggplant, using aluminum cookware will stain it, so avoid using it.
When the eggplant is being salted, make sure to wipe off any excess salt after it has sat for a while. The water will be absorbed by the eggplant if you don't wash it off.
Bitterness will be higher in larger or overripe eggplants than in smaller, freshly ripe eggplants.
The eggplant slices should be dredged in flour or coat them in batter or breadcrumbs before frying to reduce the amount of oil they absorb and add crispiness.
Storing and Freezing Fried Eggplant
Refrigerate fried eggplant in an airtight container. It can last for as long as 5 days in the refrigerator.
To store leftover eggplant in the freezer, place it in a deep container and freeze for up to 6 months.
Reheating: While you can reheat the eggplant in a microwave, it's best to do so in a nonstick pan until it is warm and ready to eat.
Cooking Time for Eggplant in a Pan
The amount of time it takes to cook an eggplant depends on how thickly it's sliced. As a general guideline, aim for a quarter-inch thickness on the eggplant. The cooking times for eggplant in a pan are listed below:
| | |
| --- | --- |
| Cooking time for Eggplant in a pan | Cooking time |
| Prepping | 2 minutes |
| Cooking | 10 minutes |
| Total time | 12 minutes |
Eggplants are very rich in vitamins and there are various ways to cook eggplants that will preserve and enhance their vitamins. Those ways have been discussed above, however, if you want to learn more on how to cook eggplant in a pan, click here.