Ready to learn how to cook carne asada on the stove like a pro?
Carne asada is a thin steak that is typically chopped into small strips and served in tortilla shells, although it can also be served as an entrée. Normally the steak is grilled, but it can also be cooked on the stove — to a delicious result.
How to cook carne asada on the stove: Ingredients
The key to a good carne asada is the marinade. Master the marinade and you can get a tasty dish with nearly any cut of beef. But, to get that traditional carne asada taste and texture, you need to use flank steak, skirt steak, or flap meat. Carnivore Style also recommends chuck steak if flank or skirt cuts are too expensive.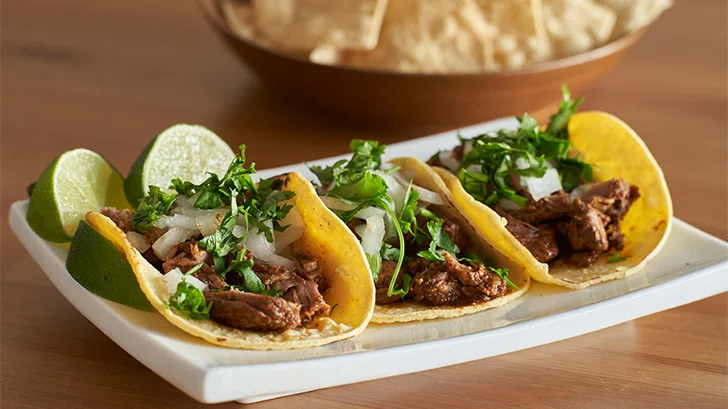 Our carne asada recipe also relies on these marinade ingredients:
Red wine vinegar
Water
Vegetable oil
Lime juice
Orange juice
Cilantro
Garlic
Garlic salt
White pepper
Cumin
Chili powder
Mexican oregano
Ground cloves
Fresh sliced orange
Tips for cooking carne asada on the stove
If using a flank steak, the flank steak should be marinated up to overnight or for at least 3 hours.
Use a cast-iron skillet if you have one. Preheat the skillet over medium-high heat for a few minutes before you add the steak. You want the pan to be hot when you add the steak. Carne asada is normally grilled, so the hot pan helps you mimic the char you'd get on the barbecue.
Wait a few minutes before cutting your steak! Allow 5 to 10 minutes for the juices to redistribute and resist the desire to eat it right away.
Cut your steak against the grain. The grain is the direction in which the muscle fibers line. These fibers are shortened when you cut the flesh against the grain, resulting in a more delicate bite.
Cooking time for carne asada on the stove
When cooking carne asada on stove, the only thing that takes time is marinating. After that, the rest of your prep only takes minutes. Below are the times it takes to cook carne asada on stove:
| | |
| --- | --- |
| Prep step | Time involved |
| Making marinade | 10 minutes |
| Marinating the steak | 6 hours |
| Cooking on the stove | 8 minutes |
| Total time | 6 hours 18 minutes |
How to use carne asada
You can serve carne asada as an entree, accompanied by rice and beans. You can also use it as a protein for a Mexican salad, or stuff it inside a burrito, taco, or enchilada. Here are a few of our recipes you can try once you learn how to cook carne asada on the stove:
Yield: 6 servings
Stovetop Carne Asada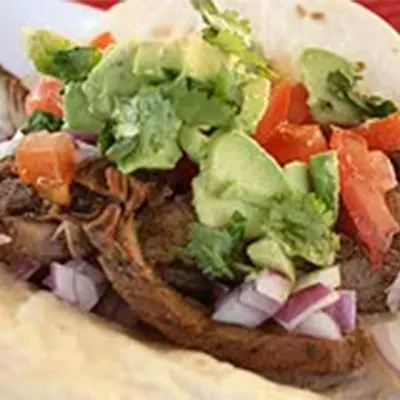 Ingredients
3 lbs flank steak
1/3 cup white vinegar
½ cup of soy sauce
4 garlic cloves (minced)
2 limes (juiced)
½ cup olive oil
1 teaspoon salt
1 teaspoon ground black pepper
1 teaspoon ground white pepper
1 teaspoon garlic powder
1 teaspoon dried oregano
1 teaspoon ground cumin
1 teaspoon paprika
Instructions
Place flank steak in a large bowl. In a medium bowl whisk together vinegar, soy sauce, garlic cloves, lime juice, and olive oil. Season with salt, black pepper, white pepper, garlic powder, chili powder, oregano, cumin, and paprika. Mix until well blended.
Cover, place into the refrigerator and marinate for at least 8 hours.
Slice the steak into strips.
Heat a bit of oil in a cast-iron skillet over medium-high heat. Lay the steak strips in the hot pan so they are not touching each other. Let them cook undisturbed for 3 to 4 minutes. Flip and repeat.
Use cooked steak for tacos or burritos.
Nutrition Information:
Yield:
6
Serving Size:
1
Amount Per Serving:
Calories:

625
Total Fat:

37g
Saturated Fat:

10g
Trans Fat:

0g
Unsaturated Fat:

23g
Cholesterol:

179mg
Sodium:

1649mg
Carbohydrates:

5g
Fiber:

1g
Sugar:

1g
Protein:

65g
Nutrition information isn't always accurate.