Everyone knows one of the tastiest ways to prepare pasta is with a great helping of shrimp. And the reason is pretty simple. Shrimp is easy to make, tastes heavenly, and blends perfectly with many sweet and savory flavors.
But many may find these facts hard to believe, especially after coming across some rather spectacular pasta recipes that feature shrimp. But you need not fear, as even when it plays a significant role in pasta, shrimp is usually the easiest to make.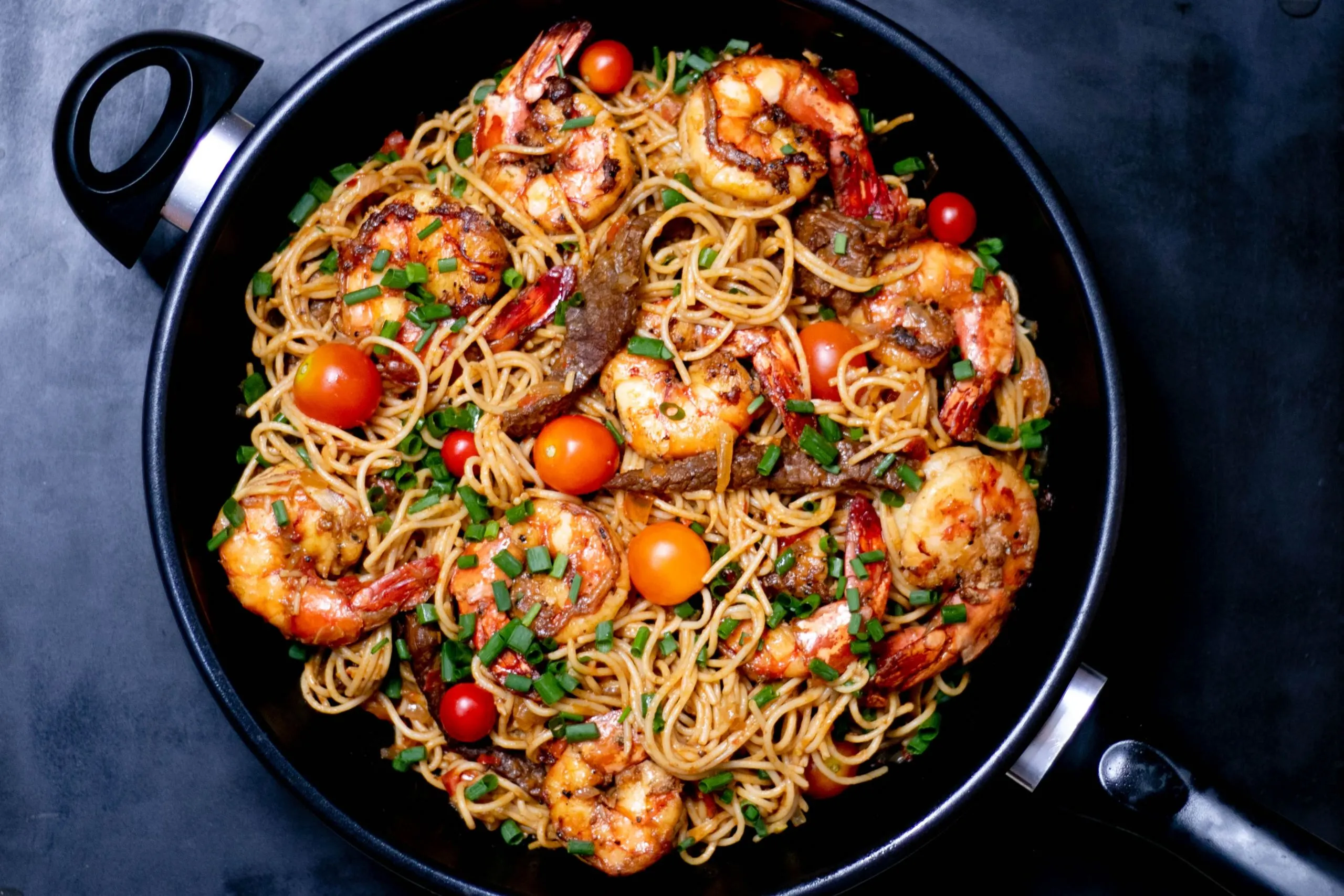 Cooking Shrimp for Pasta- What You Should Know
When making a pasta recipe that calls for shrimp, you may wonder how exactly to go about it. Well, you need not ponder over complex considerations, as the requirements for perfection are primarily in two factors;
The State of the Shrimp
You may think you only need to purchase fresh shrimp before your recipe can be outstanding, but that's not true. Most shrimp recipes use frozen options, including the ones you find at the seafood counters. You don't see them that way because they're first thawed before being put up for sale.
Regardless, you can buy shrimp from the counter and cook within a day or two, but no longer. And if it's frozen, you can keep it in the freezer for long and thaw whenever you need it. Either way, make sure the shrimp are peeled and deveined for more convenience. Also, check that the meat is pulpy, thick, and slightly firm with a grayish translucence.
The Size of the Shrimp
Any size of shrimp will work well in pasta recipes, provided you can allow it. The main thing to check, however, regarding this factor, is the cooking time. With such in mind, big shrimp would take a longer time to cook than smaller ones. So, it's best to make your adjustments based on that knowledge. And if you want a parameter to measure with, consider that medium shrimp are usually packed in counts of 17 to 20.
Sautéing- Best for Pasta Shrimp
Shrimp releases such flavor and aroma that it blends perfectly in pasta when sautéed in a pan over the stove. You also get a crisp texture complemented by a blend of bright pink and red colors, which signifies doneness. And the method is pretty simple;
Thaw the shrimp if frozen, and pat them dry. To thaw them, place the shrimp in a colander and hold them under running water. Toss occasionally, so all shrimp are exposed.
Melt some butter or heat oil in a pan, and add the shrimp. The butter or oil adds fat and a creamy flavor.
Season generously with any blend of spices and salt you wish, and stir occasionally. Cook until the color turns opaque and bright red. This process takes about four to five minutes, depending on the size.
Move the cooked shrimp to a dish and serve on or stir into your pasta recipe.
Print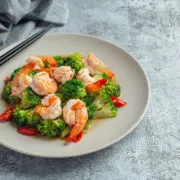 Sautéed Shrimp (4 Servings)
---
One pound raw medium shrimp, peeled, deveined

One tablespoon

butter
Black pepper, freshly ground
Chili spice
Kosher salt
---
Instructions
Thaw the shrimp if frozen by placing them in a colander and running cold water over them for five minutes. Make sure to toss the colander so all the shrimp are exposed. The shrimp is fully thawed when they're soft, somewhat translucent, and bendable.
Put a pan over medium-high heat and melt the butter. Make sure to tilt the pan as the butter melts so the oil coats the entire surface.
Add the shrimp and generously sprinkle the black pepper, chili spice, and salt when the butter is completely melted.
Stir the shrimp occasionally as you cook until the color turns bright red. You should notice this change in about four to five minutes, depending on the size. You'll also see the shrimp curve to form a C-shape.
Once all the shrimp are entirely done, pour in a serving dish and use as desired in your pasta recipe.
Another excellent shrimp for pasta recipe can also be viewed in this video.