Smoothies contain fruits, veggies, protein, fats & flavours—healthy smoothie aids to improve heart, cardiovascular health and reduces inflammation. Smoothies are a great choice to complement your hectic daily routine. Also, they are great for breakfast and snacks. However, not all smoothies are high in nutrients.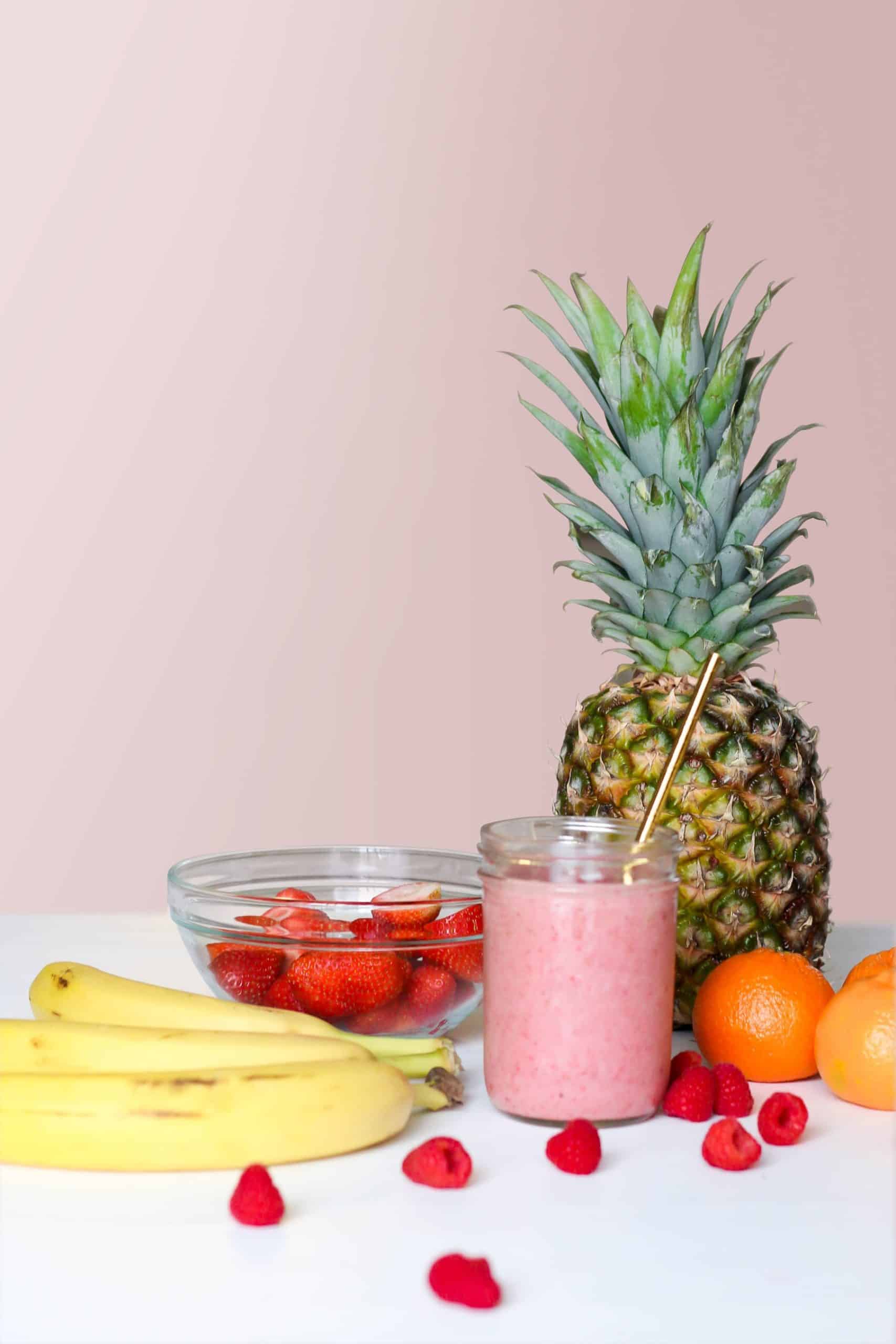 It is vital to add varieties to your meals. Smoothies can be a great alternative. However, the picture that comes to our mind when we talk about smoothies is Jamba Juice Classic Smoothies! Though it's an excellent smoothie, it's not healthy enough. It contains 25tsp of sugar, whereas you only need 8tsp for a healthy & balanced diet.
That said, it's essential to understand which smoothies serve all your nutrition requirements.
What Is A Healthy Smoothie?
Smoothies are among the most fantastic additions to adults or kids for on-the-go breakfast, snacks, desserts, etc. However, these smoothies shouldn't contain loads of sugar, fat, or extra calories. Otherwise, the primary purpose of maintaining nutritional balance will be hampered.
Did you know that blended vegetables & fruits you drink absorb nutrients four times faster than usual? Also, these blended veggies & fruits digest twenty times faster. Exciting, isn't it?
Making smoothies is great if you can add nutritious value to them. That said, it requires more practise & experience to pull off a recipe that soothes your appetite & gives the body the necessary nutrients.
How To Make A Better Smoothie
A good, healthy smoothie isn't some random mixture of fruits or veggies. Also, exaggerating with fruits or sugars makes the smoothie dull & valueless. You should know how to add fruits, veggies, seeds, etc., in proper quantity.
The optimal quantity of veggies to fruits is ⅔, & add fruits in ⅓ quantity of your smoothie. Use a powerful blender to get the desired thickness of your smoothie. Now comes the part of making a better smoothie. First, know what ingredients make a smoothie rich in nutrients.
A glass of healthy smoothie has many portions. The bottom part is base-liquids. Then there is sweetened/unsweetened juice, fruits, vegetables, protein, ground flax, and to top it all of you will need ice.
Ice cubes do not just make the drink colder but make it more refreshing as well. There are different ice makers to make the perfect cube, and you can visit icemaking101.com to learn more about it.
1. The Base Liquid
You can try adding soy, coconut, or almond milk, and fruit juice like kefir works great as base liquids. If you make your smoothie too thick, taking a sip may become challenging. So, add water to liquefy the concentration.
These base liquids serve various purposes. For instance, coconut milk is high in fat. But almond milk adds a sweet flavour and contains nutritious values, and soy milk is high in protein.
2. Juice
It would be better if you chose unsweetened fruit juice. 2-4 ounces of chilled fruit juices in the blender is more than enough. You can use:
Pomegranate juice
Blackberry juice
Orange juice
Dark cherry juice
3. Fruits
Try to add ½ cup of organic fruits to the blender. Don't use processed fruits because they are high in added sugars, syrups, sweeteners, etc. However, these below fruits can be a perfect choice for smoothies:
Berries
Apple
Mango
Banana
Orange
Peach
Pineapple
4. Vegetables
One cup of seasonal or leafy vegetables is enough for decoration or good taste. Mostly used vegetables are:
Leafy veggies (kale, spinach, chard, etc.)
Zucchini
Beet
Cucumber
5. Protein
Soy butter, nut butter, yoghurts, kefir, oats, whey or protein powder, etc., are good sources of protein that can be added to the smoothie.
6. Flax seeds
Sesame, chia, pumpkin, etc., are some of the most excellent flax seeds that add versatility to your smoothie. Use 1/2 tablespoons of flax seeds on top of the fruit & vegetable.
7. Ice
Finally, add ice cubes or crushed ice to your preference for the premium look.
8. Flavors
If you want to make your smoothie extra alluring, consider adding flavours. Flavours such as cocoa powder, vanilla extract, cinnamon, and fresh ginger, are good flavourings.
Things To Consider While Making A Smoothie
You may have worked hard but failed to make your smoothie look or taste better. To make the perfect smoothies, you need to keep a few points in mind that are-
1. Not Suitable With Breakfast
Smoothies contain 200 to 400 calories. Thus, adding smoothies with breakfast can create more trouble than maintaining health. If you want to have smoothies for breakfast, replace the usual breakfast & take the smoothie only.
2. Too Much Fruit Spoils It
Fruits are a significant part of a perfect smoothie. However, you should not use tons of fruits for one single glass. Add only a cup of fruits. Even if you have different types of fruits, mix them all up and use only one cup.
3. Handle Sweeteners Carefully
Your smoothie can become unhealthy if you add too many sweeteners. So, be careful while adding sweeteners. Maple syrup, honey, coconut sugar, agave, etc., are the most common ones.
4. Be Careful With The Booster
Boosters are another excellent addition to the smoothies. However, smoothie's sole purpose is to maintain a balanced diet. Boosters, namely chia seeds, nut butter, protein powder, etc., contain high calories.
Some of them have 100, while others may have over 100 calories. So, be careful with the quantity you are adding.
Nutritionist's Healthy Recipes
Although numerous smoothies are available these days, nutritionists don't recommend all of them. However, the three recipes discussed here can be helpful & easy to make:
1. Brain Smoothie
This smoothie focuses on intellectual & brain development. Regular consumption of this smoothie can help your brain development and stay calm. To make such smoothies, you will need the following ingredients:
Concord grapes
Blueberries
Leafy greens (kale, arugula, spinach, etc.)
Extra-virgin olive oil
Peeled orange
Turmeric
2. Anti-Inflammatory Smoothie
These smoothies help fasten the healing process and prevent inflammation from spreading. The necessary ingredients are-
Tropical fruits (Orange, guava, papaya, mango, Mandarin, apricot, etc.)
Blackberry, blueberry, or raspberry
Green leaf
Fresh knob of ginger root
Large kale
Pomegranate seed/juice
Knob of turmeric root
Water
3. Cardio Smoothie
Cardio smoothies are great for maintaining your heart and cardiovascular health. To make a cardio smoothie, you will need:
Raspberry
Blueberry
Whey powder
Green tea
Pomegranate juice
Watermelon
Cubed small beetroot
Green leaves
Unsweetened cocoa powder
Onion
Kale
Cranberry
Grape seed powder
Water
Final Thoughts
The best part about smoothies is that you can improvise on the ingredients & make a suitable one that is perfect for you. However, make sure of the calories that you are taking with the smoothies.