We all love cashews. Frankly, who doesn't? A mildly flavored seed of the cashew apple tree with a rich and creamy texture complementing its mellow crunch – everything about cashews is perfect.
Originated from the tropical rainforests of Brazil, cashews are now being grown in every hot country. India, Australia, the Philippines, Vietnam, and Brazil are presently significant cultivators and exporters of cashew. With billions of people consuming cashews annually, we can conclusively say that it's trendy. 
Does Cashew Yield Any Benefits? 
Now, there is a lot more than you can get from cashews apart from the flavor profile and texture. Cashews do provide people with multiple health benefits. Want to lower cholesterol? Eat cashews! Want nice skin? Eat cashews! Want to get rid of hypertension? EAT CASHEWS! 
Undoubtedly, there are multiple health benefits associated with eating cashews. Although it is considered fatty, cashews are indeed a healthy treat when consumed under the recommended serving size. Let's discuss some of the benefits of cashews: 
Cashews are rich in unsaturated fats, which are suitable for your heart. High levels of unsaturated fats help you reduce LDL (the bad fats) from your arteries and heart. This results in a healthier heart, fewer chances of stroke and heart attack, as well as high blood pressure. 

Cashews will help you fight anemia. Anemia is more common in women because they lose blood every month. Fortunately, copper is abundantly present in cashews. Almost 95% of your daily copper intake comes from them. 

Cashews are high in antioxidants. These antioxidants help you protect the cells and radicals and provide you with copper and magnesium. This enables you to improve your damaged skin. People who eat cashews or apply cashew oil have better and more glowing skin than people who have no proper skincare routine. This is because of all that selenium present in your body. 

Cashews are abundantly rich in phosphorus. This means that eating cashews will strengthen your bones. Maintaining your bones and keeping them healthy will help you stay on your feet for a long time. Older people who take care of their health and add healthy nuts like cashews in their diet can remain healthy and active for a more extended period than the people who don't. So, if you want healthy bones, it is time to buy some

raw cashews in bulk

. 
Vegetarian Cashew Nutrition Facts: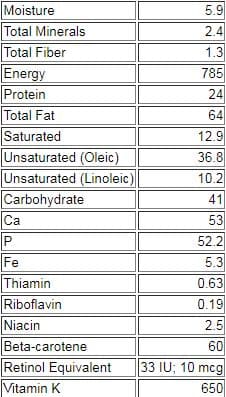 Cashews for Vegetarians 
Typically, vegetarians end up having very few choices on a menu. Although there are plenty of vegetarian recipes available on the internet, restaurants need to add more vegetarian dishes to their diet. 
Cashews are vegetarian. So, for people looking for vegetarian dishes on a menu, they should have some cashews options. Whether you are hosting a big vegetarian brunch or you need to upgrade your restaurant menu with some mouth-watering dishes featuring the humble cashew. 
We will discuss three amazingly delicious recipes featuring: 
An appetizer 

The main course 

And a dessert
So, it's time to buy bulk cashews, head out to the kitchen, and start cooking! 
Appetizer- Mushroom Baguettes with Cashew Cheese 
This is a delicious appetizer that can be served in a local eatery around the corner to a fancy fine dining restaurant. 
Ingredients
For Cashew Cheese 
½ cup raw cashews, soaked overnight or for at least 6 hours

½ garlic clove, crushed 

⅛ cup unsweetened nut milk (use cashew milk for a denser flavor profile) 

½ tablespoon lemon juice

⅛ cup fresh parsley, finely chopped 

One tablespoon of fresh thyme and chives each

¼ teaspoon salt

⅛ teaspoon pepper 
For Mushroom 
⅛ cup olive oil

4-ounce cremini mushrooms, thinly sliced 

One garlic clove, crushed 

¼ cup dry white wine

½ teaspoon salt 

Black pepper to taste
For Bread
One baguette sliced into an inch wide slices, toasted, and broiled.
Instructions 
To Prepare Cheese 
You can start this recipe by making the cheese. You must have

raw cashews in bulk 

so you can make plenty of appetizers when needed. 

To make the cheese, take a food processor, place your cashews, garlic, and one tablespoon of milk and blend until a smooth paste is formed. While the food processor is running, you need to add the lemon juice. It will help you give the mixture a smooth cheese-like texture. 

Finally, add your herbs and seasoning. Rerun the processor until everything turns smooth and mix. If you want to adjust the seasoning according to your taste, go ahead.
To Prepare Mushrooms 
Take a heavy skillet, brush it with oil and place it on medium flame. 

As soon as it turns hot, put in your mushrooms. 

Cook your mushrooms for 5 to 6 minutes. Keep flipping until the mushrooms turn deliciously brown. 

Add garlic in the skillet with the mushroom. Add your wine and thyme into it and keep cooking it for 5 to 6 minutes when most of the wine is evaporated. Season the mix. 
To Prepare Baguette
Spread the mushroom mixture on the sliced baguette and top it with your cashew cheese. 
Main Course – Cashew Pad Thai 
It is not just a vegetarian option, but this cashew pad Thai is also vegan. 
Ingredients 
For Sauce 
Ten tablespoon cashew butter 

Eight tablespoons soy sauce 

One lime juice 

Two tablespoon rice syrup 

Three tablespoon water 
For Vegetable Stir 
Two broccoli, divided into florets 

400 grams tofu, smoked and diced

One teaspoon ginger, finely chopped 

Four garlic cloves, crushed 

Two small chilies 

Four spring onions, diced 

Two small cucumbers, cut into thin strips, seeds removed 

250 grams glass noodles (rice noodles can be used), cooked as per package instructions 

Sesame oil, few drops

One tablespoon Thai basil and coriander each
Instructions 
For Cashew Butter 
Buy cashews online

 

and soak them in water overnight.

 

Blend them in a food processor until a thick mixture is formed. 

Add any oil (for example, olive oil or coconut oil) 1/8th of the number of cashews you are using. 

Store in an airtight container in your fridge. 
For Sauce 
Put all the ingredients in the sauce and shake forcibly. You can add more water for a thinner consistency. 
Sauté the tofu until it turns crispy and golden brown on all sides. 

Add ginger, chili, and garlic to your sauté. After a minute, add your spring onions for a few minutes. After the onion softens a bit, add your broccoli and cucumbers along with water and cook for a few minutes with the lid on. 

Add your noodles and the sauce and let everything mix on low heat for a minute or two. Serve with a side of lime, spring onions, and sprinkle it with some coriander. 
Dessert Chocolate Cashew Cheesecake 
A slice of this cashew cheesecake is a delectably healthy treat for vegetarians as well as vegans.
Ingredients 
For Base 
1 cup cashews 

Ten medium dates pitted 

One tablespoon raw cocoa powder, unsweetened

Two tablespoons coconut oil, melted 

One pinch of sea salt
For Cheesecake Mix 
2 cups soaked cashews 

½ cup coconut milk, full fat

½ cup maple syrup 

½ cup coconut oil 

One pinch of sea salt 

Three tablespoons raw cocoa powder, unsweetened 
Instruction 
For Base 
Line a 9-inch pan with baking paper and butter. 

Put your cashews (unsoaked cup) in a food processor and blend for a minute till the mixture is chunky. Add the dates, mix again. Finally, add your cocoa powder, salt, and coconut oil to the processor. Pulse it until there is some texture, but the mixture is crumbly. Press it and put it in the fridge to chill for a while. 
For Filling 
Put your cashews (soaked), maple syrup, sea salt, and oil and blend them until they are smooth. Add the melted coconut oil until the mixture is soft and silky. 

Divide the filling into equal halves. Add your cocoa powder into one half of the filling and blend it again until it's mixed. 

Line the pan with the cold base mixture and top it with your cashew filling for a couple of hours – 2 to 3 hours. 

Then add the cocoa filling mixture and refrigerate again for a couple of hours. Once you take it out of the fridge, could you wait for 15 minutes before serving it? 
Conclusion
Cashews are a fantastic addition to the vegetarian menu. You can buy bulk cashews and incorporate some fancy dishes on your menu now.