Lemon Poppy Seed Fruit Salad Recipe

Lemon poppy seed fruit salad makes a great side dish for the summer. You can bring this fruit salad to parties or prepare it at home to impress your guests. I made this salad for the 4th of July this year as part of my cookout. This salad uses only 3 different types of fruit—pineapple, strawberries and kiwi. You can add additional fruits as well such as fresh blueberries. The fruits are sliced and placed into a bowl and then tossed with lemon juice, sugar and poppy seeds. You can use honey instead of the sugar if you choose. Enjoy.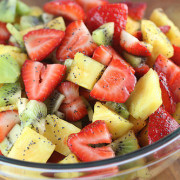 Lemon Poppy Seed Fruit Salad
Ingredients:
1 fresh pineapple (peeled, cored, and diced)
2lbs fresh strawberries (sliced)
4 kiwis (peeled and diced)
Juice of 1 lemon
2 tablespoons sugar (or honey)
1 tablespoon fresh poppy seeds
Directions:
Combine all of the prepared fruits into a large bowl. Add the lemon juice, sprinkle with sugar and poppy seeds and then gently stir to combine.
Chill for at least 30 minutes before serving.