Maple Mustard Sausage Bites Recipe

These maple mustard sausage bites are a delicious appetizer to serve for the Super Bowl or any party. What I like about this recipe is that it is so easy to make and can be ready in no time at all. The process to preparing this delicious appetizer is very simple—sliced smoked sausage in combined in a baking dish with a mixture of maple syrup, stone ground mustard and mayonnaise. The dish is baked or cooked on the stovetop and then you can serve the sausage slices on booth picks with some of the sauce on them. Enjoy.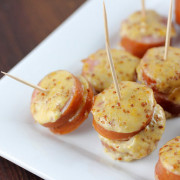 Maple Mustard Sausage Bites
Ingredients:
1/2 cup mayonnaise
4-5 tablespoons stone ground mustard
4 tablespoons pure maple syrup
2 (13 ounce) packages smoked sausage
Directions:
In a medium bowl whisk together mayonnaise, mustard and maple syrup.
Slice the sausage into ½ inch pieces. Place in a baking dish or sauce pan.
Add the sauce to the pan. Bake at 350 degrees F. for 15 minutes or over medium low-heat on the stovetop until hot.