Onion Potato Chip Burgers Recipe

These potato chip onion burgers are great on the grill or cooked on the stovetop. The patties are mixed with breadcrumbs and egg to give them a little different texture from your normal beef patty. The burgers are topped with French onion dip and kettle chips for a nice crunch. You can use pretty much whatever type of cheese you prefer here but I used cheddar. These are great served with French fries. Enjoy.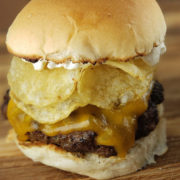 Onion Potato Burgers
Ingredients:
½ cup seasoned breadcrumbs
1 egg (lightly beaten)
½ teaspoon salt
½ teaspoon ground black pepper
1 pound ground beef
1 tablespoon olive oil
4 potato hamburger buns (split and toasted)
Toppings-
Kettle cooked potato chip
Sour cream onion dip
Directions:
In a large bowl combine burger, breadcrumbs, egg, salt and pepper. Mix lightly but until the ingredients are well incorporated. Shape into ½ inch thick patties. Press a shallow indent into the center of each patty with your thumb. Brush both sides of the patties with oil.
Heat a outdoor grill to medium-high heat. Grill the burgers for 4-5 minutes on each side or until the internal temperature has reached 160 degrees F. During the last few minutes of cooking top each burger with a slice of cheese. Grill until the cheese has melted. Serve on buns with toppings.