Orange Beef Recipe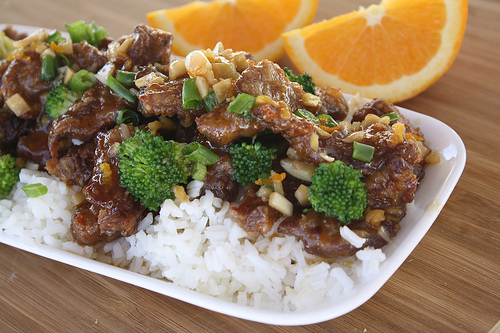 If you are in the mood for some Chinese, you might want to try out this orange beef recipe. This dish consists of crispy strips of beef coated with a delicious orange sauce. Probably the biggest challenge of this dish is getting the strips of beef crispy. Here are a few tips, you can do this in a wok or fry pan, but I have to recommend a deep fryer. Also, make sure not to overload the deep fryer or wok with too many strips of beef. Only place in a minimal amount to fill the wok or deep fryer. One more thing is, after you coat the beef with cornstarch you will want to leave it sit for a few minutes. The sauce is very simple to make, if you have a problem getting the sauce to thicken up, mix a bit of cornstarch with some cold water and pour it In, a little at a time until the sauce has reach the desired thickness.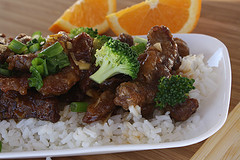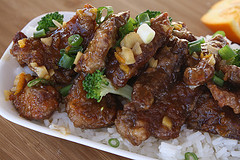 Ingredients:
1 1/2lbs beef top sirloin (sliced into thin strips)
¼ cup cornstarch
2 cups oil (for frying)
1/3 cup white sugar
1/3 cup rice wine vinegar
1/3 cup orange juice
1 teaspoon salt
1 tablespoon soy sauce
 2 teaspoons orange zest
3 tablespoons fresh ginger (grated)
1 ½ tablespoons garlic (minced)
1 bunch green onions (sliced)
Broccoli florets (cooked)
1 cup long grain rice (cooked)
Cooking Instructions: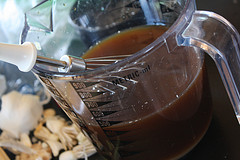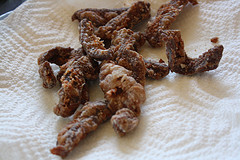 Step 1: Coat beef strips with cornstarch and allow to sit for 30 minutes.  In a small bowl mix sugar, rice vinegar, orange juice, salt, and soy sauce. Set aside.
Step 2: Heat oil in a deep fryer (or wok) to 375 degrees. Fry beef strips in batches until crispy and golden brown. Drain on paper towels. Set aside.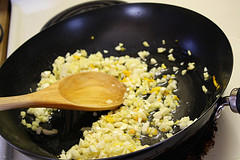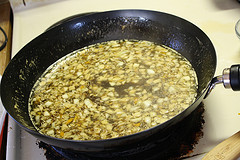 Step 3: Heat a couple tablespoons of oil in a wok, add orange zest, ginger and garlic, stir fry for 20 seconds. Add the soy sauce mixture to the wok, bring to a boil, and cook until the mixture has thickened. Coat the beef strips with the sauce, top with green onions. Serve with broccoli florets and on top of white rice.
(Makes 5 Servings)