Pizza Chicken Recipe

This recipe for pizza chicken is very similar to chicken parmesan but it is topped with pizza sauce instead of the marinara and also topped off with sliced pepperoni. The combination of chicken, pizza sauce, cheese and pepperoni is delicious. You can use your favorite brand of pizza sauce for this recipe or even make your own. The most work that is involved is breading the chicken. The chicken is baked in the oven but you can fry it in about ½ inch of oil in a large skillet first and then bake it if you would prefer. I like to serve this recipe with spaghetti tossed with extra pizza sauce and pepperoni. Enjoy.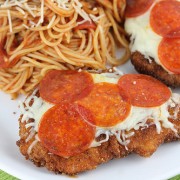 Pizza Chicken
Ingredients:
½ cup Italian breadcrumbs
¼ cup grated parmesan cheese
1 teaspoon salt
1 teaspoon ground black pepper
½ cup all-purpose flour
1 egg
1 tablespoon lemon juice
2 boneless skinless chicken breast halves
½ cup pizza sauce
½ cup mozzarella cheese
4 slices pepperoni (or more, to taste)
Directions:
Preheat the oven to 400 degrees F. In a shallow bowl combine the breadcrumbs, parmesan cheese, salt, and ground black pepper. In another bowl place the flour. Whisk together egg and lemon juice in a third bowl.
Dip each chicken breast first into the egg mixture, and then dredge in flour. Dip again into the egg mixture and then dredge in the breadcrumb mixture until coated. Place the coated chicken breasts into a baking dish. Place into the preheated oven and bake until the chicken for about 20 minutes until golden brown. Spoon 2 tablespoons of the pizza sauce over each chicken breast, sprinkle each with half the mozzarella cheese and top each with half of the pepperoni slices.
Continue to bake until the chicken is fully cooked (the internal temperature has reached 165 degrees F.).