Pizza Sliders Recipe

If you need a great sliders recipe for your super bowl party look no further. This recipe or pizza sliders is easy to make and tastes great. Slider buns are layered with pepperoni and mozzarella cheese. The sliders are then topped with a sauce which is a combination for butter, garlic, parsley and parmesan cheese. You can have these sliders in the oven and ready to serve in very little time. They are also easy to prepare if you are making other appetizers at the same time. Enjoy.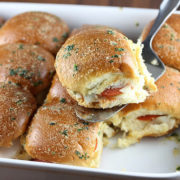 Pizza Sliders
Ingredients:
12 dinner rolls
¾ cup pizza sauce
12 slices mozzarella cheese
45 slices pepperoni
Sauce-
½ stick butter (melted)
1 tablespoon grated parmesan cheese
1 teaspoon garlic powder
2 teaspoons minced Italian parsley
Directions:
Preheat the oven to 350 degrees F. Spray the bottom of a 9x13 inch baking dish with cooking spray. Keep the rolls attached to each other. Slice the rolls in half horizontally. Place the bottom half of the rolls into the prepared baking dish. Spread the pizza sauce onto the top of the bottom half of the rolls. Add 6 slices of mozzarella cheese in a layer over the sauce. Add the pepperoni over the cheese and top with the remaining 6 slices of cheese.
Cover with the top part of the rolls. In a bowl combine butter, parmesan cheese, garlic powder and parsley. Mix well. Using a brush spread the topping all over the top of the sliders.
Cover with aluminum foil and bake for 15 minutes.