Ravioli Casserole Recipe

This ravioli casserole reminds me of lasagna. Cheese ravioli are layered with a meat sauce and mozzarella and parmesan cheese in a casserole dish and then baked in the oven. The meat sauce is homemade and gets a lot of its flavor from Italian sausage. You can use your favorite brand of ravioli for this recipe. If you are looking for an easy meal, this casserole is easy to prepare and the only real work that is required is preparing the sauce. Serve with garlic bread. Enjoy.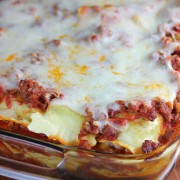 Ravioli Casserole
Ingredients:
1 (27.5 ounce) package frozen cheese-filled ravioli
2 cups shredded mozzarella cheese
2 tablespoons grated parmesan cheese
Meat Sauce-
2 tablespoons olive oil
1 onion (finely chopped)
1 carrot (peeled and finely chopped)
1 celery stalk (finely chopped)
2 garlic cloves (finely chopped)
1lb Italian sausage
1 cup red wine
1 (18 ounce) can crushed tomatoes
¼ teaspoon dried rosemary
¼ teaspoon dried sage
salt and ground black pepper to taste
Directions:
To prepare the sauce—heat oil in a large deep skillet over medium-high heat. Add the onion, celery, carrot and garlic. Cook for about 5 minutes while stirring. Add the Italian sausage and cook while breaking up into chunks with a spatula. Deglaze the pan with red wine. Simmer for 5 minutes. Add the tomatoes, rosemary and sage. Season with salt and pepper to taste. Simmer for about 1 hour.
Preheat the oven to 350 degrees F. Spray a 9x13 inch baking dish with cooking spray. Spread ¾ cup of the meat sauce onto the bottom of the baking dish. Arrange half of the frozen ravioli in a single layer over the sauce. Top with half of the remaining pasta sauce and 1 cup of mozzarella cheese. Repeat the layers once, starting with ravioli. Sprinkle with parmesan cheese.
Cover the baking dish with aluminum foil. Place into the oven and bake for 40 minutes at 350 degrees F. After 40 minutes. Remove the foil and bake uncovered for 15 to 20 minutes longer until bubbly and hot in the center. Let stand 10 minutes before cutting.