Santa Fe Chicken Recipe

Santa Fe Chicken is marinated grilled chicken topped with sundried tomatoes, black beans, cheese and cilantro. The chicken is marinated for only about 10 minutes in lime juice, seasoned with salt and pepper and then grilled. If you don't have a grill you can also cook this on the stove top. Enjoy.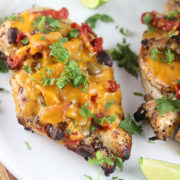 Santa Fe Chicken
Ingredients:
4 boneless skinless chicken breasts (pounded to ½ inch thickness)
Juice of 2 limes
Salt and pepper
½ cup sundried tomatoes
½ cup black beans
2 tablespoons cilantro (chopped)
1 cup shredded cheddar cheese
Directions:
Add chicken breasts to a large bowl. Add lime juice and toss to coat. Marinate for about 10 minutes. Season the chicken with salt and pepper.
Heat an outdoor grill over medium-high heat. Add the chicken breasts and cook turning at least once for about 6-7 minutes per side or until fully cooked (the internal temperature has reached 165 degrees F.). During the last few minutes of cooking top each chicken breast with some black beans, sundried tomatoes, and cheese. Cook until the cheese has melted. Remove from the grill. Let rest 5 minutes before serving. Top with fresh cilantro.