Scalloped Potatoes Recipe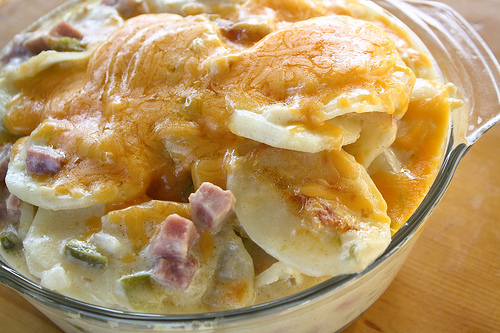 Today I have for you nothing but a classic; scalloped potatoes. These have been around almost forever and chances are many of you have eaten them at least once. If you are not familiar with this dish scalloped potatoes are basically sliced potatoes with a creamy sauce that are baked. Scalloped potato recipes are usually with or without ham, this recipe uses ham. It also uses vegetables such as green peppers and onion. This can either be a side dish or can serve as a main course by itself. It is very filling but if you have a large family you might want to double the recipe. Try and slice the potatoes decently thin or they will take longer to cook. This recipe is very simple and the prep only takes about 20 minutes then the oven does the rest. During the last few minutes of baking, you can top the dish with cheddar cheese if desired. Enjoy.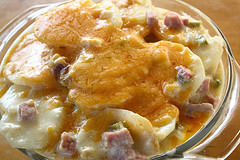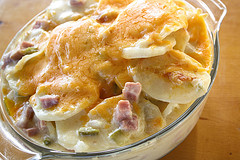 Ingredients:
½ cup butter
½ cup flour
2 teaspoons salt
½ teaspoon ground black pepper
3 cups milk
3 cups ham (cubed)
1 large green pepper (chopped)
1 large onion (chopped)
½ cup shredded cheddar cheese
5 cups potatoes (pared and sliced thinly)
Additional cheddar cheese (for topping, optional)

Cooking Instructions: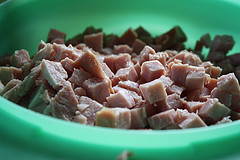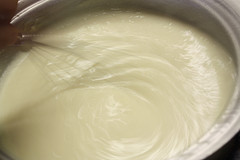 Step 1: Pre-heat the oven to 350 degrees. Melt ½ cup butter in a large sauce pan over low heat. Mix in flour, salt and pepper. Stir until well blended. Cook while stirring for about 1 minute. Remove from heat and gradually stir in milk. Return to heat and cook until thickened and bubbly.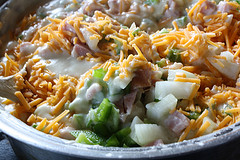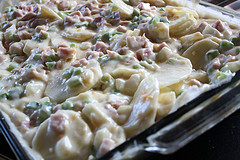 Step 2: Stir in ham, green pepper, onion and ½ cup cheddar cheese. Stir gently until mixed well.
Step 3: Add potatoes into a well grease 13×4″ baking dish. Pour milk/ham mixture over sliced potatoes and gently mix. Cover with aluminum foil.
Step 4: Bake at 350 degrees for 30 minutes. After 30 minutes remove aluminum foil and continue baking for 1 hour. During the last few minutes of cooking top with additional shredded cheddar cheese (optional).
(Makes 6 Servings)