Sriracha Boneless Wings Recipe

Using sriracha chili sauce is a great way to add a little spice to boneless chicken wings. These sriracha lime chicken wings have a rather unique and delicious flavor. The sauce uses ingredients such as sriracha sauce, butter, garlic, cilantro and lime zest. The easiest way to cook the chicken is in the deep fryer. The chicken is coated with a seasoned flour mixture. I like to coat the chicken in the flour mixture and then cover and place it into the refrigerator for a while—doing this will make the chicken extra crispy when it comes out of the fryer. These sriracha boneless wings are great for football playoffs and the upcoming Super Bowl. Enjoy!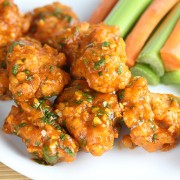 Sriracha Boneless Wings
Ingredients:
3 boneless skinless chicken breasts (cut into 1" chunks)
Oil (for deep frying)
1 cup all purpose flour
2 teaspoons salt
½ teaspoon ground black pepper
½ teaspoon cayenne pepper
¼ teaspoon garlic powder
½ teaspoon paprika
1 egg
1 cup milk
Sauce-
½ cup Sriracha chili sauce
¾ stick butter
¼ cup chopped cilantro
finely grated zest of 1 lime
4 garlic cloves (minced)
Directions:
Heat oil in a deep-fryer to 375 degrees F. In a large bowl combine flour, salt, black pepper, cayenne pepper, garlic powder, and paprika. In a small bowl whisk together the egg and milk. Dip each piece of chicken first in the egg mixture, and then roll in the flour mixture. Repeat so that each piece of chicken is double coated. Refrigerate the breaded chicken for 20 minutes (or a little longer for crispier coating).
Fry chicken in the hot oil in batches until the outside is nicely browned and fully cooked (the internal temperature has reached 165 degrees F.), about 5 minutes per batch. Drain on paper towels. Repeat until all of the chicken is gone.
While the chicken is frying melt the butter in a medium saucepan over low heat. Add the garlic and stir in the sriracha sauce. Remove from heat. Stir in the lime zest and cilantro.
Toss the chicken pieces with the sauce and serve immediately.