Steak Tacos Recipe

If you like steak, peppers and onions you will love steak tacos. I have wanted to make steak tacos for along time and tonight I finally went through with it. I got this recipe from Cooking Light and once I saw the ingredients I had a feeling it was going to be good. I was surprised at how little time I actually took to make them. Just a little time for prep work, a little sautéing and they are on table. The vegetables are first stir fried, then the steak is sautéed for a few minutes and then tossed with a few amazing ingredients. The major flavor enhancers in this recipe are the lime juice and fresh garlic. If you don't like steak feel free to try this recipe with shrimp instead. I serve these tacos with a side dish of flavored rice.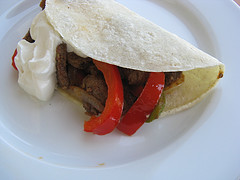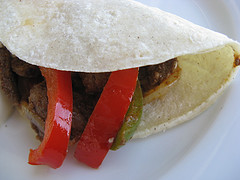 Ingredients:
1lb flank steak (thinly sliced)
vegetable oil (for frying)
1 large red bell pepper (sliced)
1 large onion (sliced)
1 tablespoon Chili powder
1 tablespoon lime juice
2 ½ teaspoons olive oil
¾ teaspoon salt
8 garlic cloves (minced)
8 (6 inch) corn tortillas
3 tablespoon fresh cilantro (chopped)
sour cream
Cooking Instructions: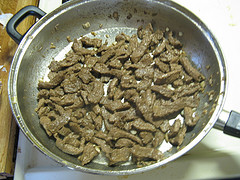 Step 1: Add vegetable oil to a skillet and turn to medium-high. Add peppers and stir fry for about 4 minutes. Add onions and cook until vegetables are cooked as desired. Remove pepper mixture from pan, place in a large bowl and cover to keep warm.
Step 2: Add steak to pan and cook for about 7 minutes or until cooked as you like.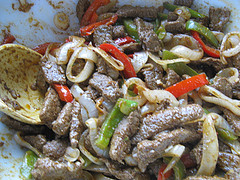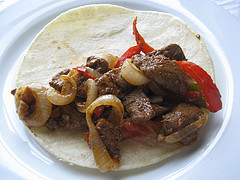 Step 3: Add cooked steak to pepper mixture. Add in chili powder, salt, lime juice, olive oil, and fresh garlic. Toss well to coat.
Step 4: Heat tortillas according to package directions. Spoon steak/vegetable mixture evenly over tortillas and top with chopped cilantro and sour cream.   
Tags: cooking, recipes, food and drink, recipe