Creamed corn is made from corn kernels, water, salt, and a thickener. It is made by first cooking the kernel then blending them; after that, more cooked corn is added. Although it has a creamy texture, this dish does not contain any cream, but some homemade versions may include milk or cream and sometimes sugar and starch. It may be purchased in cans, jars, or frozen. Creamed corn is a versatile dish used in soups, casseroles, pudding, or as a side dish. It can act as a thickener and provide a buttery flavor to the dish.
It is great for making corn fritters and cornbreads or stirring into chowders. You can also use creamed corn in making pancakes or muffins. If you have no can of creamed corn stored, you may either make your own or find other substitutes. Since there is no direct substitute for creamed corn, finding a substitute for creamed corn will depend on the dish you're making and how you incorporate cream corn in that dish.
Creamed Corn Nutrition Facts: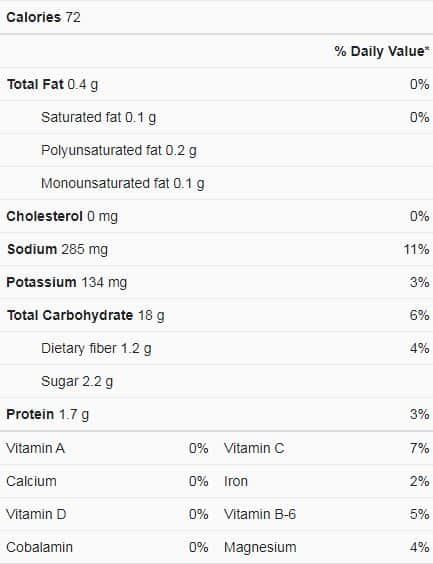 Substitute for Creamed Corn
The substitutes for creamed corn are:

If the most important thing in your recipe is the corn flavor, you can use an equal amount of frozen corn instead. The corn should be added at the beginning of the cooking process to allow it to cook thoroughly. If you want to mimic the creamed corn texture, you can use the food processor to break it up and then add 1/2 cup of milk and one tablespoon of cornstarch. The cornstarch will thicken the juices from the corn and milk.

You can substitute canned corn for creamed corn easily using these steps. First, rinse the canned corn to remove excess salt. Pour out the liquid from the can, then refill with water and repeat the process three times. Next, you melt the butter over medium heat, then add the corn and cook until the corn is heated. Then you can add evaporated skim milk and bring the mixture to a simmer. Salt and pepper are then added with a pinch of cayenne pepper to spice up the dish. You should cook the mixture for about five minutes until it becomes slightly thickened. Cornstarch should then be mixed with a tablespoon of cold water in a small bowl before added to the recipe and cooked. Stir continually for about a minute until it thickens.
Read More: Substitute for Milk in Cornbread

Like with frozen corn, it is used when trying to add the corn flavor to your recipe. Use an equal amount of fresh corn as you would with the creamed corn. When using fresh corn, you have to take the kernels off the cob using a knife. After you've taken the kernels off the cob, the pulp should be removed with a spoon to be included in the cooking, and the pulp is where most of the creaminess comes from. As with frozen corn, fresh corn should be added at the beginning of the cooking process to cook thoroughly. It can be broken down using a food processor to mimic the creaminess of the creamed corn. Add 1/2 cup of milk and one tablespoon of cornstarch. The cornstarch thickens the juices from the corn and milk.

The cream soup should be used in a flavor that complements the final dish. For example, the cream of celery or mushroom soup would work as a substitute for creamed corn when you're making shepherd's pie, which is a combination of seasoned ground meat that has been moistened by creamed corn and topped with mashed potatoes. Chicken chowder soup works for dishes that include chicken. For condensed soup, you should use half as much soup as the creamed corn with equal amounts of water or milk. Doing this prevents the dish from turning out too salty.

Another potential substitute for creamed corn is the cream sauce. White sauce is made simply with milk, salt, and flour. Cream sauce with gravy consistency is made with one tablespoon of flour to 1 cup of cream. Then, you whisk the flour into the liquid then heat it until it boils slowly for two minutes.
Béchamel Sauce can also be used to substitute creamed corn. It is made from butter, flour, milk, and salt. First, you warm one tablespoon of butter with two tablespoons of flour until lightly bubbling. Then, you slowly add two cups of milk while stirring, then add a pinch of salt. Take the sauce off the heat before it boils.
These sauces can then replace the creamed corn when you don't need the flavor of the corn in the recipe.
Read More: Substitutes for Cornstarch

You may decide to make your creamed corn from scratch and enjoy it with other side dishes. Fry two slices of bacon until it's crispy. Next, you add one chopped onion and sauté over medium heat for about three minutes. Then add two cups of frozen, canned, or fresh corn sauté for another three or four minutes. Add 1/2 cup of milk or cream and salt and pepper for taste.
Frequently Asked Questions [FAQs]
How do you thicken creamed corn?
You thicken creamed corn by combining equal parts of cornstarch and cold water or even cream. You are recommended to use half a tablespoon of cornstarch for each cup of creamed corn.
Is regular canned corn the same as creamed canned corn?
No, they are not the same. Regular canned corn is canned precooked corn, while creamed corn is made by combining pieces of whole sweetcorn with a soup of milky residue from the pulped corn kernels scraped from the cob.
Does creamed corn contain any cream?
Unlike the name suggests, creamed corn does not contain any cream. Rather, it is a mixture of whole and puréed sweetcorn.
Conclusion
Apart from frozen corn, canned corn, or fresh corn, there are no other ingredients that can give the same or similar taste like creamed corn. The only thing you can do is find a substitute with similar textures, which have been discussed in this article. You may also decide to make creamed corn yourself. And that's it on the substitute for creamed corn.