Turkey Stuffed Peppers Recipe

These turkey stuffed peppers are a delicious and healthy meal. This recipe consists of bell peppers that are sliced in half and then stuffed with a seasoned ground turkey and rice mixture and topped with shredded cheddar cheese. The stuffed peppers are baked in the oven until tender. The meat mixture gets flavor from tomato sauce, garlic powder, cumin and cilantro. These stuffed peppers are a great way make use of peppers from your garden. Enjoy!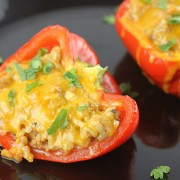 Turkey Stuffed Peppers
Ingredients:
1 lb lean ground turkey
1 garlic clove, minced
1/4 onion, minced
1 tablespoon chopped fresh cilantro
1 teaspoon garlic powder
1 teaspoon ground cumin
1 teaspoon kosher salt
3 large sweet red bell peppers, washed
1/2 cup fat free chicken broth
1/4 cup tomato sauce
1 1/2 cups cooked brown rice
Olive oil cooking spray
6 tablespoons part skim shredded cheddar cheese
Directions:
Preheat the oven to 400 degrees F. Lightly spray olive oil cooking spray in a medium non-stick skillet and heat to medium heat. Add the onion, garlic and cilantro and sauté about 2 minutes. Add the ground turkey, salt, garlic powder, cumin and cook for 4 to 5 minutes until meat is completely cooked through. Add 1/4 cup of tomato sauce and 1/2 cup of chicken broth, mix well and let the mixture simmer on low for about 5 minutes.
Add the cooked brown rice to the meat mixture and mix well. Cut the bell peppers in half lengthwise, and remove all of the seeds. Spoon about 2/3 cup meat mixture into each pepper half and place into a greased 9 x 13-inch baking dish. Top each with about 1 tablespoon of cheddar cheese. Cover tight with aluminum foil and bake for about 45 minutes. Carefully remove the foil and serve immediately.