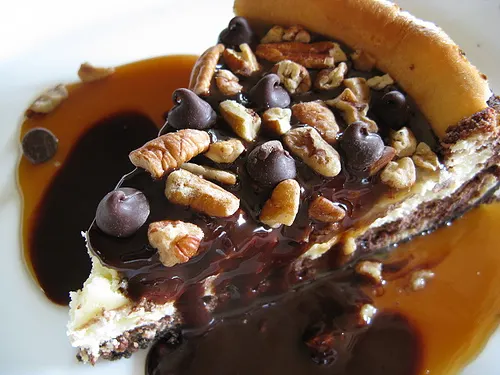 Recently I had to make a couple cheesecakes for a graduation party. I knew one, of course, was going to be my New York Cheesecake, but what was the other going to be? Immediately I began looking through my cheesecake recipes and the decision was made, I decided to go with a turtle cheesecake. Delicious rich chocolate, creamy smooth caramel and the finest of pecans all in a cheesecake – how could I go wrong? Needless the say it was a huge hit at the party and I think both of my cheesecakes were gone in about 5 minutes. I guess I should have made a couple more. Alright, enough about the parties, let's get onto the recipe. This recipe will take a little work as all cheesecakes do, but in the end it's well worth it. What I love about this cheesecake is the chocolate graham cracker crust and the topping of chocolate morsels, chocolate syrup, and caramels. If you need a great cheesecake recipe that almost everyone will love, go with this recipe for turtle cheesecake.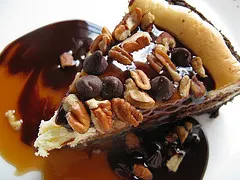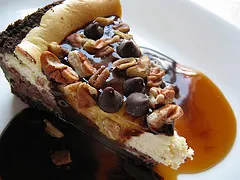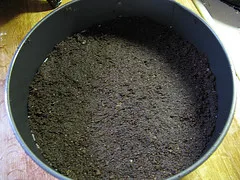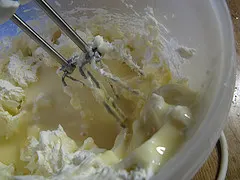 Print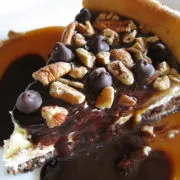 Turtle Cheesecake Recipe
---
1 ¾ cups

chocolate graham cracker crumbs (crushed)

½ cup

melted butter (or margarine)

3

(8 oz) packages of softened cream cheese

1

(14 oz) can sweeten condensed milk

½ cup

granulated sugar

3

large eggs

3 tablespoons

lime juice

1 tablespoon

vanilla extract

1 ½ cups

semi-sweet chocolate morsels

2 tablespoons

chocolate syrup

2 tablespoons

caramel sundae syrup

½ cup

pecans (chopped)

¼ cup

semi-sweet chocolate morsels
---
Instructions
Pre-heat the oven to 300 degrees and grease a 9-inch springform pan. Combine Chocolate graham cracker crumbs and melted butter in a bowl. Press mixture onto the bottom and 1 inch up the side of the springform pan.
In a bowl beat cream cheese and sweetened condensed milk until its smooth. Add sugar, lime juice, eggs, and vanilla extract. Beat together until fully mixed.
Microwave chocolate morsels in 10-second intervals until morsels are just melted. Stir 2 cups of cheesecake batter into the melted morsels. Then spoon separate batters alternatively into the crust. Start with the batter without the morsels, then with the morsels, and end with the batter without the morsels.
Bake for 1 hour and 15 minutes or until cheesecake is set (when the center moves just slightly). When cheesecake is done, cool completely. After the cheesecake is cooled top with chocolate syrup, caramel syrup, pecans, and chocolate morsels. Enjoy.