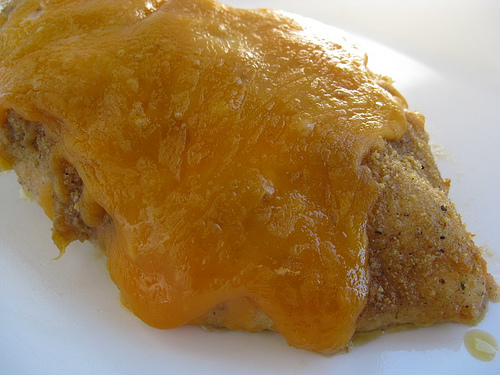 I love chicken, I love butter, and I love garlic. Do you? Well if you do you will definitely enjoy this recipe to the fullest. Today I have the ultimate chicken recipe for garlic butter lovers everywhere, a recipe for none other than garlic chicken breasts. This garlic chicken recipe took very little time (the oven did most of the work), was moist, had great flavor, and made a perfect Sunday dinner. I have a few recommendations for anyone making this… the cheddar cheese for the breading mixture needs to be grated finely. You want it to be well incorporated into the coating. I would suggest grating the cheese in a blender if you have one. Also, if the chicken breasts are real thick I would recommend pounding them a little with a mallet to even the thickness.  If you would like to add a little lemon flavor to the recipe just add a couple tablespoons of lemon juice to the garlic/butter mixture. You could also replace the cheddar cheese on top for mozzarella if you like. Enjoy.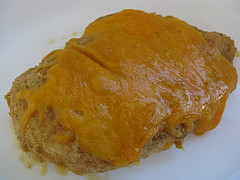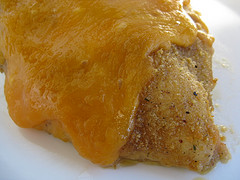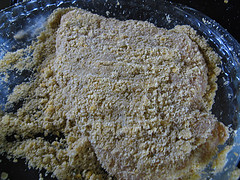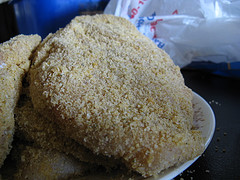 Print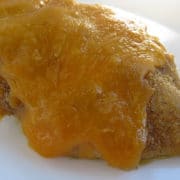 Garlic Chicken Recipe
---
4

boneless skinless chicken breasts

2 tablespoons

garlic (minced)

1/3 cup

butter (melted)

1 teaspoon

garlic powder

½ teaspoon

seasoning salt

¾ cup

seasoned dry breadcrumbs

¾ cup

cheddar cheese (finely grated)

½

 cup grated parmesan cheese

½ teaspoon

ground black pepper

1

bag shredded cheddar cheese
---
Instructions
Pre-heat the oven to 350, and grease a baking pan (big enough to fit your chicken breasts).

In a bowl combine 1/3 cup melted butter, 2 tablespoons minced garlic, 1 teaspoon garlic powder, and ½ teaspoon seasoning salt.

In a separate bowl combine ¾ cup breadcrumbs, ¾ cup grated cheddar cheese, ½ cup parmesan cheese, and ½ teaspoon black pepper. Dip the chicken in the garlic/butter mixture and then roll in the breadcrumb mixture until fully coated.

Bake in the oven for 30-35 minutes (If they are really thick, they might take a few extra minutes). Within the last 5 minutes of cooking top chicken breasts with shredded cheddar cheese.

Tags: cooking, recipes, food and drink, recipe