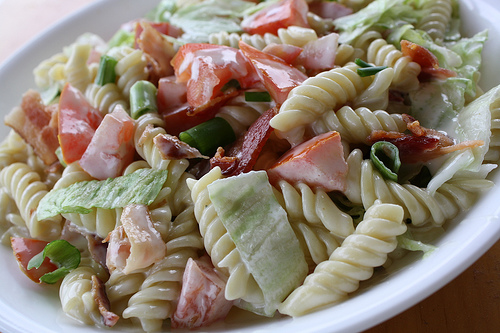 Two of my favorite summer treats are cold salads and a nice BLT sandwich. If you also enjoy these foods, you will love this dish. The dish is the ultimate combination of a BLT sandwich and a cold pasta salad. BLT pasta salad is rotini noodles with bacon, lettuce and tomato, tossed in a delicious sauce. The sauce is a combination of mayo, lemon juice, chicken flavored instant bouillon and sugar.  This salad is perfect for parties, picnics or other indoor and outdoor events. If possible, it is a good idea to add the lettuce just before serving so it is crispy. This recipe is very simple and can be prepared within a half hour. Enjoy.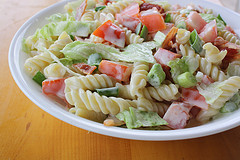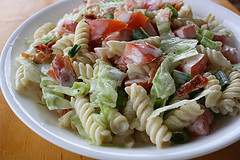 Ingredients:
1 (7 ounce) package rotini pasta noodles (cooked and drained)
8 slices bacon (cooked until crispy and crumbled)
1 cup mayonnaise (or salad dressing)
¼ cup lemon juice concentrate
2 teaspoons sugar
2 teaspoons chicken flavored instant bouillon
1 large tomato (seeded and chopped)
¼ cup green onions (sliced)
4 cups lettuce (thinly sliced)
Cooking Instructions: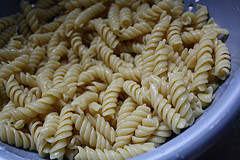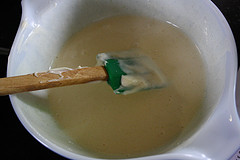 Step 1: In a small bowl combine mayonnaise, lemon juice, chicken flavor instant bouillon, and sugar. Mix well until smooth.
Step 2: In a serving bowl add noodles, bacon, tomato, and green onions, Toss with dressing. Stir in lettuce right before serving.
(Makes 10 Servings)
If you enjoyed this article Subscribe to my RSS Feed.