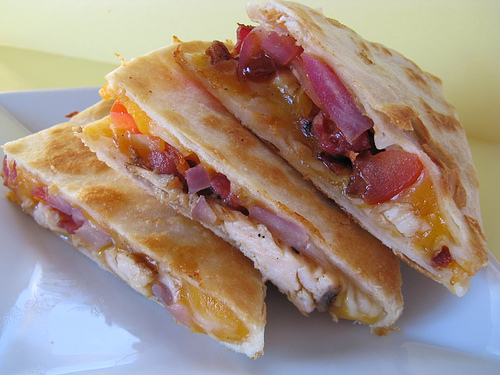 Here is a different take on the chicken quesadilla. Chances are this is probably not the type of chicken quesadilla you are used to cooking/eating but don't worry this is something much better. This chicken quesadilla consists of chicken, cheese, red onions, bacon, tomatoes and barbeque sauce. Sounds delicious right? If you have some left over chicken that would be great for this but even better, I seasoned the chicken and cooked it in a grill pan. Some people choose to stack the tortillas but I prefer to just do a simple fold. I find this method a lot easier than trying to flip the entire thing. If you are looking to try a different take on the chicken quesadilla, give this delicious recipe a try. Enjoy.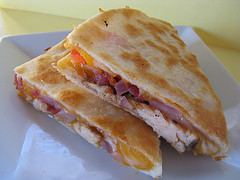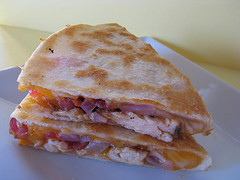 Ingredients:
2 flour tortillas
2 tablespoons butter
1 ½ cups cooked chicken (diced small)
4 slices cooked, crispy bacon (crumbled)
½ cup fresh tomato (diced)
2 tablespoons red onions (finely chopped)
1 cup shredded cheddar cheese
4 tablespoons barbeque sauce
Cooking Instructions: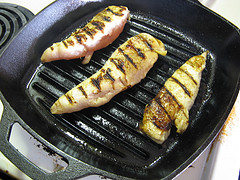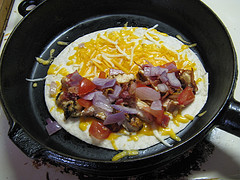 Step 1: If not using left over chicken – cook chicken by preferably grilling. Dice cooked chicken into small chunks and set aside.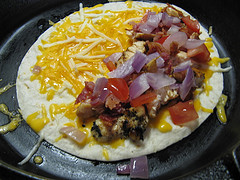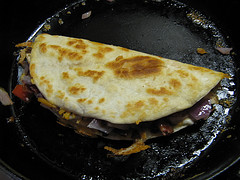 Step 2: Butter the bottom of a flour tortilla. Place buttered side down in a nonstick skillet.
Step 3: Sprinkle tortilla evenly with cheese. On one side of the tortilla evenly sprinkle chicken, bacon, tomatoes and onion. Drizzle with barbeque sauce. Fold one side of the tortilla over the top and press down with a spatula. Remove from pan and repeat with the second.
(Makes 2 Servings)
If you enjoyed this article Subscribe to my RSS Feed.