This pepperoni pasta salad was a nice change from a lot of the mayonnaise based pasta salads I have been making all summer. This recipe uses Italian salad dressing and Italian seasoning to give it most of its delicious flavor. It is also loaded with ingredients such as sliced pepperoni, mozzarella cheese, cucumber, onion, and tomatoes. You can add additional ingredients as well if you choose.  It is always a good idea to leave this salad in the refrigerator for a few hours to allow the flavors to blend. There is not much work involved with this recipe, basically just chopping a few ingredients. This pasta salad is perfect for summer cookouts and goes great as a side dish. Enjoy.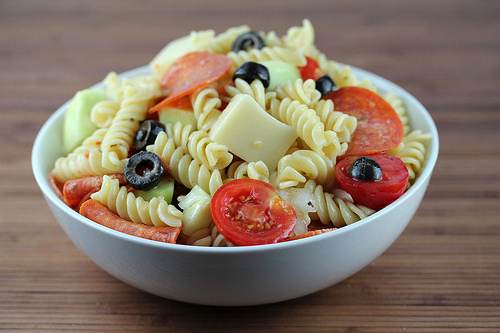 Ingredients:
2 cups rotini pasta (uncooked)
½ teaspoon salt
1 onion (chopped)
1 cucumber (chopped)
1 cup grape tomatoes (sliced in half)
1 cup pepperoni (cut in pieces)
1 (8 oz) block mozzarella cheese (cubed)
1 (2.25 oz) can slice black olives (drained)
½ teaspoon garlic powder
½ teaspoon Italian seasoning
1 cup Italian dressing
Cooking Instructions:


Step 1: Bring a large pot of water to a boil with ½ teaspoon of salt. Cook pasta in salted water until al dente. Drain well.
Step 2: In a large bowl mix together drained pasta, onion, cucumber, grape tomatoes, pepperoni, mozzarella cheese, and black olives. Mix in garlic powder, Italian seasoning and Italian dressing.
Step 3: Cover and refrigerate for 5 hours for the flavors to blend.
(Makes 6 Servings)
If you enjoyed this article Subscribe to my RSS Feed.