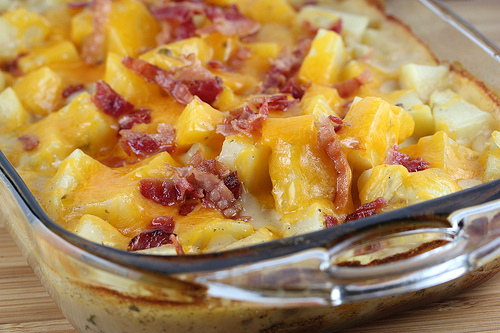 Perhaps you are looking for a perfect side dish for the Holidays or to go with dinner, if so this recipe for ranch potatoes is perfect for you. This is a casserole dish that combines cubed potatoes with a ranch/cream of mushroom soup sauce, cheese, and bacon. Those ingredients alone should be enough to hint that this recipe is pretty good. I felt like I cubed the potatoes a little too big so I would recommend slicing the potatoes a little thinner.  If you want to skip the step of boiling the potatoes, they can be done in the oven but will need to cook for longer depending on how big they are cut. This is a great recipe for Thanksgiving or Christmas dinner. Enjoy.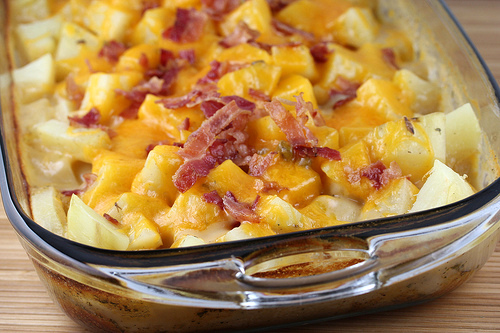 Ingredients:
8-10 medium potatoes (cut into ½" cubes)
1 can cream of mushroom soup (undiluted)
1 ½ cups milk
1 envelope ranch dressing mix
2 cups shredded cheddar cheese (divided)
salt and pepper
6  bacon slices (cooked until crispy and crumbled)
Cooking Instructions: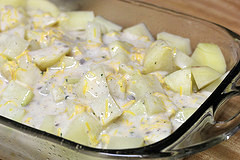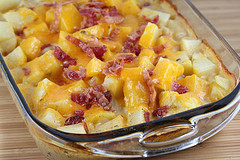 Step 1: Pre-heat the oven to 350 degrees. Add potatoes to a large pot. Add enough water to cover the potatoes and bring to a boil over high heat. Cook for 10-12 minutes or until the potatoes are almost tender. Drain.
Step 2: Lightly grease an 13×9 inch casserole dish. In a bowl mix together cream of mushroom soup, milk, ranch dressing, 1 cup of the cheese, salt and pepper. Pour over potatoes in the casserole dish.
Step 3: Sprinkle remaining cup of shredded cheddar cheese and the crumbled bacon over the top. Place into the oven and bake uncovered for 25-30 minutes or until the potatoes are tender.
(Makes 6 Servings)
If you enjoyed this article Subscribe to my RSS Feed.