If you enjoy Amari, you may have probably heard about Averna Amaro. This bitter Italian liqueur is a traditional drink in Caltanissetta, Sicily, and it can be sipped over ice or incorporated into cocktail recipes. Averna Amaro has gained worldwide recognition, and you can even see this bittersweet Italian liqueur in some U.S cocktail recipes.
However, getting a substitute for Amaro drinks can be tricky because the flavor varies with the brands. If you are out of Averna Amaro, you can't just substitute it with any other Amaro you find.
In this article, I will be looking at Averna Amaro, how it is made, and the best Amaro liqueurs you can use to substitute Averna Amaro in different recipes.
What is Averna Amaro?
Averna Amaro is a bitter Italian liqueur, it is a digestif, and it is one of the most popular Italian digestifs in the market. Averna Amaro is made by soaking aromatic herbs, dried flowers, spices, and licorice in alcohol.
This mixture was first created for Salvatore Averna by the herbalist monks of San Spirito Abbey in Caltanissetta in 1868. It still holds the position of the first licensed spirit in Sicily.
Modern Averna is still made with the original recipe from 1868, and it has grown to become Italy's most popular Amaro.
Uses of Averna Amaro in Recipes
You can pour out a glass of Averna Amaro and sip it down as a digestif or aperitif, or you can stir up a complex cocktail with Averna. The aromatic herbs in Averna Amaro give it a unique bittersweet flavor, and a slice of orange usually accompanies the drink. Averna is considered a moderate Amaro (not too sweet and not too bitter), and you can also find hints of caramel, anise, citrus, and honey in it.
This bittersweet liqueur has a dark brown color, a syrupy texture, and an alcoholic volume of 29%.
Below are some exquisite cocktail recipes that use Averna Amaro.
Black Manhattan
Averna Limonata
Revelator
Averna expresó
The witty comeback
Sesame boulevardier
Blood orange Averna and gin sparkler
San Gennaro
Summer Averna
Siciliano
The Amaro highball
Amaro flip
Vertigo cocktail
Averna Buena
Debbie, don't
Substitutes for Averna Amaro
If you are into Amari, you may already know that Amari differs in flavors (depending on the brand). Averna is a moderately flavored Amaro, meaning that it is not too bitter or too sweet, and as such, you should get a substitute Amaro that falls into this category.
There is a handful of viable substitutes for Averna Amaro but bear in mind that the flavor of the drinks may not be the same. If you can't find Averna, there are some Amari that I would strongly recommend for you to try out, and they are the closest you will get to Averna.
Averna Sicilia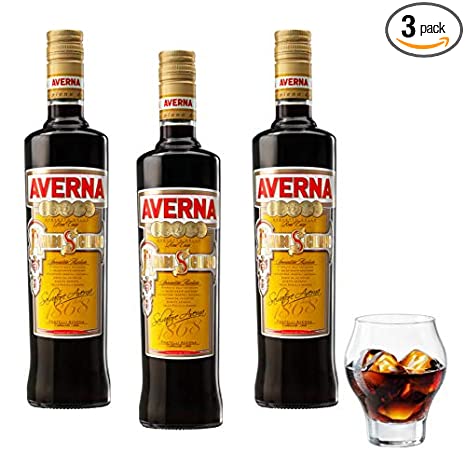 Amaro Ramazzotti
Amaro Ramazzotti is said to be the original Italian digestif. It is also a traditional Italian liqueur, and it is made by infusing thirty-three aromatic herbs and spices. It has a dark color just like Averna, and it has a very complex flavor that may be hard to describe, but if you had to break it down, you could say it is a bittersweet flavor with hints of berry, citrus, dark chocolate, espresso, black licorice, nuts, and spices. You can use Amaro Ramazzotti if you want something that closely resembles the bittersweet flavor of Averna Amaro. You would notice the difference when you substitute it, but they have the same flavor profile, and it is the closest you will get to Averna in terms of complex flavors.
Amaro Ciociaro
This Italian digestivo was created by Vincenzo Paolucci in 1873, and it has a clear, deep tawny color with bronze flecks. It has an aroma best described as dandelions mixed with flat cola and a slice of lemon, topped off with a faint tobacco smell, the most notable flavors are that of cola, cloves, gentian, and a wisp of smoke with a zest of lemon, it also has an aftertaste of smoked coke and licorice.
Vincenzo Paolucci actually made this Amaro shortly after his move to Sora in Ciociaria.
You can also sip this liqueur over ice, or better still, throw it into your cocktail for an added complexity. You can use this Amaro when you don't have Averna, but you will get a different flavor too.
Amaro Montenegro
Amaro Montenegro comes third on the list, but it also falls into the same flavor profile as Averna. It has a clear brown color with a bitter, spicy, and herbaceous flavor. Its alcohol volume is 23% (lower than Averna), and proof of 46 (for people who live in America). Amaro Montenegro is a traditional Amaro that was first created in Stanislao Cobianchi in 1885, and it was initially called "Elisivir Lungavita." It is made from a blend of 40 aromatic herbs and spices. Modern versions of this drink are distilled in Bologna. Given its similarities to Averna Amaro, you can opt for a bottle of this liqueur when you can't find Averna, and the flavor would not be far off from the real thing.
Frequently Asked Questions (FAQ)
Is Averna similar to Amaretto?
Amaretto is Italian for "a little bitter," so you can tell it is sweeter than Amaro. This type of liqueur originated from Saronno, and it can have many flavors ranging from apricot kernels to bitter almonds or peach stones. Amaretto can also be drunk on its own or mixed in cocktails, and it has about 21% to 28% alcohol by volume.
Can you substitute Amaro for Campari?
Amari has long been used to substitute Campari in different cocktail recipes; however, you may rarely see a case of the reverse, but you can also experiment and see what works best for you.
Does Averna need to be refrigerated?
If you bought a bottle of this bittersweet Italian liqueur, you might want to keep some for future use. The best place to store it is in the fridge because Averna Amaro can last as long as two weeks in the fridge when opened.
Conclusion
Averna Amaro is perfect when you need a bittersweet liqueur before or after dinner; however, not everybody can boast of having a bottle of Averna in their homes. Luckily there are some Amari that would give you wonderful results.