So, check this! You're hosting a party and wish to dazzle your guests with all kinds of tasty meals. But wait! You forgot to pick up some premade shrimp cocktail from the grocery store. And you've looked around, but all you found are some fresh or frozen shrimp in your fridge. Well, you're in luck, as you can make your homemade batch of cooked shrimp that's perfect for a shrimp cocktail!
Shrimp cocktail is a regular addition to buffet menus and finger foods at dinner parties. And because of its presentation, the recipe gives off an alluring appeal and class to your table. But you can also recreate this by making your personal-style shrimp cocktail from cooking shrimp right there in your kitchen.
Why Cook Shrimp for Shrimp Cocktail Yourself?
A shrimp cocktail is indeed easy to purchase and use, so the idea of making it yourself may seem laudable. But cooking shrimp yourself comes with a lot of perks that you'll come to appreciate. To mention a few;
It's Tastier
Because you get more flexibility on how you flavor the shrimp, you get an even fresher and tastier result from a homemade shrimp cocktail. Plus, the texture is incomparable to the premade, store-bought versions.
It's a Good Use of Leftover Shrimp
Believe it or not, you can have excess shrimp in your cold storage from that one time you made Chinese fried rice. Or perhaps you bought a large batch at a discount sale, and you fear they're about to pass their validity period. Well, you can thaw them and make a quick batch of shrimp cocktails for guests as appetizers. Or you can add it to your dinner menu for the week.
It's a Lifesaver
What about the times when you absolutely can't find premade shrimp cocktails? Well, you'd be glad to have this helpful info in hand and make yours from freshly cooked shrimp.
Tips for Cooking Shrimp for Shrimp Cocktail
A shrimp cocktail is almost as easy to make yourself as it is to buy at the market. But you still have to take note of a few steps.
Picking the Shrimp
It would be best if you noted the size and condition of the shrimp you plan to cook. Ensure fresh shrimp are firm and of the appropriate color- a dark grey, with a fresh smell. Also, check the size, and make sure you're picking the same ones. If you're going for small shrimp, make sure they all are. The same goes if you're using jumbo shrimp.
Preparing the Shrimp
You may find peeled and deveined shrimp in the market, and if you do, your work is more straightforward. But if you don't, you can peel the shrimp yourself. Remove the head and cut the shell from the top center to the tail fin, leaving the fin intact. Then, peel off the cover such that the tail remains afterward.
Once you've done the peeling, you'll also need to devein the shrimp. Pull out the black tract you find along the abdomen and throw it away. If you don't, your shrimp will wind up with a bitter taste.
Cooking the Shrimp
The easiest way to cook shrimp for a shrimp cocktail is in poaching water. Bring the poaching water (water mixed with spices and salt) to a boil, and then add some lemon slices. Then set the boiled water down and pour in the shrimp. Then, allow it to cook-poach for some minutes.
Do take note that the shrimp size determines how long you leave it to cook. Smaller-sized shrimp need about two to three minutes to cook, while jumbo shrimp will take three to four minutes. Do not exceed these cooking times, or you'll overcook the shrimp.
Icing the Shrimp
Once the shrimp is done, you'll have to remove them from the poaching water and dunk them in an ice bath. The ice bath cools the shrimp and stops any further cooking process. Make sure they chill entirely, after which you can keep them in the fridge for a day. You can also serve them at once, in the required arrangement, with cocktail sauce and lemon wedges.
An excellent way to try your hands at homemade shrimp cocktail is to check out our recipe;
Print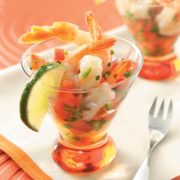 Homemade Shrimp Cocktail (8 servings)
---
1 ½

pounds jumbo shrimp, peeled and deveined

Six cups

water
Three sprigs thyme, fresh

Two tablespoons

salt, kosher
Two stalks celery
Two sprigs of parsley, fresh

One teaspoon

peppercorns

½

lemon
Ice
---
Instructions
Pour the cups of water into a pot and add the peppercorns, thyme, parsley, and salt. Let it boil and simmer for ten minutes.
Add the lemon and shrimp to the water as it simmers, and take it off the stove at once. Cover and leave for about 4 minutes, or until the shrimp are firm and pink.
Remove shrimp from hot water and dunk in an ice bath. Leave it to cool completely, and once they're cold, you can serve with lemon wedges and sauce. They can even be kept in the fridge for a full day beforehand.
Another outstanding instruction for cooking shrimp for shrimp cocktail can be found in this exciting video recipe.