This is apparently a Panda Express recipe for their Beijing beef. How accurate this is to the original I don't know but I decided to give it a try and I would say it turned out pretty good. Before seeing this on the Panda Express website I had no idea it even existed, which makes me assume this is not an authentic part of Chinese cuisine but rather more of a 'made up' dish. One thing I found interesting though is the beef is coated with corn starch and then deep fried giving it a nice and crispy texture. The sauce kind of reminded me of sweet and sour sauce only with a little kick from the crushed chili pepper. The addition of onions and red and green bell peppers nearly went perfect in the dish. To leave the vegetables crunchy and the beef crispy I would recommend removing the cook vegetables from the wok before making the sauce and coating the beef with the sauce and adding the vegetables right before serving.




Print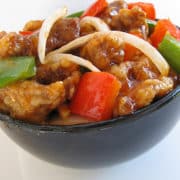 Beijing Beef Recipe
---
1

lb steak (sliced into thin strips)

6 tablespoons

cornstarch (for dusting)
oil (for frying)
Marinade-

1

egg

¼ teaspoon

salt

2 tablespoons

water
1 tablespoon cornstarch
Sauce-

4 tablespoons

water

4 tablespoons

sugar

3 tablespoons

ketchup

2 tablespoons

vinegar

¼ teaspoon

crush chili pepper
2 teaspoons cornstarch
Vegetables-

1 teaspoon

garlic (minced)

1

medium red bell pepper (diced)

1

medium green bell pepper (diced)

1

medium white onion (sliced)
---
Instructions
Cut beef into thin strips. In a bowl of sealable bag combine all marinade ingredients and mix well. Add beef slices and marinate for 15 minutes.

While beef is marinating mix all of the sauce ingredients together in a bowl and refrigerate.


When the beef is done marinating coat the beef slices with 6 tablespoons of cornstarch. Remove any access cornstarch and deep fry (either in a deep fryer or wok) beef slices in batches until floating or golden brown. Drain on paper towels.

Add a couple tablespoons of oil to the wok and add minced garlic and stir fry for 10 seconds. Add red and green bell peppers and onions and stir fry for 2 minutes. Remove vegetables and set aside.

Pour sauce into the wok and heat until boiling. In a serving dish add beef and vegetables and coat with the sauce.