For many years, the only way to get hot water was by heating over a stove. This traditional healing method took a lot of time and money. It was also limited. With the coming of hot water dispensers, life was made easy. You get as much hot water you need without waiting for ages. Heating water became faster and easier with less spending. Being a person who is almost always in the kitchen, I can tell you hot water is a necessity. You need it for various tasks.
These tasks range from making beverages, cleaning pots, steaming vegetables, etc. A hot water dispenser will not only heat water for you but help make other tasks more manageable. There are so many factors to be taken into consideration when purchasing a hot water dispenser. If you are looking to buy one and don't know where to start, then keep reading. This is for you. I have put together the ten best hot water dispensers for the kitchen sink below.
Top 10 Best Hot Water Dispensers for Kitchen Sinks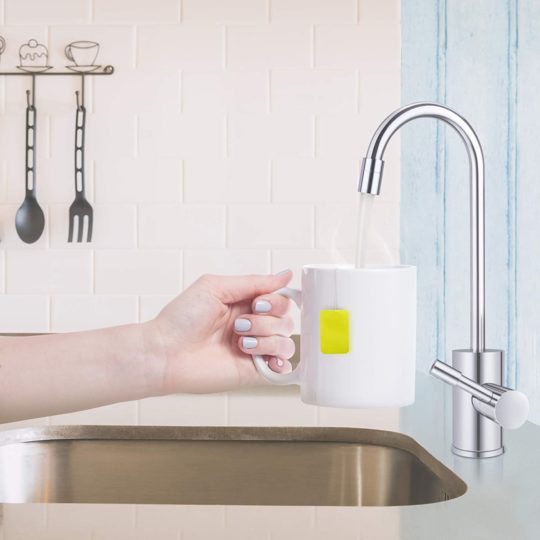 This one is a best seller on Amazon. It can dispense over 60 cups of near-boiling water per hour. The temperature can be adjusted between 140°F and 200°F. This is done easily using the fingertip adjustment manuals dial. Its 2.5-quart stainless steel tank can easily fit under the sink. The water heater is built with a self-resetting thermal fuse that prevents burning out. This helps provide longevity of the dispenser. It has an energy-efficient 110-volt 1300-watt stainless steel heating element. This feature allows you to get hot water whenever you need it.
The product is designed to work with open vent faucets only.  It comes with a 3-year manufacture warranty. It has been ranked number #1 in hot water dispensers and has a 4.3 out of 5 stars.
Pros
Easy to install
Heats water within a short time
Well designed and engineered
Cons
Still needs extra parts to complete the coupling
The thermostat loses sensitivity over time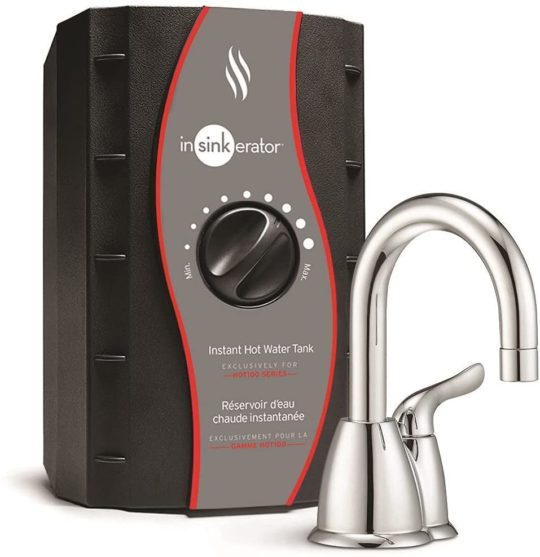 The InSinkErator Instant hot water dispenser comes with a faucet, tank, and chrome. This product is the newest and most affordable of the Invite Series. It is easy to adjust its temperature and delivers near-boiling water instantly! Its adjustable thermostat allows you to control its temperature between 160°F – 210°F. This product pairs well with central kitchen faucets. Its modern design fits almost any kitchen. You can easily install this with a single hole in your countertop. It fits perfectly under a sink. Due to its unique features, it saves space, time, and energy.
The product is available in 5 styles, 13 finishes, and in hot/cold or hot only models. The versatility of this product will well suit your kitchen needs. Its installation needs no exceptional plumbing. It also comes with an exclusive 1-year We Come To You In-Home Full Service Limited Warranty. The product has been given a 4.7 out of 5 stars rating. It is ranked number #3 in Hot Water Dispensers.
Pros
Ease of installation
Provides hot water instantly
A "fit – all" modern design
Cons
Not compatible with the InSinkErator hot water tank filter
Need more parts to complete installation

This product is the leading product in the Waste King Industry. It is a 1300 watts hit water tank for the kitchen sink. It is pretty easy to install and fits under a sink. The product includes a press-fit connector with a small filter that helps to collect sediments. It provides hot water almost instantly.  It has a 4.3 out of 5 stars and has a one-year warranty. The product comes in white only.
Pros
Functional design
Easy to swap out the failed unit
Provides value for money
Cons
The tank may leak when in use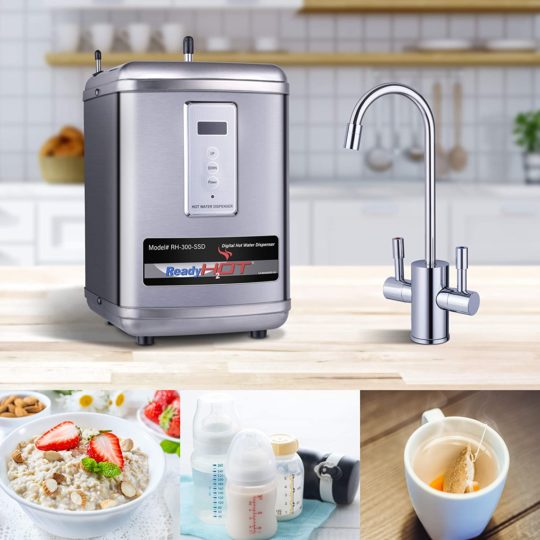 This product is different from other hot water Dispensers due to its digital display and comes with a dual lever faucet, and dispenses both hot and cold water or only one of the two options. This depends on your choice of purchase. It has an adjustable temperature between 122°F – 208°F. You can set your desired temperature one degree at a time via the digital display. This helps you precisely set your water temperature to your desired degree efficiently and accurately. The product's faucet is an open vented one. Its water heater is automated. This is such that its self-resetting thermal fuse prevents burnout in cases of an accidental dry startup. It can be used for various activities. It comes with a 3-year manufacture warranty and has a 4.3 out of 5-star rating.
Pros
It provides hot water instantly
Large and bright red digital readout
Precise Digital control
Cons
Controls are unlighted push buttons making under-the-sink adjustments difficult.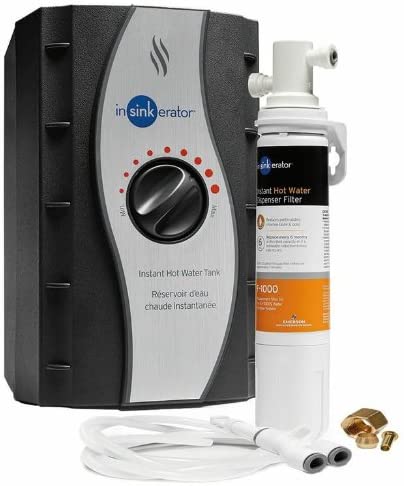 This is another under-the-counter hot water dispenser. This 750W instant hot water tank dispenses 200°F water instantly. The product includes a hot water tank, a filtration system, and two polyethylene tubes. It is recommended that the filters be replaced every 6 months for optimal performance. The water tank has a 2/3 gallon capacity. You can adjust its temperature between 160°F – 210°F. Its filtration system is NSF Standard 42 certified for quality assurance. It reduces chlorine taste, odor, and particulates in the water. The product also comes with a 1/4 inch quick connect fitting and can easily be replaced.
The InSinkErator water filter helps provide safer and better-tasting water. Its designs are very stylish. The product comes with an exclusive 3-year We Come To You In-Home Limited Warranty. The filtration system, on the other hand, has a 1year warranty. This product has been given a 4.5 out of 5 stars rating.
Pros
Comes with a filtration system
Easy installation
Provides hot water instantly
Cons
Not compatible with other manufacturers' hot water faucet

This product is stainless steel. It has a 5/8 gallon capacity. This product can provide about 60 cups of hot water per hour. It also has a self-resetting circuitry and a temperature that can be adjusted between 140°F-190°F. It offers an easy access thermostat and night indicators.
Pros
Simple to install
It is durable
Reliably good design
Cons
Prone to leakage while in use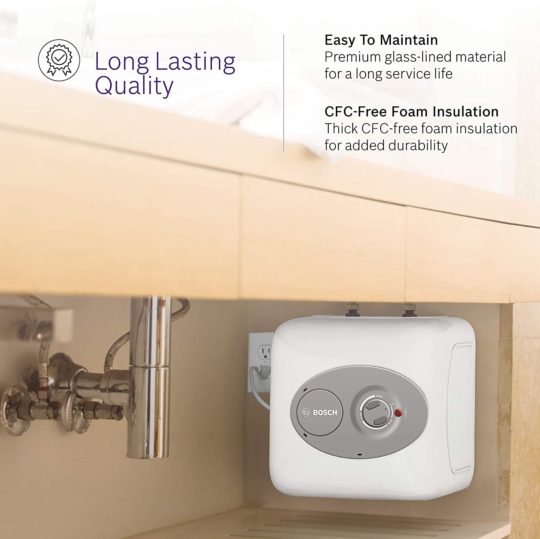 This right here is an Amazon Choice product. If you find going under your counter to control your hot water dispenser undesirable, this product is a great choice. It comes either as a 2.5 or 4-gallon hot water heater with a thermal efficiency of about 98%. This product can easily fit under the sink. The quality is excellent too. It is easy to maintain as well. Its premium glass-lined material promotes long service life. This product can supply two sinks at a time, Ming it ideal for busy kitchens. It provides hot water instantly.
One unique feature of this product is mobility. It can be placed anywhere; on the shelf, on the wall, or floor mounted. You simply install this by tapping into the cold water line and connecting it directly to the sink. The design is simple, sleek, and attractive and comes in white, and is excellent for kitchenettes and patio sinks. Its thick CFC – free foam insulation provides maximum energy efficiency and is perfect for small spaces. This product can be used in 3 ways. First, as a sole water heating source for a single sink as a supplement to an existing heater located far from the sink; secondly, as a buffer installed online with tankless water heaters, experience a cold water sandwich. This product has a 4.5-star rating. It comes with a 6year warranty on the unit and a 2year warranty on parts.
Pros
Effective temperature control
Value for money
It is durable
Cons
Quality depreciates over time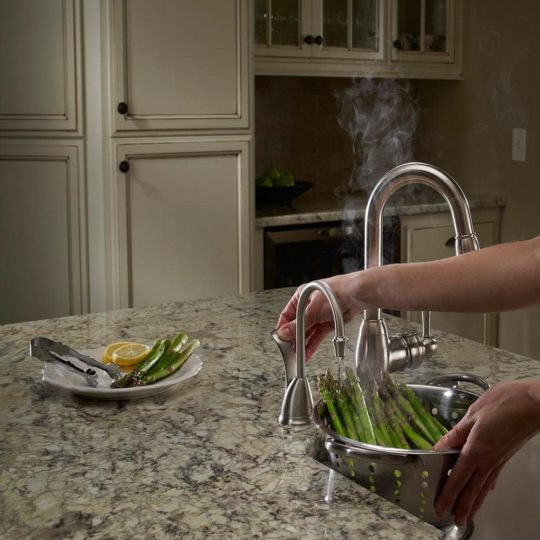 This product comes with a stainless steel tank and satin Nickel. It has a stylish and attractive design. It is easy to Install. This product, like its counterparts, provides near-boiling water instantly. It sits on the edge of your kitchen sink and makes work around the kitchen easy. The product has been designed with safety, elegance, and functionality in mind. The temperature can easily be adjusted between 160°F and 210°F. Its system requires an unswitched AC power outlet dedicated control valve with compression fitting and T- fitting. It comes with a 3year We Come To You In-Home full-service limited warranty. The product has been given a 4.6 out of 5 stars.
Pros
DIY installation made easy
Provides instant hot water
Great quality/ value
Cons
The product has a limited lifetime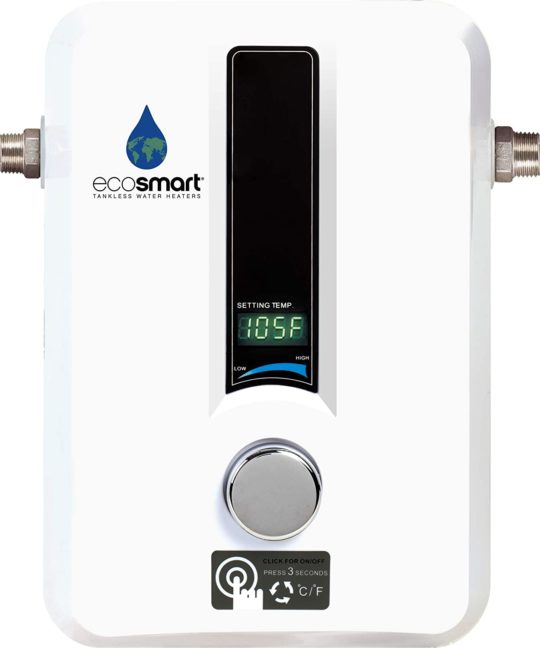 If you are looking for something that will take the littlest space, this is for you. This tankless water heater provides an endless water heater. What I mean is, hot water never runs out with this one. The temperature is continuously monitored. Flow rates are controlled using this product, and it provides consistent performance within 1degree of selected temperature.
This product is about 90% smaller than traditional tank heaters. It saves energy as it is 99% thermal energy efficient. Unlike tank heaters, It only heats water when required without maintaining temperature when not in use. It heats water as it passes through the unit rather than storing it in a tank. This product can easily be mounted on the wall. It has a sleek design. The product is well suited for heating about 2 gallons per minute. The product comes with a lifetime warranty on electronic exchangers and elements. The warranty, however, only covers the cost of the heater and not labor or incidental damages.
Pros
Energy Efficient
Great Temperature Control
Saves space, time, and money
Cons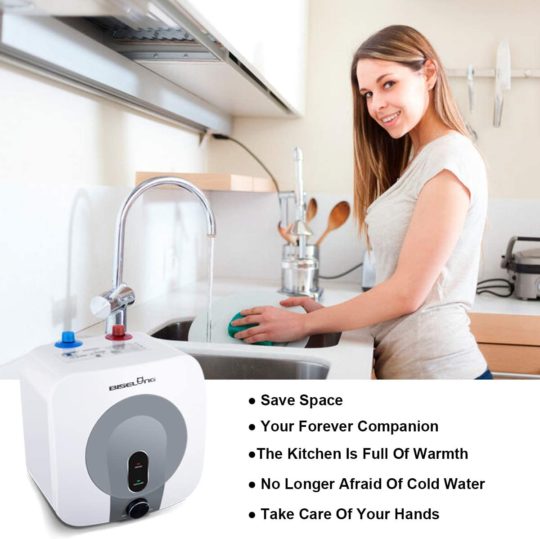 This product is unique. The cold-water pipe has a safety valve which is marked with a water pressure of 0.75 MPa. If the water pressure is more significant than this value, the safety valve will automatically drain. It is made of stainless steel. Thanks to his feature, you need not fear rust in the future. It also comes with an anti-leakage plug and corrosion-resistant plastic shell. This product helps save energy and easily fits under the sink. Its thermal efficiency is about 98%, with a maximum temperature of 167°F. It has a 2.5-gallon capacity. It is suitable for kitchenettes and patio sinks. This can be used under a single most double sink and supplement a primary water heater source. The product has been rated 4.1 out of 5 stars.
Pros
Easy to control warmth
eliminates long waits for hot water to get to the sink
can be mounted on a shelf, wall, or floor.
Cons
poorly machined inlet and outlet
Buying Guide
When purchasing a hot water dispenser, certain factors need to be put into consideration. Some of them are as follows;
Energy consumption: When purchasing a hot water dispenser, it is essential to ensure that it doesn't use energy. The aim of hot water dispensers is not just to save time but to save energy as well.
Budget: This is usually the most crucial factor to be considered. Your budget determines what you can afford. If you have enough money, you can purchase a premium choice water dispenser. Otherwise, just go for something affordable and qualitative.
Ease of installation: A person can easily install the dispenser himself when all the parts are included in the product package. Rather than looking for a plumber after purchasing your product, you could easily follow the user manual to install your dispenser.
Model: Some people prefer the digital hot water dispenser over the manual dial. This is because you can accurately set the heating temperature as desired. However, these models are usually on the high side, so the budget needs to be considered.
Space: If you do not want a dispenser that will take a lot of space, a heater will be the best choice. Heaters have mobility. They can be mounted anywhere from shelves to walls to even the floor. So if you want something that won't take up so much space, you know which one to buy.
 

View this post on Instagram

 

Frequently Asked Questions
Are hot water Dispensers better than kettles?
Yes. Hot water dispensers do not use up as much energy as kettles. They are more energy-efficient.
Are instant hot water Dispensers worth it?
According to the US Department of Energy, one can save as much as 50% of energy using hot water dispensers. However, this depends on your water usage and dispenser brand. So yes, they are worth the hype.
Can you drink hot water from the sink?
The Environmental Protection Agency warns against doing this. Hot water taps may contain harmful substances that may contaminate the water that comes out of them.
 

View this post on Instagram

 

Conclusion
I have put together the ten best hot water dispensers for the kitchen sink after carefully considering various factors such as space, budget, model, best rated and best seller, etc. From this article, my best value is the Anaheim AH-1300 Quick and Hot Instant Hot Water Tank. My best choice is the Insinkerator Instant Hot Water Dispenser System. Finally, the Ready Hot 41 – RH -300-F560 – BN Digital Display hot water dispenser is my premium choice. I hope you found his helpful.