A high-quality kitchen torch is essential for any gourmet home chef, whether it's torching meringue, roasting peppers, finishing a crème Brulee, or caramelizing fruit. However, the variety of brands and styles available is as diverse as the list of feats this equipment can perform.
Food torches are used in the culinary arts not only for decoration but also to swiftly melt or heat anything. This item is far too convenient and useful to be missing from any kitchen. You must have a crème Brulee torch on hand, whether you are a professional or a hobbyist.
To assist you in making your decision, I've investigated dozens of models, reviewed the ten most prominent brands, and narrowed down our top two picks. They all have anti-flare technology in the neck, making them safe to use without the fear of a flame burning the hand that holds it. They can be used upright or inverted, allowing you to employ the flame from any angle you need. These kitchen torches will take your culinary game to a whole new level, from a beautiful sear on a steak to the immaculate crust on your mac and cheese to an excellent crème Brulee for dessert.
Top 10 Kitchen Torch for Crème Brulee Set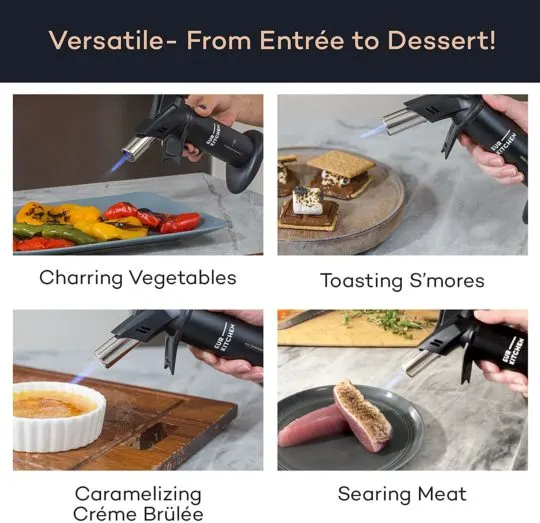 Torching a crème brûlée necessitates a delicate balance because you need a strong enough flame to caramelize sugar while also being able to regulate and readily maneuver this flame so that you don't thoroughly burn the sugar or warm the custard underneath. This EurKitchen torch has a lot of control and strength, making it an ideal choice for any crème brûlée fan. The canister can carry 12 grams of butane, and the handy fuel gauge lets you know when you're low on butane and need to replenish. This model can blast up to 6 inches of fire, and the handy finger guard keeps you safe from coming into contact with the super-hot flame.
Features
Safety lock with finger guard
Multi-use
Adjustable flame
Easy gas refill
Pros
A gas canister can hold 12g of butane
Very steady flame
Fuel gauge alerts you when its time to refill
Cons
Requires frequent refilling if used often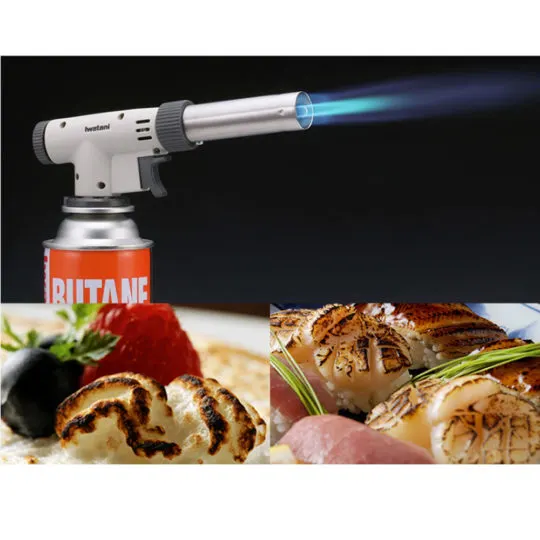 Iwatani is a traditional Japanese company noted for producing high-quality torches and paying close attention to detail. This torch head is directly connected to the fuel supply; however, you must purchase the brand's unique butane canisters separately. Each canister provides around 100 minutes of burn duration, which is sufficient for the average home chef. If you wish to modify the flame, you can do so at any time by adjusting the size and form of the flame. Reviewers have praised this flame's constant and intense strength. Because the fuel source is directly connected to the head, there is no need to constantly replenish or worry about the flame diminishing.
Features
Butane fuel
Portable
Adjustable flame size
User manual included in the package
Pros
Perfect for roasting and charring vegetables
Direct attachment between torch head and fuel source
Cost-effective and affordable
Cons
Only the brand's fuel canister works with it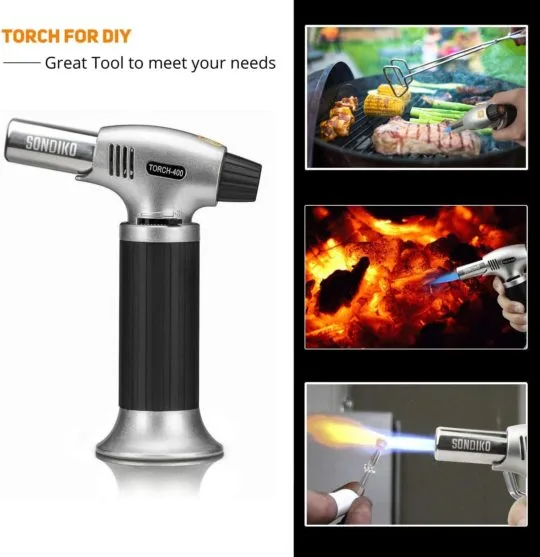 Sondiko also offers a powerful and multifunctional torch that is well worth the price and more. The Sondiko, which is simple and safe, is at the top of its class, outperforming even more expensive models. This creme brulee torch is excellent for caramelizing the sugar on your Creme Brulee. Therefore, it was created with a passion for the dessert in mind, making it the best for your Brulees. If you're new to utilizing a torch in the kitchen, you'll want something to make things easier. This butane torch has a safety lock, so you won't have to worry. It's portable and simple to use for a wide range of recipes. Furthermore, any style of butane tank will fit, so there will be no guesswork when getting started.
Features
Safety lock
Versatile
Continuous flame mode
Refillable
Pros
Easy to use
Perfect for crème brulee
Safety locks prevent accidental ignition
Cons
Safety lock can be confusing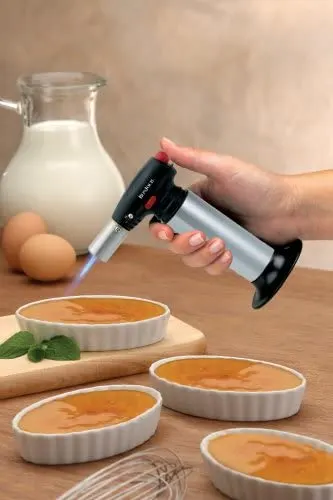 BonJour's Chef's Tools Butane Torch is an entirely competent culinary torch from a renowned, inventive French gourmet cookware brand. It is made of metal and has a visually beautiful red-and-black pattern. It is exceptionally durable and easy to use. One commendable design feature is red for ignition/safety buttons and silver for the flame control color scheme. Simple, yet effective.
The torch includes an integrated canister that is readily refillable and provides 45 minutes of burn time (which is perhaps a little less than ideal), as well as an extended nozzle for safe and easy use. A busy cook will appreciate the safety reassurance provided by the stabilizing stand. This model outperforms others by including 4-ounce ramekins and a cookbook: the ideal inducement to begin creating crème brûlée. Bon appetit!
Features
Aluminum design
Adjustable flame
Features fuel gauge
Cookbook included in the package
Pros
Great safety guard and design
Great value for money
Easy to use
Cons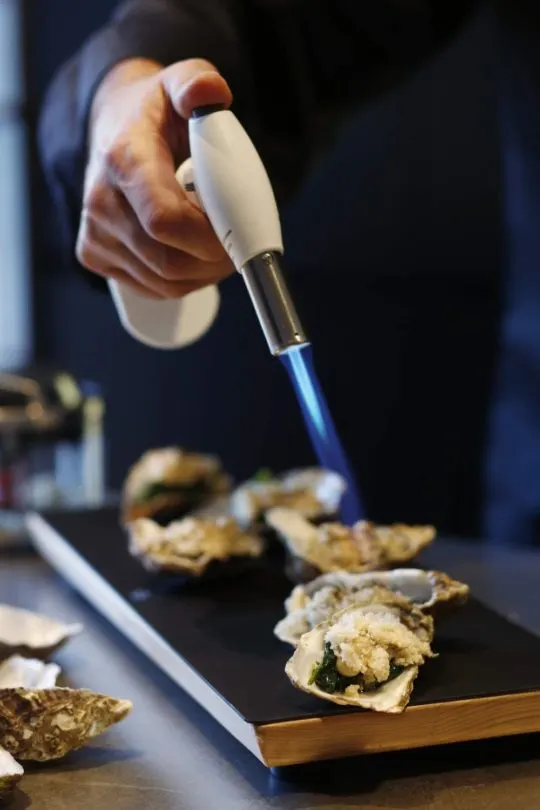 The Messermeister Cheflamme Culinary Torch is an aluminum torch with a trigger start for perfecting crème brûlée. The torch's flame can reach 2700°F and can last up to 200 minutes on a single 9 oz. of butane (not included).
Features
Sturdy base
Lifetime warranty
Adjustable gas dial
Child-resistant safety lock
Pros
Butane and propane fuel canisters can be used on it
Rust and heat resistant
Ergonomic and safe
Cons
It doesn't come with a fuel gauge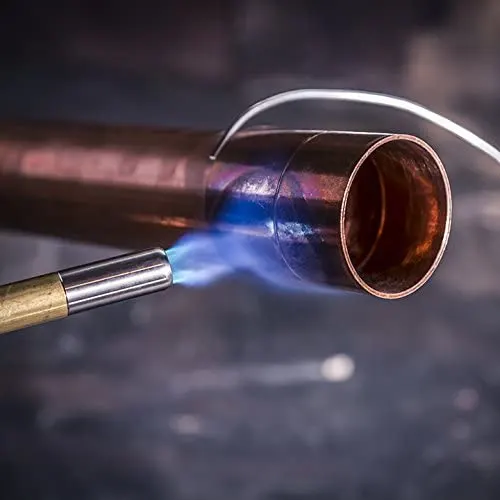 If you're looking for significant firepower, go no farther than the Bernzomatic TS8000. This beast of a blowtorch blew every other torch out of the water in terms of raw heat output, burning time, and dependability. Known to be the best propane gas kitchen torch, professionals in the kitchen swear by this torch. You don't have to brood about keeping the torch upright while using this trigger-start ignition model because its pressure is adjusted for slanted use. To fuel the torch, you'll need to purchase a 14- or 16-ounce propane tank separately. The adjustable flame knob lets you manage the strength of the flame and safely extinguish it when you're finished torching.
Features
Autoignition
Flame control knob
Ultra-swirl flame
Lock buttons
Pros
Great value for money
A powerful but steady flame
Requires less frequent refilling
Cons
Fuel canister not included in the package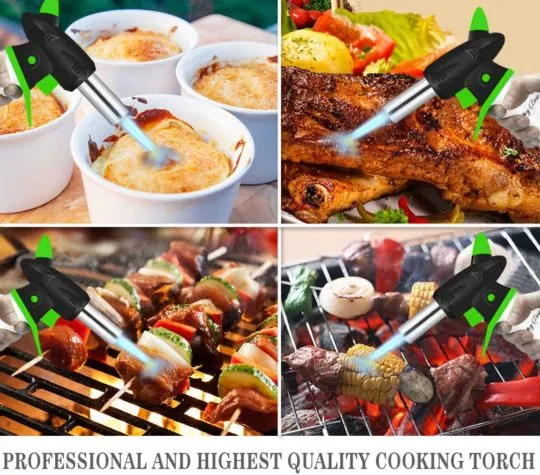 The Spicy Dew Professional Blow Torch features a consumer-friendly profile and consistently features best-selling kitchen torch lists. It's reasonably priced, incorporates various safety features – anti-flare technology, flame guard, etc. – and is augmented by adjustable flame capabilities, so it's perfect for topping off a crème brûlée. This torch, which can be fired by butane up to a temperature of 2,372°F, has a capacity of 60 minutes of flame and an incorporated fuel indicator to prevent any unexpected empty canister situations. It is constructed from aluminum and is built for durability and longevity. It comes in three colors- silver, green and black, and may be used in various meals.
Features
High Quality
Multipurpose
Hand protection guard
Child safety lock
Pros
Very durable and sturdy
Suitable for outdoor use
Fuel gauge alerts you when to refill
Cons
Moderately heavier compared to other torches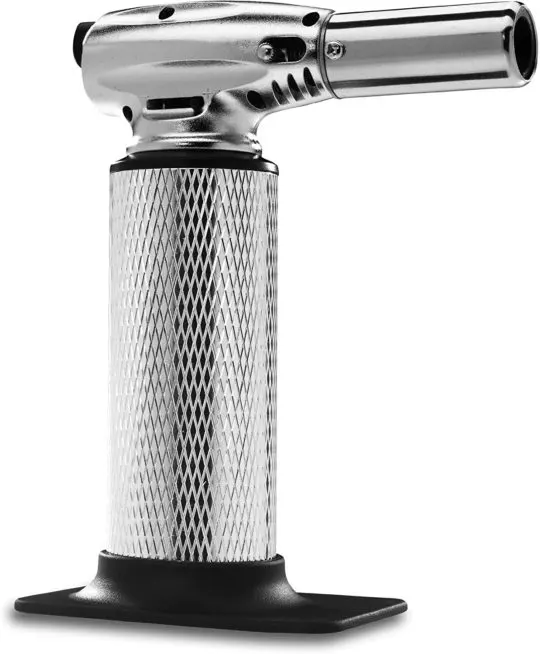 If you're looking for a kitchen torch with a long-lasting flame, go no further than the Messermeister Cheflamme. Thanks to a larger than normal butane holder, this silver aluminum torch ticks many boxes, including a 200-minute burn period. It can reach a temperature of 2,700°F and has safety measures that make it suitable for use in the presence of youngsters.
Features
Anti-flare
Refillable butane gas
Long burning time
Piezo ignition starter
Pros
Child-proof safety lock system
Works at any angle
Easy and safe operation
Cons
Slightly expensive compared to other products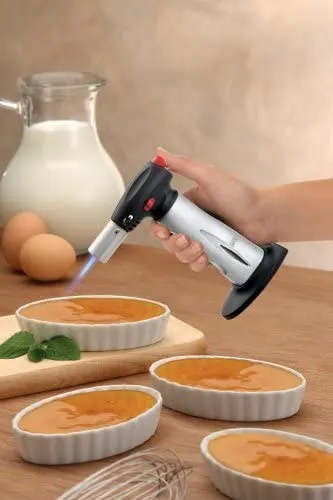 This BonJour Chef's Tools Culinary Torch, which is not to be mistaken with the same manufacturer's torch listed above, differs from its companion but is equally desirable. It has a shorter flame time but more adaptability and all-around safety features. There are three variants available, and we chose the 53386 model for its versatile versatility. It has an adjustable flame that can reach an astonishing 2,600°F and is excellent for caramelizing meringues, vegetables, and other delicacies. The fuel indicator is quite helpful in informing the user when it is time to refill, and the user is encouraged to check the specific butane brands compatible with this model.
Features
Die-cast Aluminum design
Multi-use
Fuel level indicator
Finger guard
Pros
A sturdy base provides balance
Well suited for deserts
Provides very high heat
Cons

The Sterno Professional Culinary Torch is another portable food torch that made it into this review. Don't be fooled by its modest size; it's a professional-grade culinary torch capable of artistically caramelizing, browning, melting, and so on. This, like the Iwatani, has a Piezo Trigger ignition technology that makes it simple to start and switch off. Because of the safety lock, it is difficult to light this torch accidentally. This is especially crucial for individuals who have toddlers at home who may accidentally get their hands on this item. This torch will perform flawlessly, whether upright or inverted.
Features
Professional grade
Adjustable flame
Piezo ignition system
Anti-flare design
Pros
Safety lock shields against accidental ignition
It can be used either upright or inverted
It can be used for a variety of purpose
Cons
Butane canister is sold separately
Buying Guide
Flame Color
A blue flame is preferred in the realm of kitchen torches. Torch flames that burn orange or yellow frequently indicate poor or inefficient fuel combustion. Soot will form due to the excess uncombusted carbon, which will appear as yellow or orange incandescence in a flame. As a result, an orange flame can translate to sooty or gasoline-like food.
Safety
Many safety features are built into all respected models, and we made this one of the required criteria for inclusion in our list. A mechanism that renders the product safe in the presence of minors should be included in the safety features. It goes without saying that a curious toddler may wreak havoc with one of these. Thus a catch or lock should be standard before making a purchase. Aside from child-proof settings, the best kitchen torches will provide the user with flame safety, such as a finger guard. Because kitchen work is rarely focused on a single task, a base that prevents the torch from tipping over is also desirable.
View this post on Instagram

Fuel
Before purchasing any particular model, make sure that you are comfortable with how the torch is fueled. The three primary types of fuel used all reach high temperatures. Crème brûlée recipes are notorious for being imprecise about how long it takes to caramelize the sugar, but it shouldn't take long at this temperature. However, the cook is warned not to speed the procedure and keep the flame away from the sugar.
Capacity
It is essential to consider the amount of fuel accessible to the torch. If the torch is used frequently and for extended periods, a larger capacity is required to avoid frequent replacement or refilling. Canisters containing dangerous gas should be carefully placed and kept.
Ease of Use
A device as potentially powerful (not to mention possibly deadly) as a blow torch must be simple to use, allowing the cook to focus on cooking rather than reading user manuals. It is likely to be used in short spurts and should be low-maintenance. Better models will meet such needs.
Price
A new cooking torch can cost anywhere from $10 to more than $100. Consider how often you intend to use the torch and what projects you intend to use it for. If you only want to make crème brûlée once, it's a better idea to go with something less expensive. If you want a device that can sear steaks, roast peppers, toast meringues, and possibly even create a bonfire, you should probably invest in something more lasting and with more dependable functions.
View this post on Instagram

Conclusion
All of these crème Brulee torches are of professional quality, but the EurKitchen Culinary Torch is the clear winner here. I had no problems using this torch at all, and the safety features are excellent. The manufacturer's confidence in their goods is shown in the 1-year warranty and money-back guarantee.