Brown Sugar Pork Chops Recipe

If you are looking for a delicious baked pork chops recipe this might be perfect for you. What is great about these brown sugar pork chops is how easy they are to prepare. The pork chops are rubbed with garlic and brown sugar, drizzled with butter, sprinkled with paprika and then are baked. Once the pork chops are almost finished in the oven, they are topped off with shredded Colby-jack cheese. The baking time only takes about 20-25 minutes so these pork chops can be ready in no time at all! I like to serve this dish with wild rice and/or a salad. Enjoy.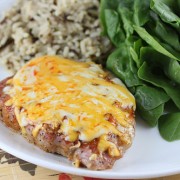 Brown Sugar Pork Chops
Ingredients:
4 boneless pork chops
4 garlic cloves (finely chopped)
1/3 cup brown sugar
4 tablespoons of butter (melted)
1 teaspoon paprika
½ cup shredded Colby-jack cheese
salt and ground black pepper (to taste)
Directions:
Rub the pork chops on both sides with garlic and brown sugar. Lightly grease a square baking dish. Place the pork chops into the baking dish and drizzle the melted butter over the top. Sprinkle paprika, salt and pepper over the tops of the pork chops.
Place into the oven and bake at 350 degrees F. for 20-25 minutes or until the internal temperature has reached (145 degrees F.).
Remove from the oven and sprinkle the Colby-jack cheese over the tops of the pork chops. Return to the oven and bake for another 5 minutes or until the cheese has melted.