Pepper Jack Steak Wraps Recipe

Pepper jack steak wraps are loaded with sliced steak, pepper jack cheese, ice berg lettuce, pico de gallo, and a southwest sauce. These slightly spicy wraps are similar to the ones that can be found at Buffalo Wild Wings. Although this is not a copycat recipe for the pepper jack steak wraps at BWW, they are very good. The taste is similar but the southwest sauce has a different flavor than the sauce at BBW.I like to use whole wheat wraps for this recipe but you can use flour tortillas as well. Try and slice the steak as thinly as possible for the best results. The steak can be sliced first and then cooked, or the steak can be cooked whole and then sliced. I like to serve this recipe with French fries. Pepper jack steak wraps are a great option to prepare for game day. Enjoy.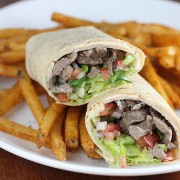 Pepper Jack Steak Wraps
Ingredients:
1lb top sirloin steak (thinly sliced)
Salt and pepper (to taste)
1 tablespoon vegetable oil
4 slices pepper jack cheese
2 cups shredded romaine lettuce
4 (10 inch) wheat tortillas
Southwest sauce-
½ cup mayonnaise
2 teaspoons ketchup
1 tablespoon cream-style horse radish sauce
¼ teaspoon paprika
¼ teaspoon salt
1/8 teaspoon dried oregano
1 pinch ground black pepper
1 pinch cayenne pepper
Pico de Gallo-
2 plum tomatoes (seeded and diced)
½ small white onion (finely chopped)
1 jalapeno pepper (seeded and chopped)
¼ cup fresh cilantro (chopped)
½ tablespoon fresh lime juice
salt (to taste)
Directions:
To prepare the southwest sauce—in a medium bowl whisk together mayonnaise, ketchup, horseradish sauce, paprika, salt, oregano, black pepper, and cayenne pepper. Cover and refrigerate until needed.
To prepare the pico de gallo—in a small bowl combine tomatoes, onion, jalapenos and cilantro. Add the lime juice and salt. Mix well. Cover and refrigerate for 1 hour or until needed.
Heat oil in a large skillet over medium high heat. Season with steak slices with salt and ground black pepper. Add the steak to the pan and cook while stirring until the steak is fully cooked.
Spread a thin layer of southwest sauce down the center of a tortilla (leaving about 1 to 2 inches from the sides without sauce). Place a slice of pepper jack cheese in the center of the sauce. Place ¼ of the steak on top of the cheese. Place some shredded lettuce over the steak and some pico de gallo over the lettuce. Bring the sides toward the center of the filling. Fold the bottom of the tortilla up over the filling and continue to roll until the wrap closes. Repeat with remaining tortillas.