Spicy Chicken Strips Recipe

These spicy chicken strips are a perfect appetizer to serve on game day. For this recipe, we are using the breading from the Spicy Chicken Sandwich recipe and turning it into chicken strips. Most of the heat in these chicken strips comes from hot pepper sauce and cayenne pepper. If you want more spice, you can up the amount of cayenne pepper in the flour mixture. This recipe is fairly easy to make—the most work that is required is in breading the chicken pieces. I like to serve these chicken strips with ranch dressing for dipping. Enjoy.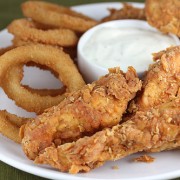 Spicy Chicken Strips
Ingredients:
Vegetable oil (for frying)
1/3 cup hot pepper sauce
2/3 cup water
1 cup all-purpose flour
2 ½ teaspoons salt
4 teaspoons cayenne pepper
1 teaspoon fresh course ground black pepper
1 teaspoon onion powder
½ teaspoon paprika
1/8 teaspoon garlic powder
3 chicken breast fillets
Directions:
Heat oil in a deep-fryer to 350 degrees F. In a small bowl combine hot pepper sauce and water. In a shallow bowl or pie plate combine flour, salt, cayenne pepper, black pepper, onion powder, paprika, and garlic powder.
Slice the chicken breasts into thin strips. Dip one strip at a time first into the flour mixture, then into the pepper sauce mixture, and then once again in the flour mixture. Set aside and repeat with remaining chicken breasts.
Add the chicken pieces to the deep-fryer (3 to 4 at a time depending on how big your fryer is) and fry for 8 to 14 minutes until light brown and crispy and fully cooked (the internal temperature has reached 165 degrees F.). Remove the chicken and drain on a plate lined with paper towels. Repeat with remaining chicken breasts. Serve with dipping sauce if desired.