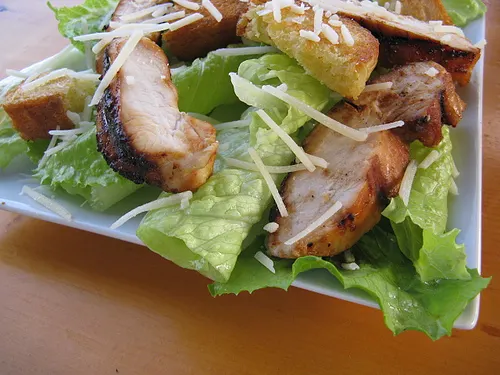 I don't eat a lot of salads but chicken Caesar salad is amazing. If you are looking for a nice and light meal this recipe is for you. Chicken Caesar salad is very popular in many countries and can be ordered at almost any restaurant. I also made my own garlic croutons and have included the recipe for that as well. If you want to save time and just buy some from the story that will work as well but these are better! For the dressing, I used mayo instead of the traditional raw egg. I just don't feel completely safe eating raw eggs but maybe someday things will change J! Typically the chicken in chicken Caesar salad is grilled. I used a grill pan instead of an outdoor grill but if you don't have either you can just pan fry the chicken. Enjoy.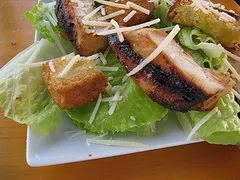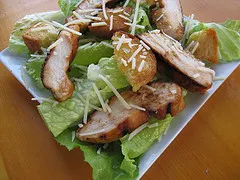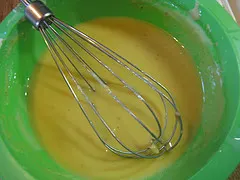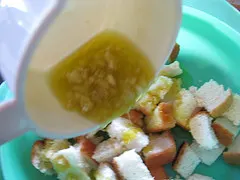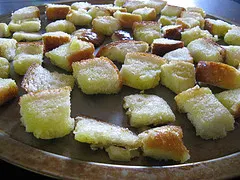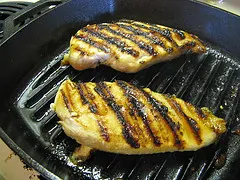 Print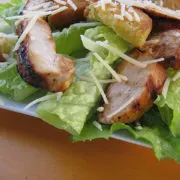 Chicken Caesar Salad Recipe
---
2lbs boneless skinless chicken breasts

¾ teaspoon salt

1 tablespoon brown sugar

½ teaspoon garlic powder

½ teaspoon onion powder

1 head romaine lettuce (washed and torn into pieces)

shredded parmesan cheese

Croutons-

2 cups of white bread (torn or cut into pieces)

3 tablespoons virgin olive oil

2 garlic cloves (crushed)

¼ teaspoon salt

Dressing-

2 tablespoons mayonnaise

1 tablespoon lemon juice

½ teaspoon Dijon mustard

½ teaspoon Worcestershire sauce

1 oil-packed anchovy (minced)


¼ cup

olive oil
---
Instructions
For the dressing- In a small bowl whisk together mayonnaise, lemon juice, mustard, Worcestershire sauce, and minced anchovy. Then last whisk in olive oil. Refrigerate until needed (whisk once before using).

For the croutons- Preheat the oven to 350 degrees. Tear or cut bread into pieces and place in a bowl. In a small bowl mix crushed garlic, olive oil, and salt. Drizzle oil mixture over bread pieces and toss to coat. Lie out bread pieces in a single layer on a baking sheet and bake for 15 minutes turning half way through for even browning.

Allow cooling until needed.


For the chicken- Between 2 sheets of wax paper pound chicken breasts with a mallet until at an even thickness. Season chicken breasts on both sides with salt, sugar, garlic powder and onion powder. Grill chicken on an outdoor grill or indoor grill pan for 5 minutes on each side or until no longer pink inside.

Slice chicken into small strips.


To make the salad mix shredded lettuce and chicken bits. Top with croutons, dressing, and shredded parmesan cheese.