Dirt Cake Recipe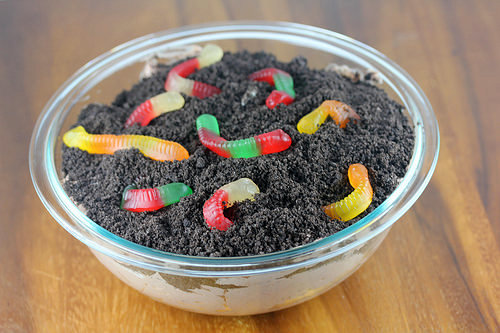 Dirt cake is a simple and delicious cake to prepare for Halloween. This cake consists of crushed Oreo cookies layered with a chocolate pudding mixture. You can also add gummy worms if you want. The chocolate pudding mixture consists of chocolate pudding, cream cheese, butter, powdered sugar, and cool whip. You can crush the Oreo cookies in a food processor or crush them with a rolling pin in a plastic bag. Enjoy.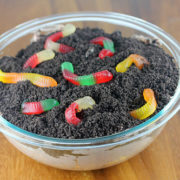 Dirt Cake
Ingredients:
1 (14.3 ounce) package Oreo cookies
2 (3.9 ounce) packages instant chocolate pudding
4 cups milk
8 ounces cream cheese (at room temperature)
¼ cup butter (at room temperature)
1 cup powdered sugar
1 (8 ounce) container cool whip
Gummy worms (optional)
Directions:
Crush the Oreo cookies using a food processor into fine crumbs. Set aside.
In a large bowl whisk together instant pudding mix with milk for about 2 minutes. Let sit for 5 minutes.
In another bowl beat together the cream cheese and butter on medium speed until light and fluffy, about 3 minutes. Reduce speed to low and add the powder sugar, increase the speed to medium and beat until fluffy. With a rubber spatula fold the cream cheese mixture into the chocolate pudding, and fold in cool whip until well combined.
Layer in a bowl or square baking dish by alternating layers of crushed Oreos and pudding.