French Style Meatballs Recipe

These French style meatballs are great served over egg noodles. This recipe consists of beef meatballs with a beef-onion gravy. The meatballs are a combination of eggs, wine, garlic salt, and breadcrumbs. The meatballs are fried in shortening in the pan until browned and then simmered in the gravy until fully cooked. The gravy gets a lot of its flavor from beef onion soup mix and Herb de Provence seasoning. I like to serve these meatballs with biscuits. Enjoy.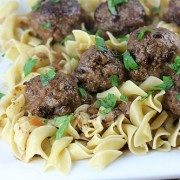 French Style Meatballs
Ingredients:
2 eggs
1 teaspoon garlic salt
1 cup Burgundy wine (divided)
1 ½ pounds lean ground beef
¾ cup dry breadcrumbs
2 tablespoons shortening
1 envelope beef onion soup mix
1 ½ cups beef broth
1 heaping teaspoon herb de Provence seasoning
Directions:
In a large bowl combine eggs, garlic salt and ½ cup of the wine. Add the beef and breadcrumbs. Mix well. Shape into small meatballs using a rounded tablespoon for each. Heat shortening in a large deep skillet over medium-high heat. Add the meatballs, a few at a time, and cook while turning with a wooden spoon until browned on all sides. Remove from the pan. Repeat with any remaining meatballs, adding more shortening if needed.
Drain the skillet of any excess grease. Deglaze the pan with the remaining ½ cup of burgundy wine, scraping up any browned bits from the bottom of the pan.
In a medium bowl combine contents of the onion soup mix, beef broth and herb de Provence seasoning. Pour into the skillet and mix well. Return the meatballs to the pan. Simmer uncovered for 20 minutes or until the meatballs are cooked through (the internal temperature has reached 160 degrees F.) and the wine sauce reduces.
While the meatballs are cooking, cook the egg noodles according to package directions. Drain and place into a large serving bowl. Pour the meatballs and wine sauce over the pasta and serve.