Ground Pork Tacos Recipe

Using ground beef or chicken is great in tacos but why not give ground pork a try? These ground pork tacos are very simple to prepare and full of flavor. The flavor from this recipe comes from spices such as chili powder, cumin, oregano and salt. A little bit of lime juice is added to the mix for even more flavor. You can serve these tacos with the toppings of your choice. Some good options are guacamole, cheese, sour cream, lettuce and tomato. Enjoy.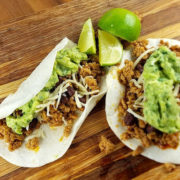 Ground Pork Tacos
Ingredients:
2 tablespoons olive oil
1/3 cup chopped onion
1 pound ground pork
1 teaspoon chili powder
½ teaspoon ground cumin
½ teaspoon dried oregano
½ teaspoon salt
Juice of ½ lime
Directions:
Heat the olive oil in a large skillet over medium-heat. Add the onions and cook until soft, about 3-4 minutes.
Add the ground pork and cook while breaking it up into chunks with a spatula. Continue to cook until the meat has browned all the way through. Drain of any excess grease. Season with chili powder, cumin, oregano, and salt. Stir in lime juice and serve warm with taco toppings of your choice.