Honey Mustard Chicken Flatbreads Recipe

I have a new obsession with flatbreads lately and I decided to prepare some with honey mustard and grilled chicken. These flatbreads are topped with a homemade honey mustard sauce, seasoned grilled chicken breasts, bacon, lettuce, swiss cheese and oregano. This is similar to the flatbread sammies from Quiznos. The chicken is seasoned with salt, pepper, garlic powder, and onion powder. The chicken is then grilled and chopped. The grilled chicken is placed onto flatbreads with bacon, swiss cheese and oregano, grilled until the cheese has melted and then topped with honey mustard, lettuce and oregano. Enjoy.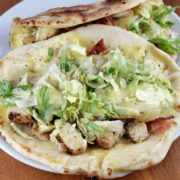 Honey Mustard Chicken Flatbreads
Ingredients:
1 boneless skinless chicken breast
1/4 teaspoon salt
1/4 teaspoon ground black pepper
1/4 teaspoon onion powder
1/4 teaspoon garlic powder
4 slices swiss cheese
1/2 cup lettuce
dried oregano
2 slices of cooked crispy bacon
2 flatbreads
Honey Mustard Sauce-
¼ cup mayonnaise
1 tablespoon prepared mustard
1 tablespoon honey
½ tablespoon lemon juice
Directions:
To make the honey mustard dressing- in a bowl whisk together mayonnaise, mustard, honey, and lemon juice. Season with salt and pepper. Store covered in the refrigerator until needed.
In a small bowl combine salt, pepper, garlic powder, and onion powder. Season the chicken breast on both sides with this seasoning.
Heat an outdoor grill to medium-high heat. Add the chicken breast and grill, turning once for 5-6 minutes per side or until fully cooked (the internal temperature has reached 165 degrees F.). Remove the grill, allow 5 minutes to cool and then chop the chicken into pieces. Chop the cooked bacon into pieces. Add the chicken and bacon to a bowl. Divide the chicken mixture onto the 2 flatbreads. Top each with 2 slices of swiss cheese. Sprinkle with oregano.
Turn the heat on the grill to medium. Add the flat breads and cook for 1-2 minutes being careful not to burn them. Remove from the grill. Top with lettuce and honey mustard sauce.