Turkey breast is widely used as a roast and a sandwich component in the United States and worldwide. A whole turkey breast also takes up less fridge room and cooks faster than a complete turkey. The meat from a turkey's chest is called a turkey breast. The only white meat on the bird is this thick cut. It costs a little more per pound than a whole turkey because of this, but it's also easier to handle and store.
With such benefits and widespread use, it's no surprise that this meal, because of its versatility and widespread use, may be tough to locate at your local supermarket. However, you may be perplexed as to how to prepare a tasty turkey breast. Worry not, since this article will help you overcome your fear and show you how to accomplish it quickly.
Turkey Breast Nutrition Facts
Why Turkey Breast?
We'll look at all of the benefits that turkey breast has to offer concerning food and nourishment. The following are a few of these advantages.
It is iron-rich- Turkey breasts have high iron content. Iron is necessary for the creation of blood and energy. Fatigue, hair loss, headaches, dry skin, and brittle nails are all symptoms of a lack of iron in the body. Iron concentration in turkey is roughly 1.5 milligrams per 100 grams.
It promotes a better night's sleep- If you want to improve your sleep, instead of taking medicines that could hurt your body, try eating skinless turkey breast. The sleep regulator tryptophan is found in turkey. You can improve the quality of your sleep without causing too much disruption by raising your tryptophan levels.
It could aid Weight-Loss- Because turkey breast is high in protein, it is the best meal for weight loss. Protein reduces your appetite and keeps you fuller for longer. Furthermore, skinless turkey breast is minimal in fat, cholesterol, and carbs. However, since a turkey sandwich contains bread, carbs play a role in its health advantages.
Tips for Cooking 3lb Turkey Breast
Brining a Turkey Breast is an option to consider- Salt and pepper, spice mixes, dry rubs, and other seasonings are fine, but they only season the skin, not the meat. Only soaking the meat in a delicious liquid, termed a brine, or injecting the liquid directly into the meat may successfully give flavor to the meat.
Water with salt and sugar dissolved in it is the simplest brine. You may make a brine with several herbs, spices, fruit (including pineapple), and maple syrup.
Cook the Stuffing Separately- Although stuffing cooked in the turkey is traditional, it is no longer regarded as the ideal method for cooking a turkey. This is because heating the stuffing in the turkey breast makes it more difficult to properly cook the turkey and can also result in filling that isn't fully done. Both of them pose a threat to food safety.
Cooking a 3lb Turkey Breast
Consider how you might prepare your favorite steak now that you know how easy it is to cook a 3-pound turkey breast. The steps below should be helpful as you progress through this procedure.
In the Oven
Preheat the oven to 350°F (175 degrees C). In a mixing bowl, whisk together 1/4 cup butter, garlic, paprika, Italian seasoning, garlic and herb spice, salt, and black pepper. In a roasting pan, place the turkey breasts skin side up. Brush half of the butter mixture over the turkey breast and beneath the skin, loosening the skin with your fingers.
Save the rest of the butter mixture for later. Wrap aluminum foil around the turkey breast loosely. Roast for 1 hour in a preheated oven, basting with the remaining butter mixture.
Return to the oven and continue to roast for another 30 minutes, or until the juices run clear and an instant-read meat thermometer is placed into the thickest part. Before serving, let the turkey breast rest for 10 to 15 minutes.
While the turkey is cooling, pour the pan drippings into a saucepan. Remove the extra fat from the skillet, leaving about 1 tablespoon. Cook and stir shallot in turkey oil in a pan over low heat until opaque, about 5 minutes.
1 tablespoon butter, shallot, and white wine in a skillet, scraping any browned bits of food from the bottom. Add the chicken stock and flour and whisk until smooth. Cook, whisking continually, until the sauce has thickened. Whisk in half-and-half for a creamier, lighter gravy.
In an Instant Pot
To begin, ensure that your turkey is clean and dry, with the inner gravy packets and giblets removed. Then smother your turkey in mayonnaise. Then add poultry spice, garlic powder, onion powder, salt, and pepper to your turkey breast. Rub the mayonnaise and seasoning all over the breast, even beneath the skin. Fill the cavity of the turkey breast with chopped onion and a chopped celery stick.
The size of the breast and the Instant Pot will determine the next step: A bone-in turkey breast weighing less than 5 pounds can likely fit on a trivet in a 6-quart Instant Pot. If that's the case, cook with the trivet.
Cook for 23 minutes on high pressure for a 3-pound breast, then naturally release any leftover pressure. Because these breasts are tightly coiled, they will take a bit longer to cook in the center.
Fill the Instant Pot with 1 cup chicken broth and a 3-pound breast on the trivet. Cover and cook for 23 minutes on high pressure. Once your breast is cooked, you can either remove it and brown it under the broiler or use a crisp lid to brown it.
Print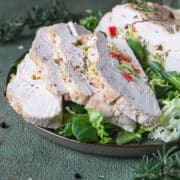 Roasted Turkey Breast
---
---
Instructions
Preheat your oven to 325 degrees Fahrenheit. Only use the bottom rack in the oven. Place the turkey breast in a large roasting pan and blot dry both inside and out with paper towels. In a small mixing dish, combine the butter, herbs, salt, and pepper. Set aside 2-3 teaspoons for subsequent use.
Remove the skin from the turkey breast with the back of a spoon and distribute butter within. Smooth the skin back down to evenly distribute the butter. When cooking, be cautious not to tear the skin since the butter may leak out.
Roast for 90 minutes or until the internal temperature of the breast reaches 165 degrees (this is vital for food safety). Let it sit for 20 minutes before serving with the remaining butter.
This should suffice to get you started on making that scrumptious 3-pound turkey breast dinner for you and your family. It's critical to select the perfect turkey breast and cook it at the correct temperature, regardless of the method.