Rice is always a good choice for a side dish. It's not only healthy; you can also flavor it to your preference and add various ingredients to make a unique recipe every time. Rice cookers are great for cooking rice (obviously), but you might fall in love with the results of the crockpot method.
Rice might seem difficult to get right on the stove, but it's always great when cooked in the crockpot if you follow instructions carefully. We advise that you take note of our tips and timing guidelines to ensure that your results are perfect every time.
Rice Nutrition Facts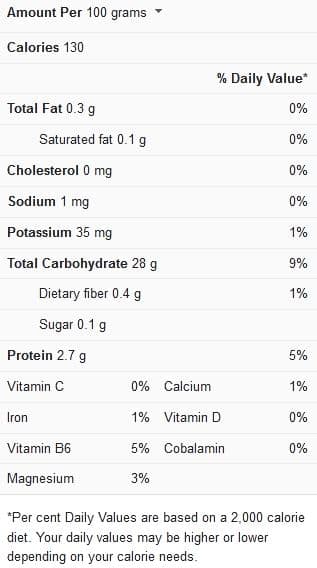 Tips for Cooking Rice in a Crockpot
Below are some really helpful tips that should help you achieve optimal results when cooking rice in a crockpot:
Why you should use a crockpot for cooking rice – Unlike, on the stove, rice cooked in the slow cooker does not burn or cook unevenly. You can also produce a large amount of cooked rice with very little effort. Furthermore, using your slow cooker eliminates the need to purchase and keep a rice cooker in your kitchen.
Best rice varieties to use – You'll find that long-grain rice is the ideal choice for this. The preferable options are Jasmine or Basmati rice; in particular, you can also use brown or wild rice for crockpot recipes. Short grain rice should not be cooked in the crockpot because the grains tend to get sticky.
Sprouted brown rice is a good alternative if you can't stand brown rice. The sprouting process tears down the outer husk, making the grain easier to digest and increasing the bioavailability of some of the minerals inside; this is generally easier for your body to break down and use).
How different slow cookers work is important to note that contemporary slow cookers cook food considerably faster than older versions. If you use a high-temperature slow cooker, the rice may burn. So, time your cooking with these consideration factors.
Rinse your rice for a great texture – If you don't mind sticky rice, however, you can follow the recipes that advise you not to rinse. However, always make sure to rinse your rice first if you want a looser texture. To eliminate the extra starch that causes the grains to clump, run cold water over the rice for 3 to 5 minutes. When the rice is done cooking, fluff the grains using a fork and set the cooked rice aside for 5 minutes to cool. This will aid in separating each grain, resulting in flawless rice.
Seasoning suggestions – To taste, you can add whatever seasoning you like. Stir your seasoning of choice with the water and raw rice, then cook the rice according to the instructions in the recipe you're following. If you don't have a specific recipe you're working with, you can also substitute chicken stock for all or some of the water and season with freshly ground black pepper and garlic powder. These ingredients will season the rice without introducing flavors that will clash with the rest of your recipe.
Make sure your rice doesn't overcook – To prevent the rice from continuing to cook in the warm crockpot after you unplug it, spoon it onto individual serving dishes, scrape out all of the residual rice from within the crockpot, and store it in a resealable container.
View this post on Instagram

Cooking Time for Rice in a Crockpot
Ideally, the timing guidelines in the table below are necessary to obtain the best results with crockpot rice recipes:
Cooking Procedure
Cooking Time
Cooking rice on a low setting in a crockpot
2 to 4½ hours
Print
Perfect Slow Cooker Rice (4 Servings)
---
---
Instructions
Rinse the rice thoroughly in a fine mesh screen till the discharge turns clear from hazy or cloudy.
Pour the washed rice into the slow cooker's bowl and season it with salt.
Pour the water to cover the rice and, if desired, add the butter.
Cook on low for 2 to 4½ hours, or until the rice is soft.
Remove the lid, fluff the rice using a fork, and serve.
Notes
Butter (you could also use ghee) is an optional ingredient in this recipe but is preferred. When you include one tablespoon of butter per cup of dry rice, it gives the finished product a lovely richness and keeps it from adhering to the slow cooker dish. If you choose, you can leave it out of your recipe.
Stir the rice around the 1-hour mark if possible. This ensures that the rice is cooked uniformly. Otherwise, your rice will be a little unevenly cooked (it will be wetter at the bottom and drier at the top), but this won't be a problem if you mix the rice thoroughly once it's finished cooking.
This approach can also be used with wild or brown rice varieties. For every 1 cup of wild or brown rice (make sure to rinse before cooking), add 2 cups water and a teaspoon of salt (plus one tablespoon of butter, which is optional but suggested). Cook for 2.5 to 3 hours on low until the water has been absorbed and the rice grains have burst and gotten soft. Serve the rice after fluffing with a fork. If the rice isn't cooked to your liking, add ½ cup of extra water, cover the slow cooker, and cook the rice for extra 20-30 minutes.
You may also opt to replace all or some of the water you're using to cook with chicken stock (you can also make this in your slow cooker) for added flavor.
Refrigerate leftovers for up to a week in an airtight container.
This recipe is pretty easy and takes an entire duration of 2 hours and 1 minute to complete, with a prep time of 1 minute and a cook time of 2 hours. We recommend this video recipe if you'd like more recipe ideas for cooking rice in a crockpot.