If you've ever wondered whether you can have a plate of sumptuous scallops in your very home, the answer is yes. With this recipe, you can prepare this lovely dish on your kitchen stove. You also get the chance to influence it as you see fit, even with regular home ingredients.
Scallops are an exciting thing to cook by yourself, so you'll need a bit of help. It's also a sweet challenge if you wish to achieve the same (or maybe even better) result as your typical five-star restaurant. So, you'll need a few handy suggestions to make such a dream come true. But why should you bother to even cook scallops by yourself?
Why Make Scallops at Home?
You may have asked yourself why you should bother making scallops yourself when you can get it in a restaurant. Well, perhaps these few reasons will convince you;
It's Cheaper: Don't get me wrong, scallops are somewhat pricey, sometimes going around 20 bucks for a pound. But at the restaurant, the price is increased even more for various reasons. But at home, you'll probably only spend on the scallops and cook them with ingredients from your kitchen.
It's Versatile: Scallops can be cooked in so many ways. You can boil them, fry them in oil or butter, or even bake them. And it blends with a wide range of ingredients and spices, so you can always influence the taste as you please.
It's Tasty: Scallops are delicious on their own but even tastier when mixed with various herbs and spices. Seafood lovers highly seek its unique flavor. And it's a great way to indict newbies to the acquired taste of shellfish.
It's Quick: You can whip up a scallop recipe in a short time. The shellfish doesn't take long or need much to cook, so it's a great way to provide a fancy meal.
Stovetop Scallops Tips
I've found that scallops cook faster on the stove when you sear. Plus, this recipe is excellent for times when you wish to pair the scallops with other stuff. Here's what you do;
Prepare the Scallops
Make sure to purchase dry scallops, as they're more natural. But they'll still have a bit of moisture, so pat them dry with a kitchen towel. Also, sit them in a layer of kitchen towel for some time, so the wetness seeps out. The drier the scallops, the better they sear in the pan.
Once dried, pull out the side muscles called the abductor muscle with your fingers. You don't want that in your recipe, as they toughen when cooked.
Season the Scallops
Generously season your scallops with your favorite seasonings and spices. A combination of salt and black pepper works great, but you can also get more creative. Options like chili pepper, smoked paprika, garam masala, onion, or garlic powder can also work. You can even add a bit of zing with lemon zest if you wish.
Cooking the Scallops
Use a non-stick pan, preferably a cast-iron skillet, to sear your scallops. With such, you won't have to worry about the scallops sticking to the bottom of the pan (which happens in regular pans). Start by heating your oil or butter over medium-high heat, and then add the scallops. Leave them to be brown on one side before you flip them.
This idea allows you to create scallops that'll go with anything- pasta, stews, sauces, vegetables, or even rice and potatoes. So, find the recipe below and give it a shot.
Print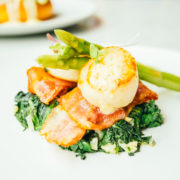 Pan-Seared Scallops (4 servings)
---
1 ½

pound scallops

One tablespoon

butter, unsalted
Black pepper, freshly ground
Salt
---
Instructions
Take out the abductor muscles from the scallops and discard them. Then pat the scallops dry and season liberally with salt and pepper. Leave it to sit and prepare the skillet.
Heat the non-stick skillet over medium-high heat and add the butter. You can use olive oil if you wish. Let it get shimmering hot, and add the scallops.
Sear the scallops for 2 minutes on one side, till the side turn golden brown. Check if they release from the pan, flip them, and cook the other side for 2 minutes.
The scallops will be ready when both sides are golden brown and the texture is soft and firm. If you must exceed the suggested cooking time, do so by an additional one minute after you've flipped them.
Once they're done, serve the scallops warm and as you wish.
For more help on how to cook stovetop scallops, check out this insightful video recipe.