There are numerous types of sheets and pans available for use in your kitchen. Indeed, there are so many of them that it's reasonable to wonder what they're all for.
"Jelly roll pan" – I'm sure you've heard of it. Maybe?
Well, if you get to make some sponge or sheet cake from time to time, this is one pan you know you need to use while at it.
This article is here to guide you through what a jelly roll pan is, plus delightful foods you can utilize it properly in.
However, you don't want to get stuck while working on some recipe that duly calls for a jelly roll pan, and you don't have one. You can also learn about some great alternatives you can use instead.
What is Jelly Roll Pan
A jelly roll pan is a rectangular sheet pan with 1 inch deep sides (a variation). The pan can be considered a smaller version of a half-sheet pan.
Plus, aluminum and steel are among the materials used to make the pan.
Notably, the pan is called after a meal that commonly requires it to be perfected – the jelly roll (or Swiss roll cake).
Jelly Roll Pan Uses in Recipes
The jelly roll pan is perfect for baking sheet cakes or sponge cakes stuffed with jelly or crème and rolled into cylinders. See some interesting recipes below:
Vanilla Swiss Roll
Jelly Roll Cake.
Roasting Vegetables.
Pumpkin Rolls.
Raspberry Jelly Roll Cake.
Chocolate Cream Roll.
Sweet Potato Cake Roll.
Guava Jelly Roll Cake.
Easy Vegan Jelly Roll.
Pineapple Filled Jelly Roll.
Chocolate Chip Pan Cookies.
Blueberry Coffee Cake.
Jelly Roll Yellow Sponge Cake.
Chocolate Swiss Roll with Cream Filling.
Jelly Roll Pan Substitutes
While each type of pan was designed for a specific purpose, they are all still similar enough to be substituted.
With so many different cake pans to choose from, it cannot be easy to pick the proper pan for the job. However, you don't want the substitution to result in an undercooked and undersized cake.
See some efficient alternatives here:
Cooking Sheet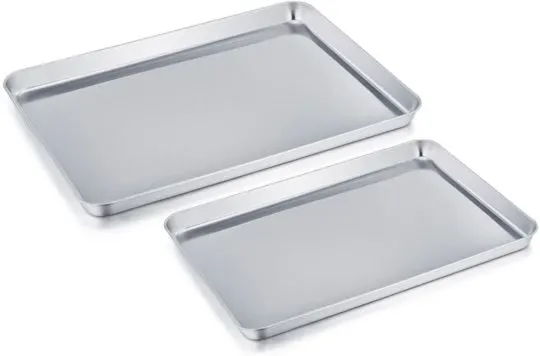 Cookie sheets are similar to jelly roll pans in that they are ideal for baking biscuits, cookies, and other flat-surfaced baked goods. There is one significant difference between the two of them, though.
Cookie sheets have one or two sides curved for easier handling, and this design allows air to circulate correctly around the cookies while they bake. Notably, cookie sheets are typically used for baking cookies uniformly while preventing browning and crisp bottoms or edges.
If you're making jelly rolls on your cookie sheet, make sure it has some edge.
Yes, jelly roll pans and cookie sheets can be used interchangeably in most circumstances. However, if you're baking a delicate delicacy that necessitates the use of a jelly roll pan, you won't be able to substitute them.
Half Sheet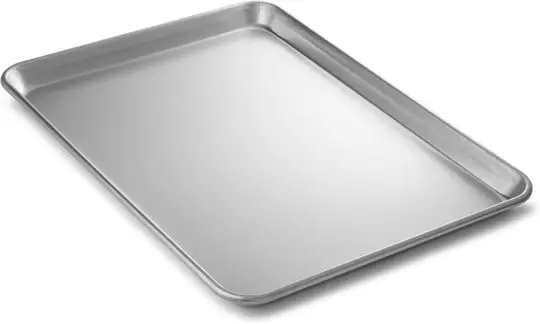 A half sheet pan can be used in place of a jelly roll pan in recipes.
You know jelly roll recipes require filling the jelly roll pan with batter. Consequently, you will have a cake that's 1inch high and robust enough to carry a lot of filling.
Though due to the obvious larger surface area of the half sheet pan, using it in that kind of recipe, your batter may spread too thin to make any filling adjustments.
However, you can rest be assured that the jelly roll pan end goal will look and taste great, with no signs of cracking, burning, or collapsing.
So if you don't mind the not quite perfect outcome, a half sheet pan should suffice, as it produces extremely similar results as a jelly roll pan.
Quarter Sheet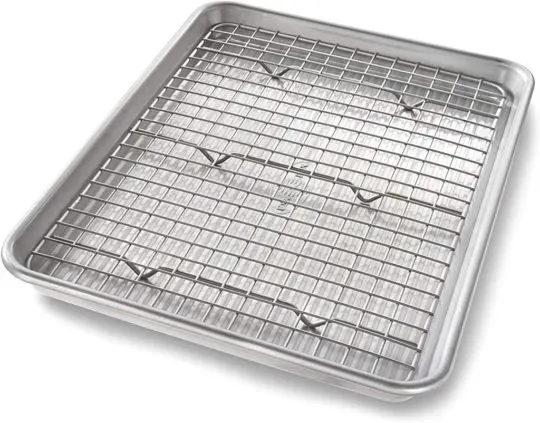 The quarter-size baking sheet, which is practically identical to the quarter-size jelly roll pan, is the next best option after the Half sheet pan (measuring 13 by 9 inches).
The quarter-sheet pan is made by halving the half-sheet pan. The dimensions of this smaller pan are 13 by 9 inches. You can accomplish everything a jelly roll pan can do, with the exception that you'll be cooking on a smaller scale.
If you only have a few guests to feed, this pan is a perfect option. It's also useful for toaster cooking, organizing, and freezing cookies before storing them in plastic freezer bags.
To replace the jelly roll pan, reduce the quantity of the components required for a typical jelly roll by half. This will ensure that you have just enough batter to fill the quarter jelly roll pan and bake your cake without difficulties.
Frequently Asked Questions (FAQs)
What is the difference between a jelly roll pan and a cookie sheet?
A jelly roll pan is a flat pan that works well for making cookies. However, a jelly roll pan has a raised edge that distinguishes it from a traditional cookie sheet.
Can I use a half sheet pan for a jelly roll?
Though baking sheets and jelly roll pans look similar, using a half sheet pan instead of a jelly roll pan could lead to a wrecked cake. The distinctive dimensions of a jelly roll pan are ideal for giving sponge or sheet cakes the structural integrity they require to keep intact after stuffing and rolling.
Is it possible to bake cookies in a jelly roll pan?
A jelly roll pan is a flat pan that works well for making cookies. A typical jelly roll pan size is 12 by 18 inches with a one-inch high edge – this feature enables you to use a jelly roll pan for more recipes than just cookies.
https://www.youtube.com/watch?v=uBVT1dWH0Xs
Conclusion
For the most part, most baking pans are made of the same materials. Some pans can be used as jelly roll pans; make sure they have 1-inch sides; otherwise, the cake will fall apart.
However, each of them cooks food differently, affecting the amount of time it takes to cook and the end product of your recipe.
Therefore, it is vital to consider the distinctions between the jelly roll pan and its substitutes, so you know how to use them efficiently depending on what you plan to cook.