Looking to make your own Pumpkin pie for Thanksgiving this year? If so, you might want to consider giving this one a try. This is one of the best pumpkin pie recipes I have tried and it's very easy to make. For this recipe, we are using a pre-made pie crust or a box mix. I know this is cheating but it saves a lot of time. I prefer the Pillsbury pre-made pie crusts, all you need to do is press them into your pie dish. If you want you can substitute the cinnamon, ginger, and cloves with 1 2/4 teaspoons pumpkin pie spice. The taste will be slightly different but still good. This is the perfect recipe for busy Holiday cooking; you can have this in the oven within 15 minutes. Serve with whipped cream. Enjoy.

Print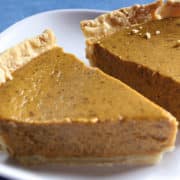 Pumpkin Pie Recipe
---
¾ cup

white sugar

½ teaspoon

salt

1 teaspoon

ground cinnamon

½ teaspoon

ground ginger

¼ teaspoon

ground cloves

2

eggs

1

(15 ounces) can pumpkin puree

1

(12 ounces) can evaporate milk

1

unbaked 9" deep pie crust (pre-made or box mix)
---
Instructions
Press pie crust into a lightly greased 9" pie dish. Pre-heat the oven to 425 degrees. In a small bowl mix together sugar, salt, cinnamon, ginger, and ground cloves.
In a large bowl beat eggs. Stir in pumpkin puree and sugar/spice mixture. Gradually stir in evaporated milk until mixture is well combined and smooth. Pour mixture into pie shell.
Bake for 15 minutes at 425 degrees. After 15 minutes reduce temperature to 350 degrees and bake for 40-50 minutes or until a knife inserted into the center comes out clean.
Cool for 2 hours.