Even though its presence in the freezer aisle is still relatively new, practically every grocery shop now carries at least one vegan ice cream flavour.
So, what's the best vegan ice cream recipe? Coconut, Cashew, Oat, Soy, or Almond Milk? It's all possible, but how do you know what's good for your body? This article will answer those questions and more. Then, we'll explain what each vegan ice cream recipe contains, including a list of ingredients. You can even make your own vegan ice cream.
While it may appear like a slew of new options have appeared suddenly, vegan ice cream has a long and interesting history – here's the lowdown on its origins, present market, and ingredients.
Vegan Ice Cream: What is it?
Vegan ice cream is a frozen dish that does not contain dairy or animal products, such as eggs or cow's milk. Vegan ice cream recipes frequently use coconut milk, coconut oil (refined coconut oil has less coconut taste), or blended nuts to obtain a creamy texture. You may also make the recipe nut-free, gluten-free, or sugar-free by changing the ingredients.
Vegan ice cream comes in various tastes, and it can include vegan chocolate, tahini, cacao powder, vanilla bean, and traditional ice cream flavours like chocolate, strawberry, and vanilla.
An Overview of Vegan Ice Cream
Almeda Lambert, a Seventh-day Adventist from Battle Creek, Michigan, published "Guide for Nut Cookery" in 1899, a vegetarian cookbook. Nut-based sausages, nut kinds of butter, dairy-free cheese, and ice cream made with peanuts, almonds, pine nuts, and hickory were among the recipes. Two of her three bases involve eggs, but the third is completely vegan – here's how to make Ice Cream No. 2:
"Take 1 quart of creamy almond or peanut nut cream. If made with peanuts, the nuts should be roasted to a yellow hue rather than a dark brown. 1 cup granulated sugar and 2 teaspoons vanilla extract Cook for 20 to 30 minutes in a double boiler with the cream. Before cooking, add the sugar, then cook and add.
According to the Soy Info Center, in his 1918 article "Soy Beans As Human Food," Arao Itano, a professor at the University of Massachusetts, was the first to think about soy-based ice cream. Lee Len They, an Indiana native, filed the first patent for soy ice cream in 1922, titled "Frozen confection and process of manufacturing same." Seventh-day Adventist Jethro Kloss invented the first soy ice cream in 1930, a honey-sweetened delight available in chocolate, strawberry, and vanilla flavours.
What are the Ingredients in Vegan Ice Cream?
While dairy-based ice cream can only be made with animal milk, vegan ice cream has progressed beyond the golden age of soy-based ice cream and is now limited. Here's a summary of what you'll discover.
Almonds Milk
Because almond milk is still the most popular dairy-free option, it's no surprise that so many businesses have decided to work with it. Because almonds have a neutral flavour and a similar mouthfeel to dairy-based ice cream, iconic Vermont-based firm Ben & Jerry's creates its dairy-free ice cream from them. Vegan almond milk ice cream is available from So Delicious, Swedish Glace, and Almond Dream. Archer Farms, Target's private label brand, also makes almond milk ice cream. Almond milk is used in the low-calorie company Enlightened's non-dairy pints and bars. Breyers, a well-known dairy company, used almond milk as the backbone of its tastes.
Soy
Soy-based ice cream was not only popular in the 1980s. Tofutti, a vintage brand, and So Delicious' (neé Soy Delicious) dairy-free soy delicacies are available today. Soy Dream, Swedish Glace, vegan Cornetto, and various Trader Joe's vegan ice cream flavours are among the other alternatives.
Another popular vegan ice cream base is coconut. Since 2004, NadaMoo! has created coconut milk ice cream in Texas. Organic brands Coconut Bliss, So Delicious, and Swedish Glace are among the other alternatives. Halo Top, the cult-favourite low-calorie ice cream brand, also uses coconut milk in its light vegan ice cream.
Cashew
So Delicious is the only large vegan ice cream company that uses cashews as a basis. However, artisanal firm Van Leeuwen uses a combination of cashews, coconut cream, and cocoa butter to create its delectable dairy-free base, which is sold in select places across the US.
Oat
Oat-based ice cream is making its way onto store shelves after a storm taking the dairy-free milk world. Oatly, the oat milk pioneer, has been selling vegan ice cream in Europe for a while and is getting ready to launch in the United States. So Delicious debuted three flavours of "Oatmilk" ice cream earlier this year. Elmhurst, a dairy processor turned vegan, joined a century-old ice cream business to develop "Oats Cream."
Pea protein is the new vegan meat sweetheart, and it's even making its way into ice cream. According to the company, both Ben & Jerry's and Halo Top use soy protein in their vegan ice creams, and Magnum's vegan ice cream bars are made with pea protein and coconut oil. Pea protein is also used to generate a creamy texture by McConnell's, a 70-year-old dairy company.
Avocado
Avocado ice cream was previously a staple of dairy-free desserts created at home. Last summer, however, the avocado-based Cado brand debuted at Whole Foods Market, demonstrating the full diversity of vegan ice cream. According to the firm, it contains less sugar than other products and is high in "healthy" fat from avocados.
Other
Vegan ice cream can be made in various ways, and SorBabes, a dairy-free firm, makes sorbet. Still, co-founders Nicole Cardone and Deborah Gorman follow the "Guide for Nut Cookery" by creating rich, creamy sweets with nut butter such as pistachio, peanuts, almond, and hazelnut.
What are Important Tips for Making Ice Cream?
Make sure the freezer base of your ice cream maker is ready! It may be tempting to cut corners here, but getting the mixture cold enough to transform into ice cream is essential. My base is always ready because I keep it in the freezer.
It's critical to use full-fat coconut milk in this recipe. Avoid using lite. Remember that we're using the entire can of coconut milk. Also, coconut milk powder should not be substituted. It isn't creamy enough, and the ice cream will be frosty.
Allow enough time for the ice cream base (the actual recipe) to chill. After 10 minutes in the freezer, I made it a couple of hours in the fridge and a whole night in the fridge. The latter two were considerably creamier, set faster in the ice cream maker, and scooped much easier. I strongly advise freezing the cashew cream for the appropriate amount of time.
If you live in a hot climate like I do, do this in the coolest section of your house or turn on your air conditioner if you have one. This enables the correct solidification of the mixture.
If you don't cover your finished ice cream according to the instructions, ice particles will build in it and cause it to melt.
What are Three Different Forms of Vegan Ice Cream?
Vegan ice cream can be served in a serving bowl with various toppings or used as a filling in ice cream sandwiches and pies. There are a lot of options, so here's where to start:
Banana ice cream with only one ingredient: When frozen bananas are combined, they become a creamy, custard-like delicacy, making it a popular vegan ice cream choice (affectionately known as "lovely cream"). Peanut butter, maple syrup, vegan chocolate chip cookie bits, sliced nuts, sea salt, and chocolate peanut butter are common additions to the dairy-free ice cream recipe (cocoa powder mixed with peanut butter). Make a batch of our easy banana ice cream.
Ice cream made with oat milk: Oat milk ice cream is made with oat milk, sugar, coconut oil, and other flavours. In addition, unlike almond or cashew milk ice cream, oat milk ice cream is nut-free. (Oat milk may also be gluten-free depending on the brand.)
Unsweetened full-fat coconut milk or cream, sugar, and additional flavourings like vanilla extract or bespoke mix-ins can be used to produce coconut ice cream. As its name suggests, coconut cream is thicker and creamier than coconut milk. Check the label before buying canned coconut milk or cream to ensure it doesn't contain any additives to prevent the ice cream from freezing correctly. Because coconut milk (or coconut cream) is high in fat, it can mimic the richness of classic ice cream without egg yolks or oil.
How to Make Vegan Ice Cream at Home?
2 cups of milk made from cashews
12 teaspoon cardamom powder
12 teaspoon cinnamon powder
14 teaspoon clove powder
1/8 teaspoon ginger powder
13 cup brown sugar, light
1 teaspoon kosher salt
34 cup melted and slightly cooled refined coconut oil
In a food processor or high-powered blender, combine all ingredients and purée the ice cream mixture until smooth.
Add the ice cream base to an ice cream machine and churn the mixture until it reaches the consistency of soft serve, around 25–30 minutes, according to the manufacturer's specifications.
Cover the mixture and place it in a freezer-safe container. Before serving, return the ice cream to the freezer for another 4 hours.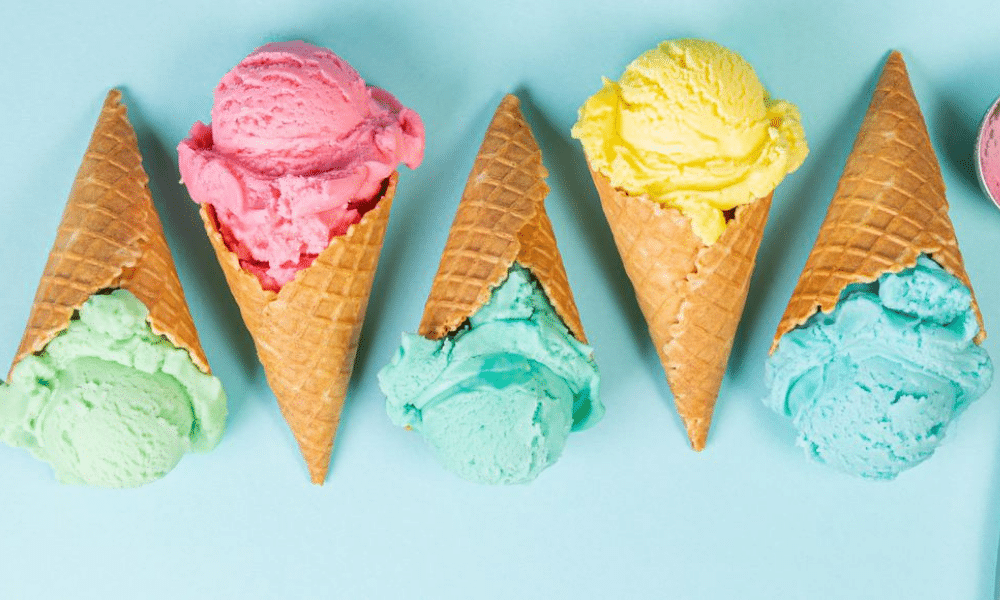 Does Vegan Ice Cream have a Coconut Flavor?
Yes, this ice cream tastes like coconut because it's almost entirely comprised of coconut milk. I enjoy it simply, but coconut is an excellent flavour base for various flavours, from the nuts and fruit swirls Megan added to mint or basil, dark chocolate, and tropical flavours. Use this recipe as a starting point for your own additions!
If you don't like coconut flavour, try Sara Kate's 3-Ingredient Ice Cream. She makes a fruit-forward creamy sorbet with a smaller proportion of coconut milk and a large amount of fruit juice.
What are Some Popular Brands of Vegan Ice Cream?
Soy, almond, cashew, coconut, or rice milk are used in commercially produced products. Without killing a single cow, these products provide all of the delightful flavour and creaminess of ice cream. Vegan ice cream is available at almost every grocery. A decent natural foods store will have a wide variety of pint-sized containers, ice cream sandwiches, drumsticks, fudge bars, and other items.
Non-Dairy Chocolate Chip Cookie Dough and Non-Dairy Chocolate Extreme from Baskin-Robbins
Non-Dairy Pints from Ben & Jerry's
Animal-Free Dairy by Brave Robot
Cosmic (Avoid their "grass-fed dairy" pints) Bliss: Organic Plant-Based Frozen Dessert
Chocolate Fudge Crunch dessert bars from Daiya
Rainbow twice: (Soy flavours only)
Dreaming of almonds
Cashewmilk (organic) forager
Non-Dairy Haagen-Dazs Collection
Macadamia Milk Frozen Dessert from Mauna Loa
Nada Moo: Delectably delicious Frozen Dairy-Free Dessert
Non-Dairy Frozen Dessert Oatley
Non-Dairy Frozen Dessert from Planet Oat
Non-Dairy Frozen Desserts Ripple
So Delectable: Frozen Desserts Without Dairy
Premium Pints & Cuties from Tofutti
Soy Cream from Trader Joe's
A vegan ice cream sundae can be made using any of these brands. Simply purchase vegan whipped cream and chocolate sauce, a banana, and a container of maraschino cherries.
Is Vegan Ice Cream Good for you?
In an email to LIVEKINDLY, Susan Levin, director of nutrition education at PCRM (Physicians Committee for Responsible Medicine), said, "Undoubtedly." "Dairy contains intrinsically harmful components and is not present in plant-based goods, and any product with a lot of total and saturated fat should be avoided. And, of course, added sugar has no nutritional value."
Is this to say that vegan ice cream is forbidden? Absolutely not. "Look for the ones with the least fat and extra sugars. According to Levin, it's healthier than dairy but not a portion of healthy food.
It also depends on the flavour of ice cream you choose. Is it a pint of Ben & Jerry's vegan ice cream with a low overrun (ice cream business jargon for how much air is put into the mix) or something lighter like NadaMoo! with a low sugar content? (a pint of its Dutch Chocolate contains only 8 grammes of sugar). Low-calorie choices are also becoming more common, with labels like So Delicious, Halo Top, and Enlightened.
Conclusion
"'Vegan' simply implies that whatever product it is is manufactured from plants and does not contain any animal products," Julie explains.
Coconut milk, almond milk, or soy milk are used in most vegan ice creams. None of the bases are derived from animals, and none are derived from plants. If, on the other hand, ice cream is produced with coconut milk but nevertheless contains egg, it is dairy-free but not vegan.