In the recent past, many keto advocates like me have been seeking meals free of dairy, which spans different reasons ranging from lactose intolerance or just medical reasons. The dairy-free keto meal plan contains such options while letting you have a wholesome diet even without a diary.
Features
The meal plan contains great recipes with balanced macronutrients spread across the various meal times, which helps to keep you on track with your keto diet. This includes your breakfast, lunch, and dinner, as well as occasional snacks. The dairy-free keto meal plan focuses on healthy and easy meals that come out delicious.
Recent studies on regular people with the keto diet have shown that people stall on the keto diet because they are consuming too much dairy. In some cases, dairy can lead to irritation in the boy, which can prevent weight loss. This will include removing heavy cream while replacing it with coconut cream or almond milk.
Benefits of the Meal Plan
This meal plan has quite some benefits, apart from cutting down or avoiding dairy meals completely. This meal plan helps you know your calorie intake because knowing your calorie and macro intake is great for maintaining a good weight and health. It will enable you to have and plan for macronutrient foods that have been broken down into carbs, fat, and protein. This way, you have balanced meals throughout the week.
You have fewer chances of going off your program with this meal plan. You just need to look at your meal plan and know what you need for the day. Your dairy-free keto diet will be intact when you don't have to worry about not being prepared.
Another great benefit of the dairy-free keto meal plan is planning your meals on a budget. You don't have to dash into a fast food or order some take-home because you know what is on your menu the whole day. It helps you have a detailed grocery selection, making it easier to prepare your meals.
Furthermore, when you limit your dairy intake daily, you are likely to experience increased fat loss because dairy products are easy to binge on. In the long run, weight loss is stalled since you take in more calories than you can burn.
It also helps with clearer skin. Research has shown a link between dairy intake and acne, which sometimes provokes pimples. This meal plan is also great if you are lactose intolerant since you are doing away with a portion of food your body cannot tolerate. Therefore, your gut health is improved. Your intestinal tract has a chance to heal when you give up foods you are intolerant to the product.
Also, you have increased energy and reduced stress levels. This meal plan is indeed packed with lots of goodness. Consult your health care provider before embarking on the meal plan.
Meal Plan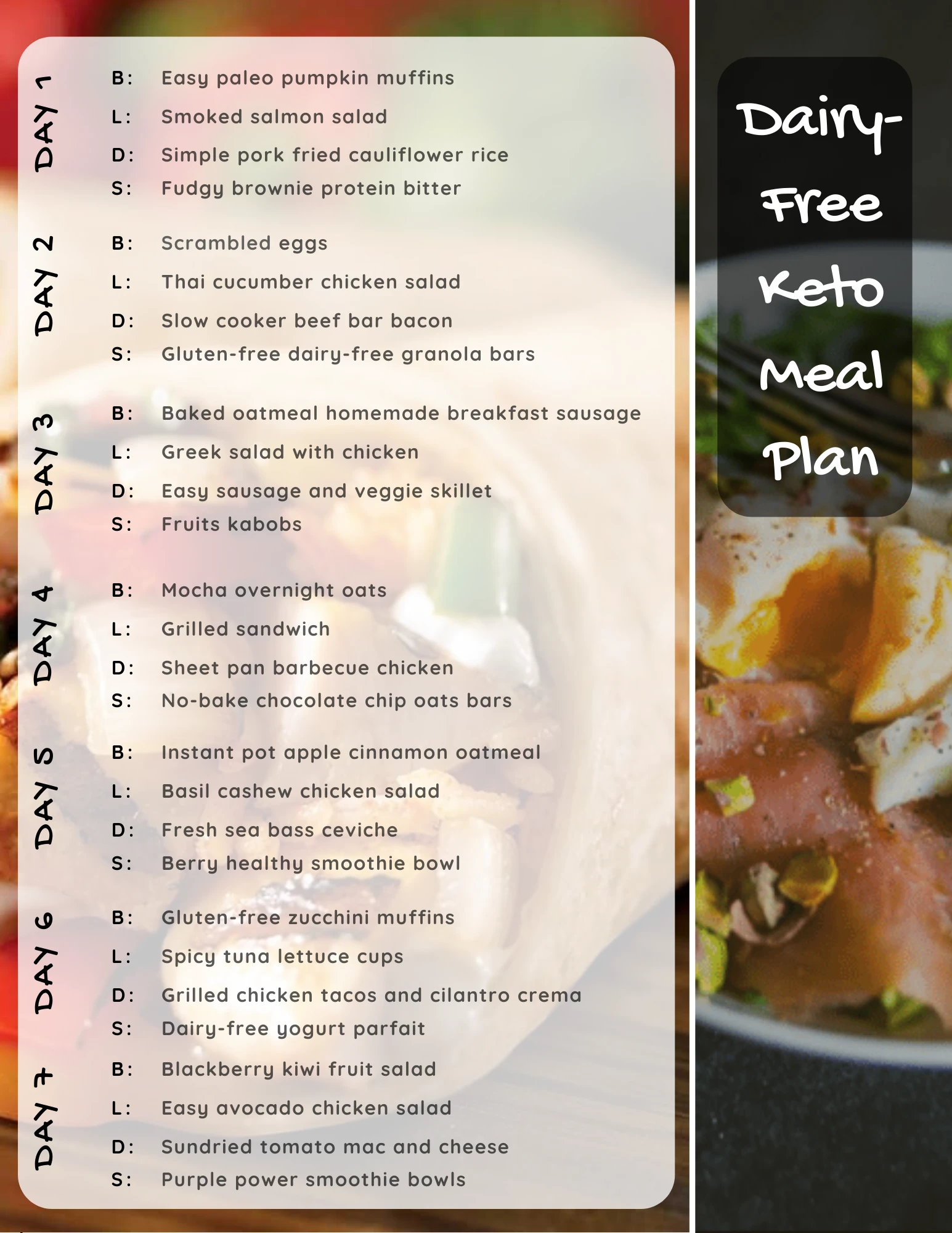 Day 1
Breakfast
Lunch
Dinner
Snack
Day 2
Breakfast
Lunch
Dinner
Slow cooker beef bar bacon
Snack
Day 3
Breakfast
Baked oatmeal and homemade breakfast sausage
Lunch
Dinner
Snack
Day 4
Breakfast
Lunch
Dinner
Sheet pan barbecue chicken
Snack
Day 5
Breakfast
Lunch
Dinner
Snack
Berry healthy smoothie bowl
Day 6
Breakfast
Lunch
Dinner
Grilled chicken tacos and cilantro crema
Snack
Dairy-free yogurt parfait
Day 7
Breakfast
Blackberry kiwi fruit salad
Lunch
Easy avocado chicken salad
Dinner
Snack
Purple power smoothie bowls
Extra-Tips
Ensure to have more whole grains and vegetables in your meal plan
Be sure to replace the common dairy products you would use ordinarily for non-dairy alternatives. For instance, use coconut cream in place of milk.
Include a variety of meat, seafood, egg, and nuts, including veggies and oils, in your recipe for additional fat.
Instead of using cheese for your snacks and salad topping, use olives.
Almond, cashew, and hemp milk can replace regular or heavy cream.
Shopping List
Fruits and Vegetable
Arugula
Bell pepper
Celery
Blueberries
Blackberries
Raspberries
Meat and Fish
Non-Dairy Options
Frozen Foods
Fats and Oils
Grass-fed glee
Extra-virgin olive oil
Hazelnut oil
Others
Tofu
Low-carb noodles
Chocolate
Keto-friendly sweeteners
Keto proteins bars
Keto granolas
Eggplants
Alternative flours
Conclusion
It is possible to have a free dairy keto meal for any reason you may have, which may include lactose intolerance or because you want to cut down on more calories. This meal plan contains wholesome meals to satisfy your craving while giving you a nutritious and healthy meal option. You can also snack with the healthy snacks outlined in this meal plan while keeping off any dairy product in your meal. I hope you find this meal plan helpful and try out the various recipes. Your keto diet just got better.